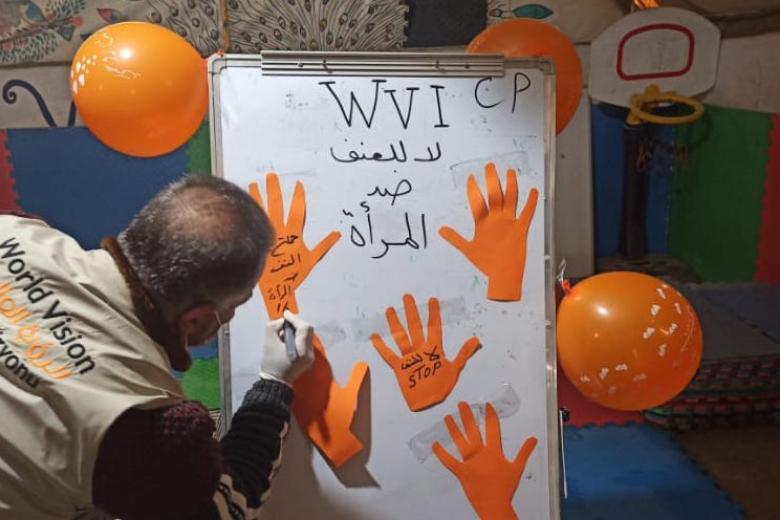 World Vision male staff step up efforts to fight gender-based violence in northern Syria
Monday, December 7, 2020
By Alexandra Matei, Syria Response Advocacy and Communications Director, and            Elias Abu Ata, Syria Response Communications Manager, World Vision, Jordan
More than 12 million women and girls still need survivor-centered support for gender-based violence (GBV) inside Syria[1] and UNHCR alone accounts of higher incidence in 90 per cent of its operations[2], since covid-19 virus started. GBV is argued to be the most prevalent type of violence affecting girls and women, yet remains largely underreported with little global recognition from governments as a human rights violation[3], especially in fragile contexts such as Syria. Women and girls' resilience is incredible but the consequences are life-long and in some cases are fatal. Women, who World Vision works with, tell us about the fear for their safety which is like an invisible pandemic, of the shame and stigma that makes them hide from the community and the health complications which can endanger their lives.
World Vision's report 'Stolen Future: War and Child Marriage in Northwest Syria' sheds light on what girls and young women from Northwest Syria (NWS), who have been pushed into early marriage, experience. Most of them, 70 per cent exactly, told us that domestic violence is their most concern in their marriage, besides sexual violence which is a cruel reality they face as a consequence of war and lack of rule of law. To dismantle all risks leading to their vulnerabilities going at deeper lengths, men are essential in this fight. This year, as we mark 16 Days of Activism Against Gender-Based Violence, an annual global campaign that aims to end violence against women and girls, we asked our male staff members and those of partner organisations inside Syria, how they have been rallying support and fight to end violence against women and girls.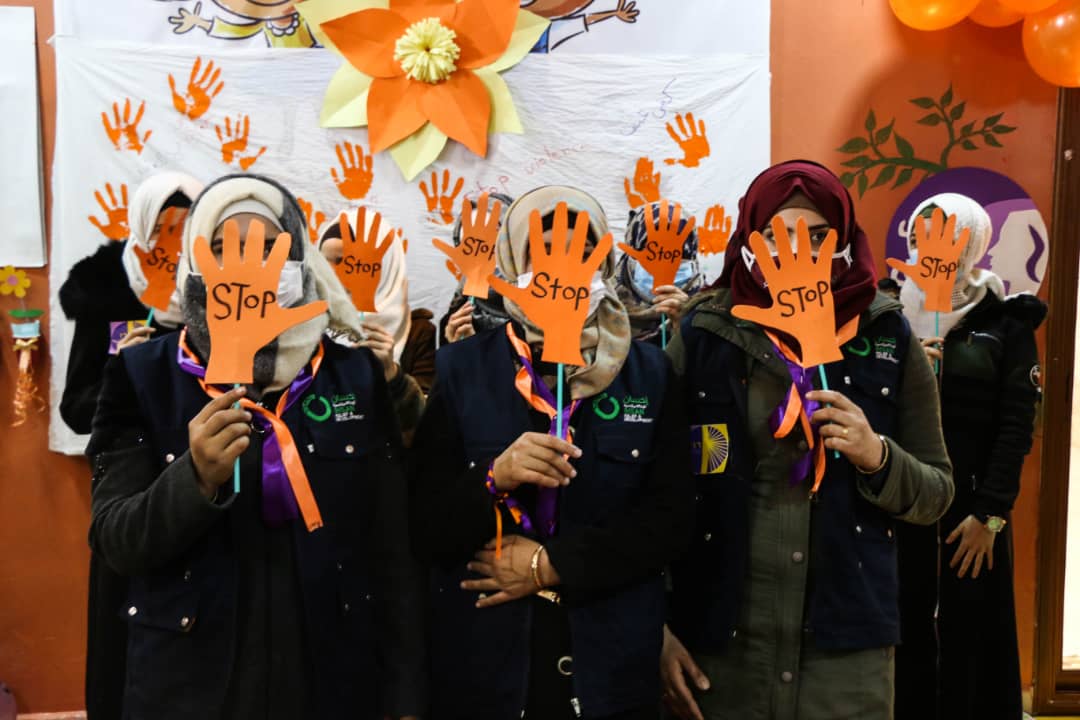 Men empower women
Ali, one of World Vision's  Field Protection Officers in Northwest Syria, works to help empower women by providing them access to vocational training activities such as sewing, hairdressing and wool weaving. "Women are trained, receive the materials they need for doing their job and are helped to become effective in the community. Being able to generate income really keeps them and their children safe from harm. This is our mission", Husni shares. There are many success stories of women who got employed after receiving vocational training in these types of centres, such as administrative and office skills. "I used to feel like a chair at home, but currently I am feeling the exact opposite. I am happy and I feel like I can do something important in this world", says one of the women Jalaa, Protection and Mental Health Coordinator of a partner organisation inside Syria, works with.
Mohamed, one of our GBV Workers, tells us it's not only girls who experience violence. Boys do too."I noticed this young boy had bruises and suffered from wounds on his face. I tried to have him speak to me and open up in a safe space, but he refused to talk on the first day despite assuring him that I was there to comfort him and help him. Luckily, the young boy came the second day at the center and decided to talk about what was going on. He had suffered from violence caused by his father who used to hit him every single day thinking this was in the child's best interest. We referred him to a GBV specialist who provided support sessions to him and his family; his father in particular, who was then able to put an end to this violence."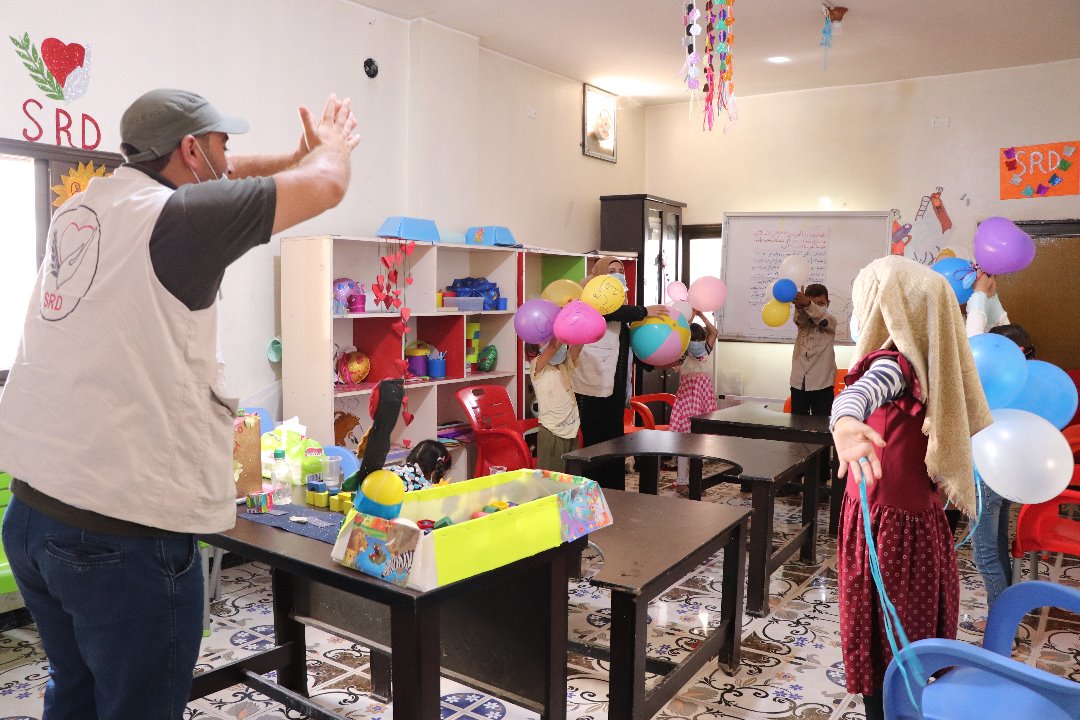 Men lead on GBV programming to protect girls from early marriage
Child marriage should never be perceived as an inevitable consequence of conflict. WV spoke with more than 600 boys and girls who provided evidence accounts that conflict made it worse for them - 84 per cent of them said early marriage increased since. But the community is really divided based on cultural norms and practices and the voices of children. Qutaiba, who works as a Field Officer and whose main role is to facilitate the work and access of service delivery teams in locations where they can identify beneficiaries, and link them with the much needed GBV programmes, says the same: "The community is divided between supporters and opposers. Some see it [ending child marriage] as a positive step and an opportunity for progressing and developing the society, however, there are others who reject it seeing it as a threat against the values and principles inherited over generations". It is not easy work and in many cases men end up fighting ideologies with other men - raising awareness is key to help girls avoid being pushed into marriage and rallying support of the community to better protect girls and end the cycle of violence against them. "I remember a 14-year-old girl who came one day to our community centre. She strongly refused the decision of her elder brother who was her guardian after the death of her parents; he wanted to marry her off to her 42-year-old relative. The young girl requested her aunt's support who was able to protect her and stand in the face of her brother. In response to this action, the brother directed a torrent of accusations to the GBV programme team and held us directly responsible for changing the ideas and beliefs of his sister, who, as he put it, never disobeyed him".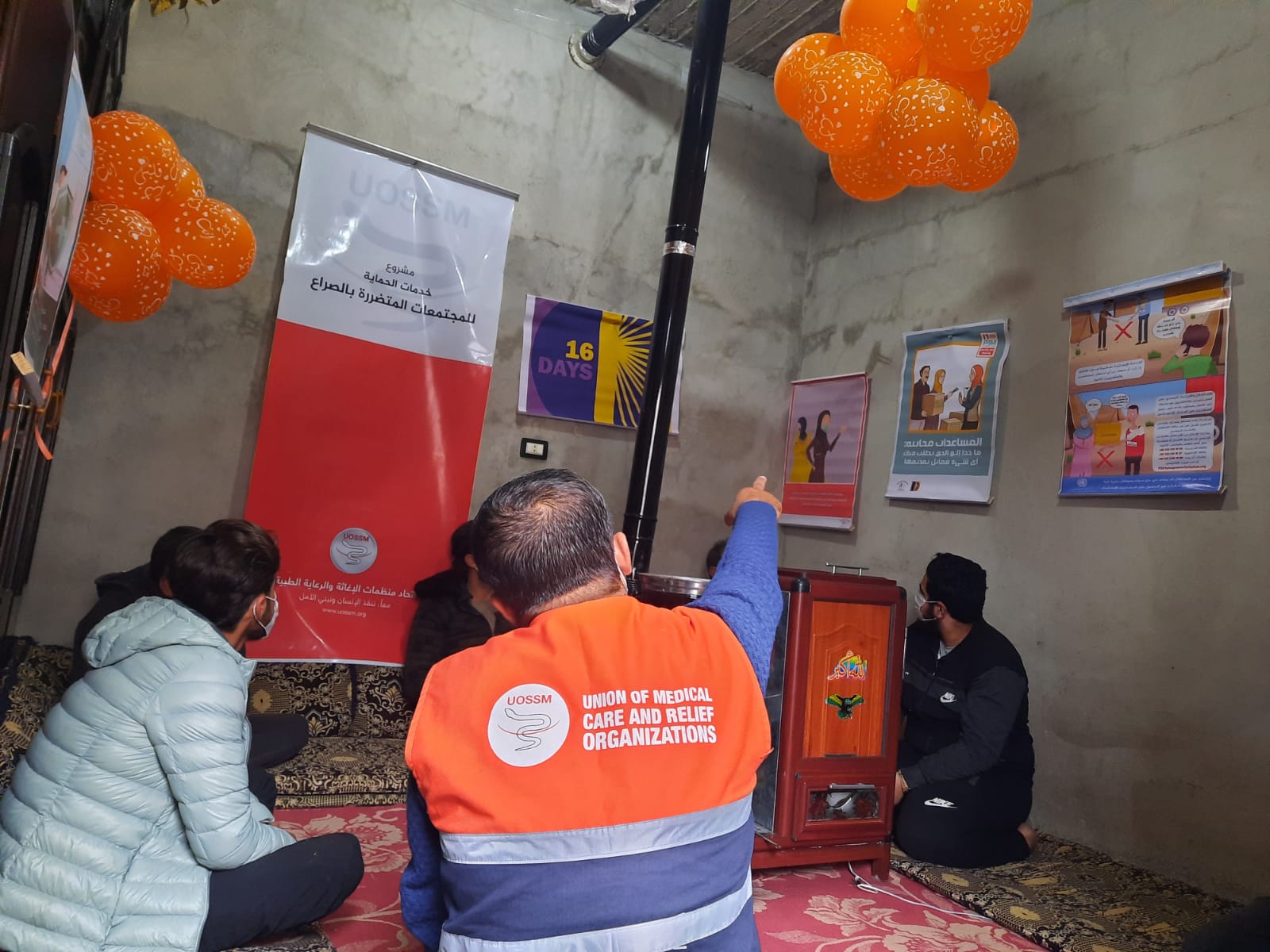 Men challenge norms harmful to women and girls
We hear from our colleagues who work directly with women and men, that women and girls enjoy the benefits of the GBV programmes aid organisations are providing. This is mainly because they are empowered and end up feeling respected, heard and involved. For men, however, it is not necessarily the case. They have been raised in a society that empowers them to make decisions on women's behalf on matters concerning their well being without consulting them or providing for discussion space. This leads to exclusive relationships within families, communities and society overall. Omer, our Protection Assistant, speaks of a story about men taking pride in actions that are perceived harmful to women: "A 35-year-old man was bragging in one of the sessions we held about how he forbade his wife from working despite having a certificate. As the programme advanced, the man left a comment for the staff, which manifested a big step of change and improvement. He disclosed that he started supporting his wife to pursue the profession she loved and so she became a teacher in school, like she always wanted". Some men also try to find "good reasoning" to continue the use of violence against women and girls. Firas, who is a Psycho-social Support Worker, shared one such instance: "One man who was attending one of our sessions was convinced that his 12-year-old girls needed to be married as soon as possible. Following the discussions we held in the sessions, he decided not to move forward with his plan and to allow them to continue their education first".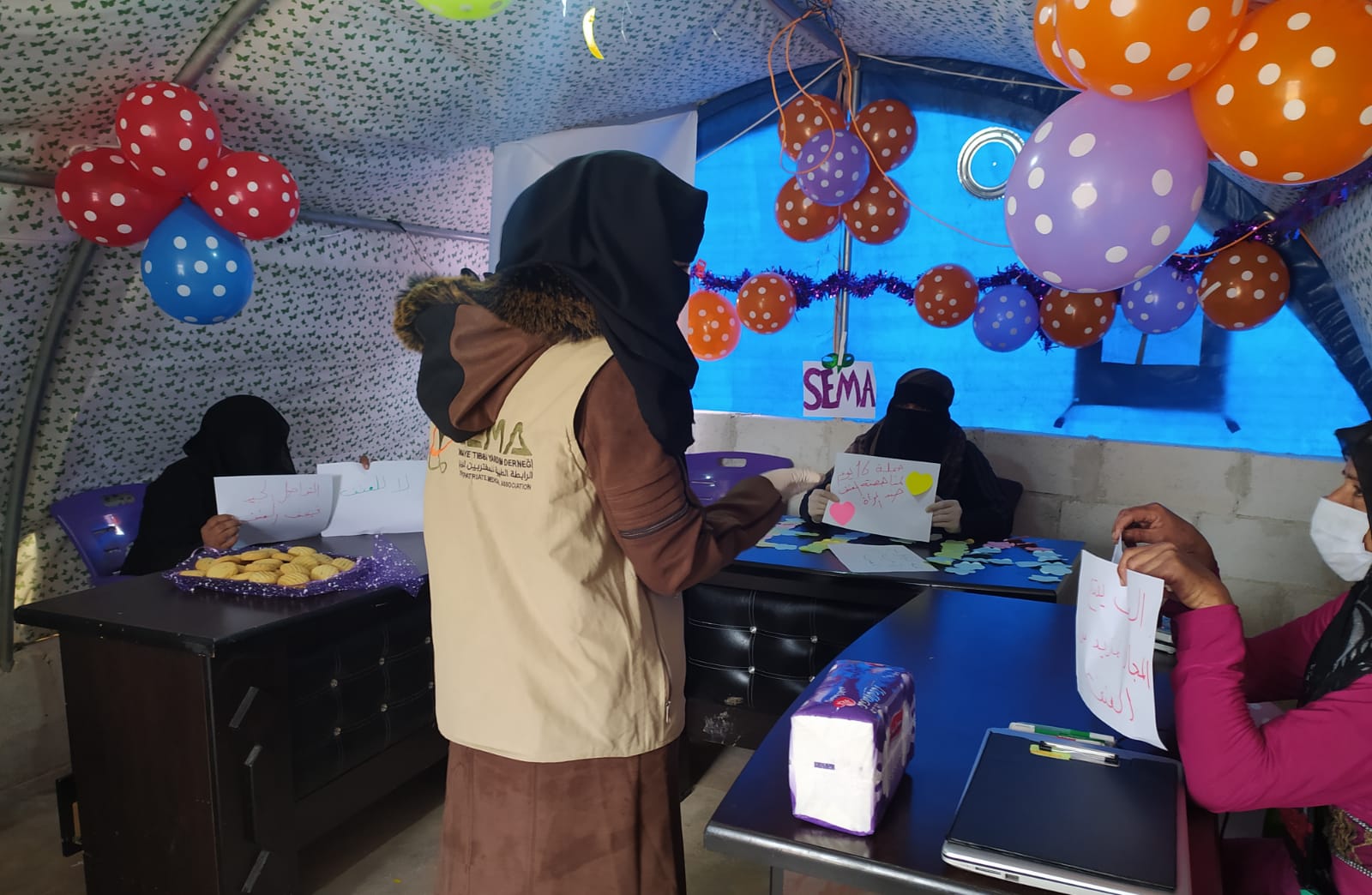 GBV steals women and girls' futures and destroys the potential they bring to the families, communities and the society overall. Syria is just one example of many where women and girls are left behind and cultural beliefs and practices puts them at risks unthought of. But, progress to reduce violence against them is possible and men are at the forefront. Either as a positive role model, an aid worker or simply raising awareness of the negative impacts practices as child marriage or other types of violence, have on girls and boys, is what we need to invest in. Covid-19 secondary impacts is yet another alarm to keep investing in them as there is a growing number of domestic violence reports and recorded challenges in accessing services for GBV survivors, including schools, community centres and Women and Girls Safe Spaces (WGSS)[4]. We are still at the beginning and there is still so much more to be done. We cannot stop now and we cannot challenge the harmful norms for women and girls, without men.
Read World Vision's report ACT NOW for Children that explores the repercussions of Covid-19 on children inside Syria, Jordan and across the Middle East. 
Photo credits: World Vision's partners inside Syria.
-----
[1] UNOCHA (2020) Annual Report: 2019 Humanitarian Response Plan: Syrian Arab Republic
[2] Siegfried, K., Barchfield, J., Carlisle, L. and Yeasmine, I. (2020) Gender-Based Violence on the Rise During Lockdowns - UNHCR
[3] Heise, L., Ellsberg, M. and Gottmoeller, M. (2002) A global overview of gender-based violence. International Journal of Gynecology & Obstetrics, 78, pp.S5-S14.
[4] UNFPA (2020) COVID-19: Guidance Note On Gender-Based Violence Service Provision