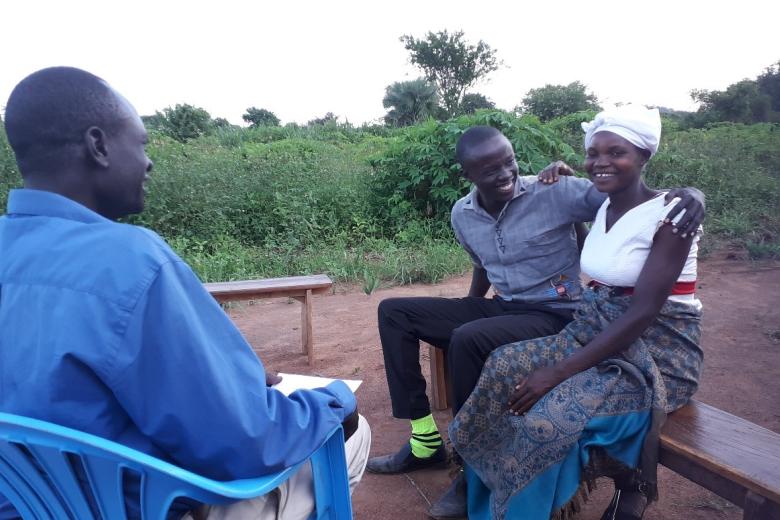 A couple's love restored through Channels of Hope
Monday, July 27, 2020
With the continued closure of schools as a measure to curb the spread of COVID-19, children wander about the community with no specific tasks to keep them busy during the day. Their idleness is a constant burden to many parents. Most adults also loiter, while others search for the next piece of garden work for pay to earn something with which to feed their families.
The almost five-month lockdown in Uganda has left many people with no way to earn their day-to-day living. This has caused stress in families, with one of the aftershocks being the increase of gender-based violence – both physical and psychological. There have been over 23 cases recorded so far in Wol Police Station and at the Community Development Office within the last two months.
Child protection and safety within families are two of the key areas World Vision seeks to intervene in through faith institutions and faith leaders who are an integral part of the community. Through the Channels of Hope (CoH) model, selected households undergo training to understand the need for unity and reconciliation in families. CoH is a World Vision model aimed at engaging religious institutions to tackle social and cultural issues at household and community levels. In this case, the CoH approach used was focused on Gender Based Violence (GBV) integrated with Psychosocial Support (PSS).
"I am the happiest since we accepted to join these sessions. I was at the point of causing harm to my lovely husband or myself because I was angry all the time. Because of lockdown, my husband never went to work; I am the one who was doing most garden work and house chores, yet he kept demanding for food. I felt marriage was useless," says Christine, one beneficiary. She says that after attending the sessions, she feels like her husband Ambrose is back to being the man she married.
At the beginning of June, World Vision, through its Wol Area Programme, trained 30 faith leaders from across the sub-county on PSS and child protection; working with Charles Okot, a priest from Rock View Church in Wol Sub-county. Twenty-four couples completed four sessions facilitated by seven faith leaders; mainly to avert the effects that the lockdown has brought to some families.
Ambrose Odongkara and his wife Christine are one of the couples who went through the session. With a smile, he looks at his wife and recounts: "When I look at my wife now, I see a young girl I love. I used to be tough. I would never support her in doing any home activities because I had told myself I had married her, she had to go and fetch water, take it to the bathroom for me even if she was busy doing something important for us. I would even leave the basin there for her to pick, despite her being seven months pregnant. When I felt she was a burden to me, in anger I threatened to chase her away, but I thank God that before I could do that, our pastor intervened with these sessions."
He adds: "After learning how to communicate and appreciate my wife and our situation, I am no longer tough to my wife; I approach our issues differently and now share all our plans and issues together before going to bed. I am very happy that we have created a new bond. Other people should also go through this."
World Vision's integrated approach to programming has supported many households to improve relationships and strengthen family bonds in collaboration with faith leaders, who are an indispensable partner in curbing gender-based violence in their communities. Household cluster volunteers play a key role in community sensitisation and driving the process to ensure best child care practices are followed for family stability and ultimately creating a safe environment for children.
-----
By Noah Oduori, Program Manager, Pader - Northern Uganda