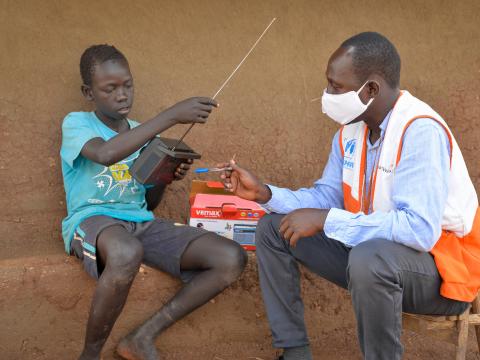 Distributed radios help a 14-year-old to continue learning and pursuing dream to become President of South Sudan
Monday, August 31, 2020
By Aggrey Nyondwa, Maxine Kampire-Communication Officials, World Vision Uganda
 "I want to be the president of South Sudan," Isaac, 14, says resolutely. "I want to study so hard. I want to go back home. I want to bring back peace to our country."
Education is important to Isaac, but it has been a long journey for him to get a stable and good education. After conflict upended his life, the 14-year-old, his brother and his father were forced to flee their home for Uganda, settling in Bidibidi refugee settlement.Soon after their displacement, Isaac and his younger brother were left on their own.
"Their father abandoned them a month after they arrived in the settlement," Sarah Kegi, their foster mother, explains. He is believed to have returned to South Sudan. "We thought he would come back but he never did," Sarah adds. Isaac and his brother, who were abandoned by their mother while still in South Sudan, were all alone.
"Their father was a business man in South Sudan. We used to be his customers, and this is why I recognised them when they came here in 2017," Sarah says.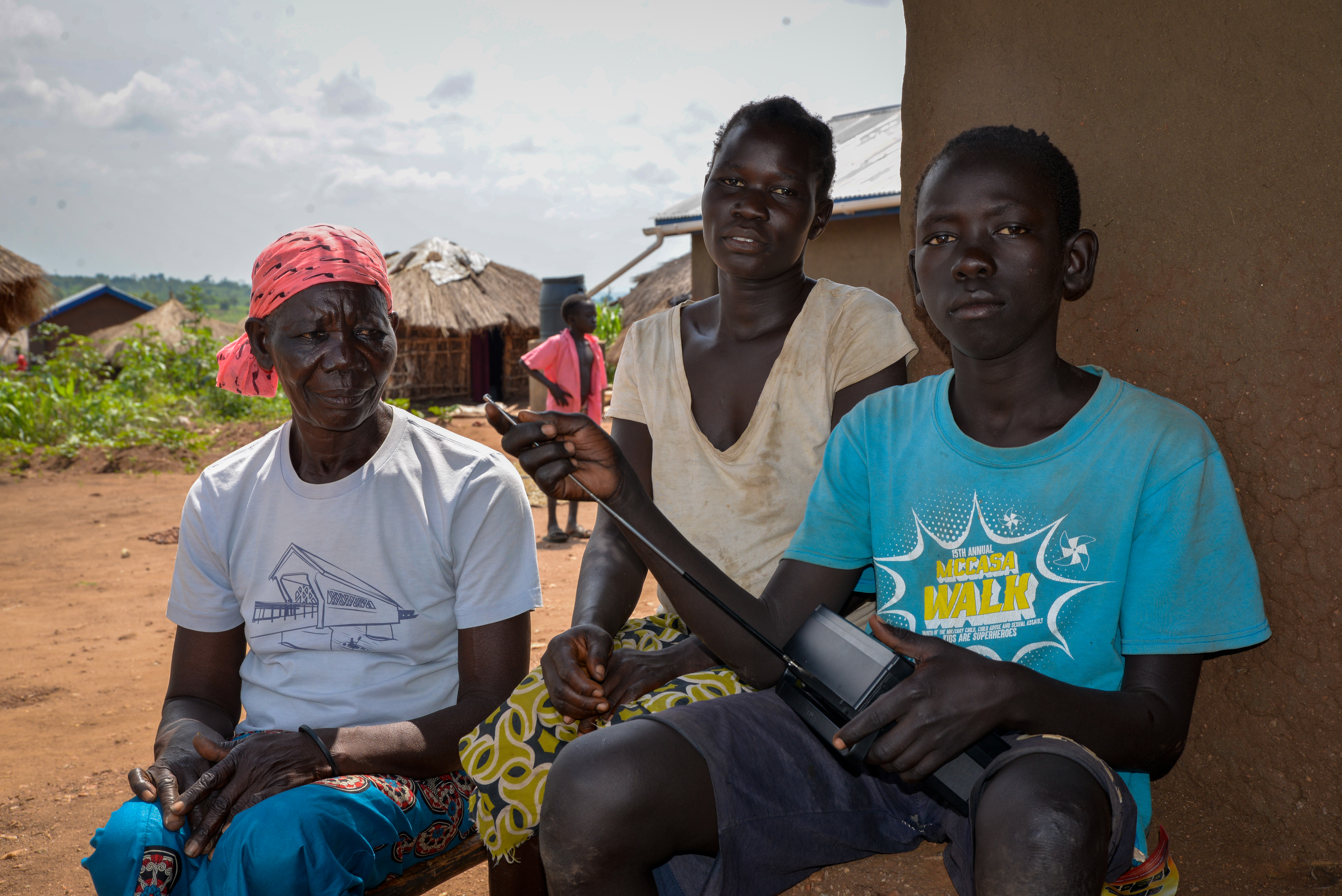 Before acquiring custodianship of the boys, Sarah was vetted by World Vision working with community structures. She was also trained in positive parenting and children rights.
"They were so young at that time. The young one would cry all the time and the elder brother (Isaac) could not fetch water or cook. I decided to take care of them," she adds. 
In the midst of this harrowing experience, education was Isaac's hope. However, for many children like Isaac, education is not easily accessible. According to UNHCR, only 63% of refugee children are enrolled in school at primary level and these numbers get worse with higher education.
Despite the odds, Isaac was able to start going to school and he enjoyed it. "We would go to school at 7:30am every weekday. I would get to see my friends," he explains. That was until schools were closed due to the COVID-19 pandemic. "I miss my friends. Some of them stay very far so I could only see them at school. I miss learning new things," he says.
Isaac and his siblings are among the 15 million children across the country that have been affected by the closure of schools since back in March. In response, the Ministry of Education started supporting children and parents with free study guides and lessons broadcast on radio and television. For Isaac and his siblings, accessing these lessons was difficult.
The family had an old radio that they used when radio classes had just began airing. The radio kept the children busy and engaged but, alas! It stopped working.
"We had an old radio here that kept them home without moving. The radio got a problem and did not work again," says Sarah.
When Isaac took the radio to the mechanic, he was told the Integrated Circuit (IC) got burnt. "I didn't know what that means, but he explained it to me. He then asked for UGX 10,000 ($2.7) to replace it. We didn't have that money, so we kept the radio," he says.
So, every day, as other children started on the learning materials and classes, Isaac and his brothers would go to work in the garden from 7am until 11am when breakfast was ready.  But on this bright Friday morning, thanks to the radio distribution team from World Vision, today's –and the next day's– digging will stop at 10am, in order to allow the children prepare for their radio class at 10:30 am.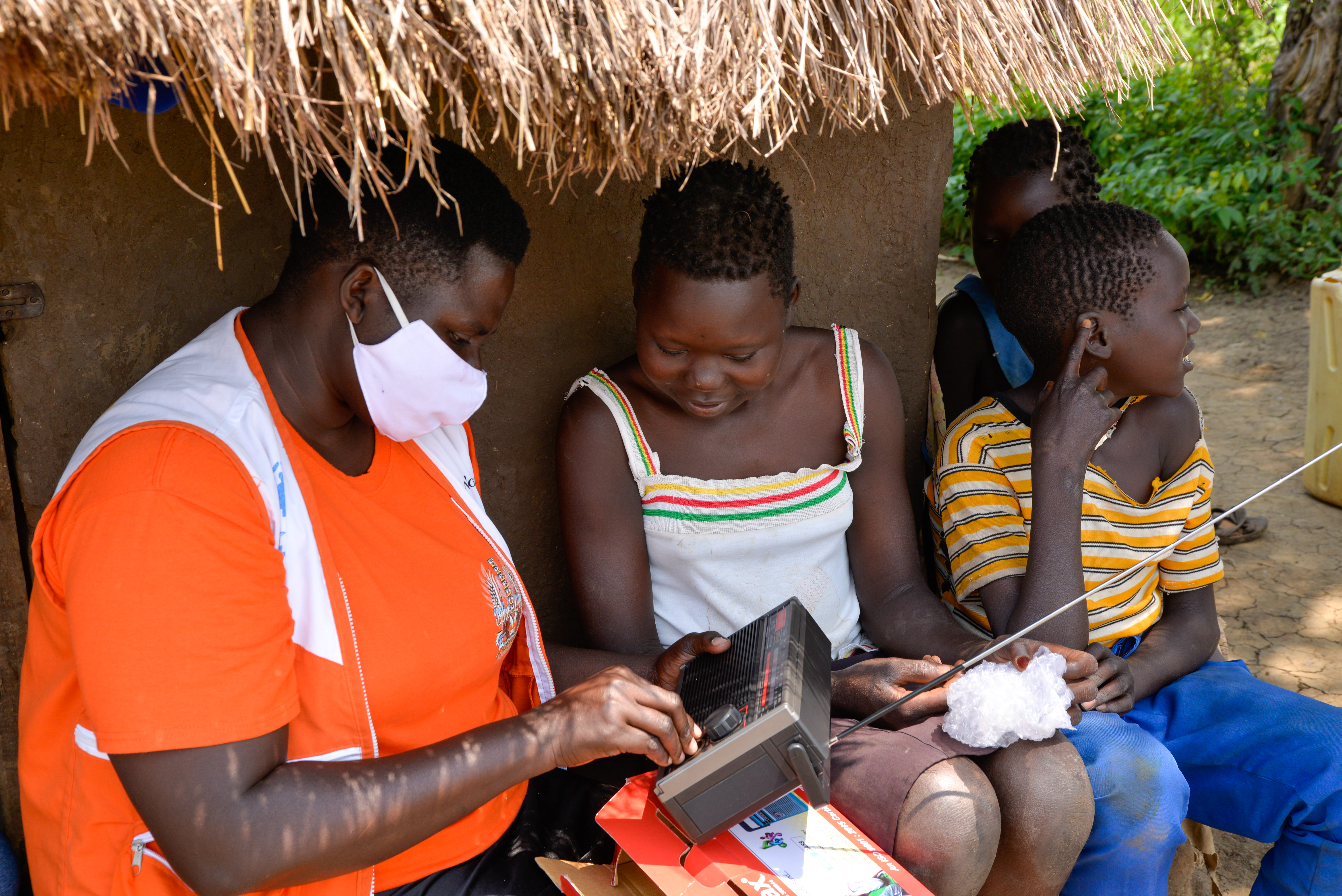 Isaac is one of the first 38 children to receive a radio handset in the settlement. He beams with a smile after receiving the brand-new radio set. He studies it, and embraces it in total awe. His exhaustion from a long hours digging vanishes instantly. 
"We will be distributing more radios because the need is there, but today our focus is on the children from child-headed and foster families that are under our care, because they are among the most vulnerable groups," says Solomon Okech, World Vision's Child Protection Coordinator in Bidibidi. 
World Vision has been supporting Sarah under the foster family care programme. This involves providing the family with essential household items like soap, clothes, shoes, and scholastic materials. In response to the COVID-19 pandemic, the family has also been supported with soap, and an improved hand-washing facility.
This assistance has been priceless for Sarah and her family at a time when her husband is stuck in South Sudan because of the pandemic. "I have three children of my own. Unfortunately, my husband went to visit in South Sudan and was locked out because borders were closed. I now stay with the five children, and my mother in law," she explains.
With this radio handset, Isaac will be able to continue to pursue his dream and for Sarah, the children's education will be one less thing to worry. 
Learn more about how World Vision is responding to the impact of COVID-19 in Uganda, especially in communities where children and families are most vulnerable.