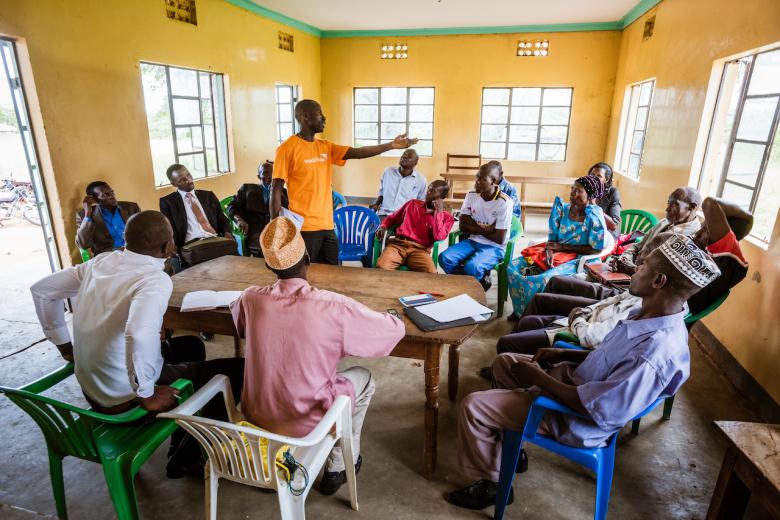 Fighting the stigma of testing positive for COVID-19
Friday, May 1, 2020
By Charles Kaboggoza, Area Programme Manager, Kyabigambire, Hoima Cluster, western Uganda
The Uganda Government's response in preventing the spread of COVID-19 has been commendable. The decisive measures taken, including closure of schools, ban on religious and cultural activities, the appeal to stay at home, social distancing, 7:00pm curfew and ban on use of private vehicles are all vital in controlling the spread of Covid-19. With the campaign on good hygiene practices of washing one's hands often and using alcohol-based sanitisers, behavioral change is a contributing factor to slowing the spread.
However, there is one area of concern that must be addressed - the stigma and discrimination that people who have tested positive for COVID-19 and their families are facing in their communities. Paul Insingoma (not real names) knows first-hand the burden of being ostracised by the community – and not just him, but his family and village too.
Paul lives in in Kibugubya Parish, Kyabigambire sub-county in Hoima district in western Uganda. The 55-year-old Ugandan works as a guard with a security company in Afghanistan. When he returned to Uganda on March 17, he went home where he stayed for 3 days before he started experiencing the symptoms of COVID-19. He was followed up by the district health surveillance team and asked to go for testing. He was positive for COVID-19.
There was panic in the community. The people were angry that Paul had brought the disease to them. His family felt the immediate brunt of their anger. They were shunned by their community. In their anger, the people turned violent against Paul's family and the 90 individuals who they said had direct contact with him. Paul's family and the 90 people from Paul's village were denied access to social services. Children were chased away from boreholes and community wells. Among these children were 34 beneficiaries of World Vision.
The District COVID-19 Task Force was alerted. The psychosocial committee was asked to immediately manage the situation. Among the committee members is Charles Kabogoza, a Development Facilitator with World Vision Uganda's Kyabigambire Area Program. Charles has extensive knowledge and experience in community counselling and communication. He was tasked to lead the response against stigma and discrimination in the district, particularly in Kyabigambire.
Through Charles' leadership, the committee has developed a communication strategy on COVID-19 prevention, including prevention of stigma and discrimination of COVID-19 suspects and their families.
Charles has since supported a number of radio programmes aimed at dismissing the myths and misconceptions exacerbating the hostilities against COVID-19 suspects. He helped in the formation of the COVID-19 Task Force. Through his efforts, World Vision Uganda has supported Hoima district to establish a psychosocial quarantine centre for the rehabilitation and monitoring of the affected persons, and resettling them into their communities.
Although it is still a work in progress, there is a return to social harmony in Kyabigambire sub-county. The abuse and forceful isolation of children and denial of their families of access to basic social services is slowly ending.  
Learn more about and/or support World Vision's global work to limit the spread of COVID-19 and support the children impacted by it on our COVID-19 Emergency Response Page.