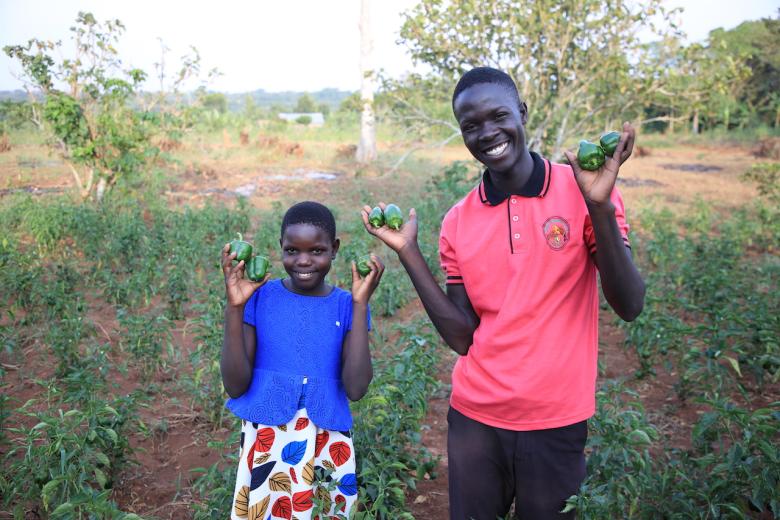 A green pepper garden is keeping Faima's future hopes alive
Wednesday, March 17, 2021
Twelve-year-old Faima looks on as her elder brother Assuman, walks through part of an acre of land inherited from their late father about a year ago. As he moves to a section of the plot dotted with short green leafy plants, he stops briefly and squats to examine the plants. He calls out to his sister Faima, who springs off like a young gazelle, running towards him. Assuman's hands disappear in the plant leaves and reappear with shiny green bell pepper, the size of a small fist. He looks at his sister and they both laugh.
There are several other bell pepper plants ready to be harvested. Assuman pulls out a plastic bag from his pocket and fills it with green peppers. Faima dashes to another portion of the garden a metre or two aside, and returns with her hands full with more green peppers before emptying them into the bag. Within a short time, the bag is full.
"I expect to sell this bag of green pepper at UGX100,000 (USD 27)," says Assuman.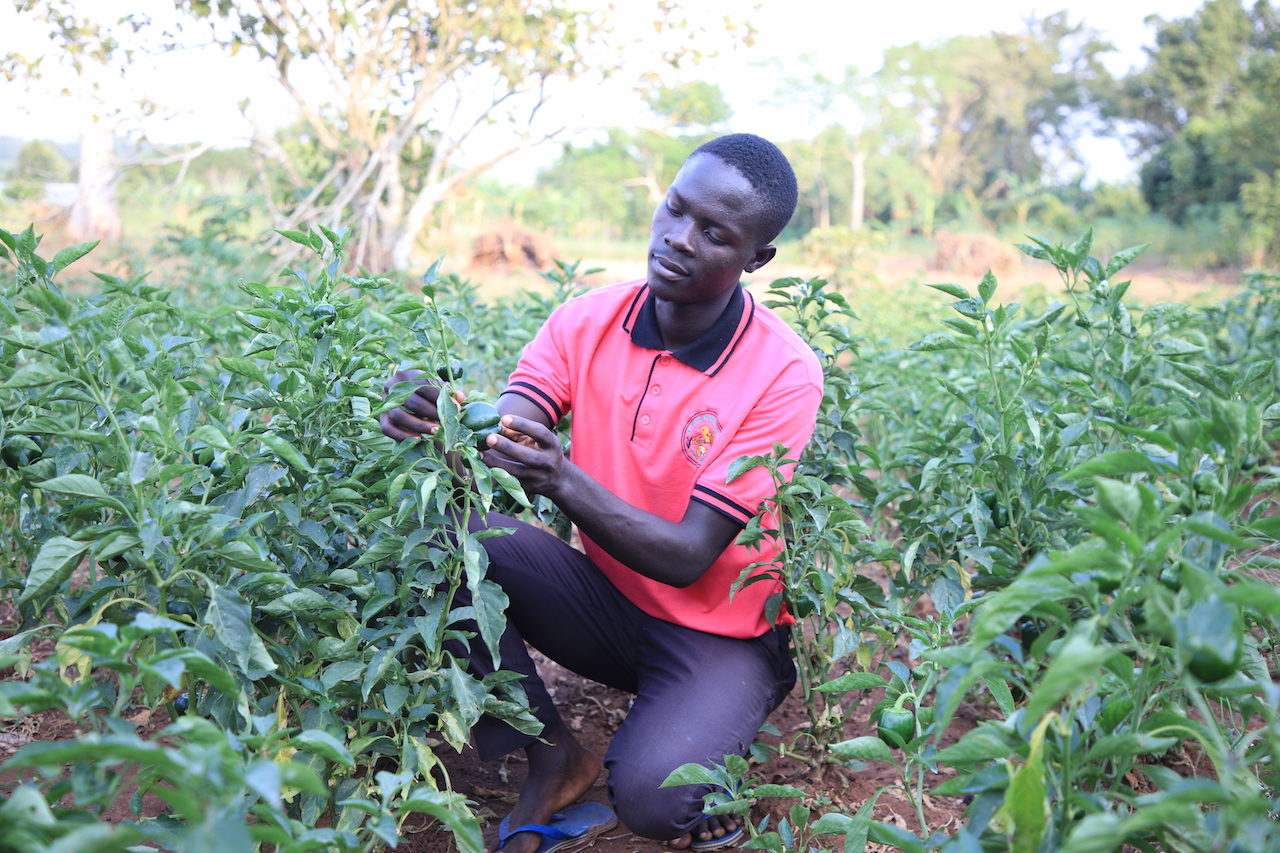 The 20-year-old lives with his mother and two siblings in Namalenha village of Buwunga sub-county in Bugiri district, eastern Uganda. He is a youth representative and a member of Buwunga Farmers Savings and Credit Cooperative Society (SACCO), a community-based women initiative group.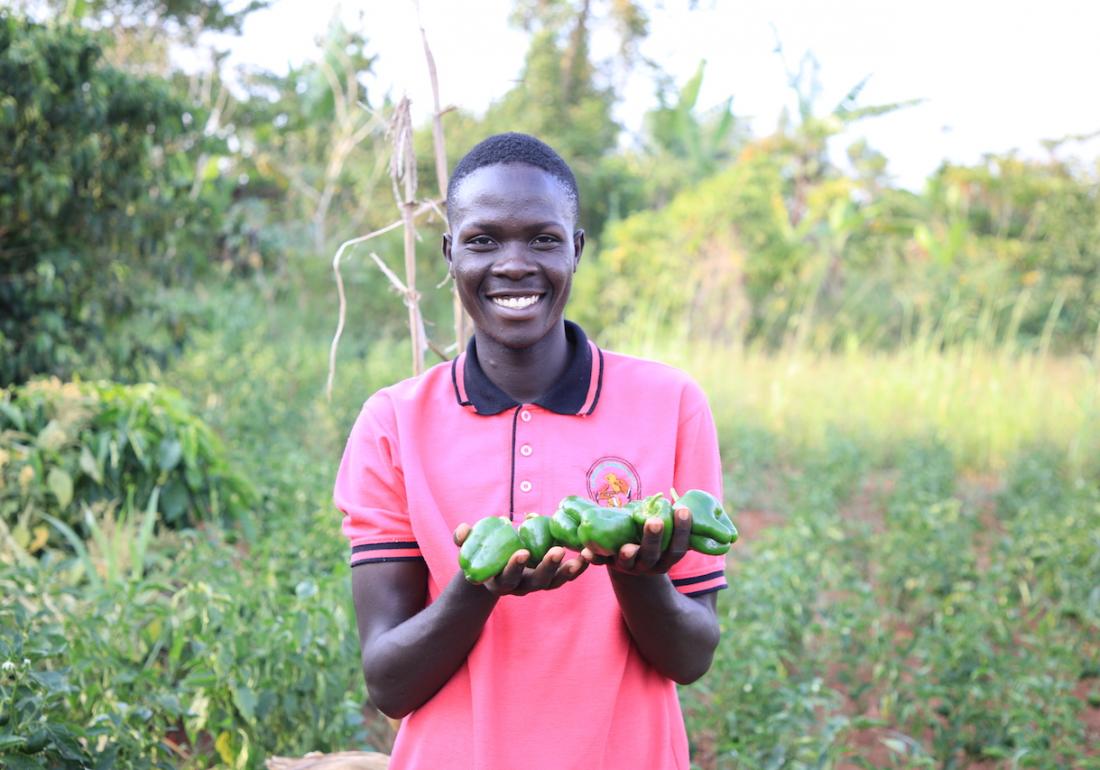 "Before I joined the group, life was very difficult. We were in a bad situation with the family, after losing my dad," says Assuman. He recalls how they struggled to get food and school fees for his siblings. According to Faima, her school would not allow her to sit for her exams without paying fees and she would always be sent home due to school fees.
In July 2020, World Vision provided a variety of seeds as well as training to members of Buwunga Farmers SACCO, promoting kitchen gardens for women and youth. According to Michael Oloka, a World Vision Community Development Facilitator based in Bugiri, World Vision provided training for these groups in financial management and literacy, savings for transformation, and good agricultural practices as well as engaging in income-generating activities.
"We are encouraging youth in the area to invest in vegetable growing, and also engage them in cultivating especially during the dry season," says Michael.
Assuman got a loan of UGX150,000 (USD 40) and prepared a green pepper garden. When the crop is ready, he harvests after every two weeks. Assuman sells each kilo of green pepper at Ush 1,600 (just under 50 US Cents). During the first harvest, he got 100kgs, which he sold for UGX 160,000 (USD 44)
"In a month I can harvest twice. When there is little rain, I can get at a minimum of 60kgs but in a regular season, I get at least 120kgs," says Assuman.
He is now able to provide for the family, and there is plenty of food for the whole family. We could not afford sugar, but now we take tea with sugar and have a variety of food including rice which is my favourite," says Faima. Her brother also bought a small solar panel to help with lighting at home as well as charging his phone.
Assuman bought school requirements and paid school fees for his younger brother who is in the boarding section and a primary seven candidate. Faima, who has been at home due to the closure of schools as a result of the COVID-19 pandemic, will soon go back as learning slowly resumes. "I am proud of my brother because he is supporting our learning. My brother can now manage to pay school fees because of the garden.," she says.
Even when not in school, Faima says she has learned a lot from her brother who is helping her to be a responsible person in the future through performing light house chores like cleaning the compound and other work done by children. Faima, who is in primary 5 (fifth grade) dreams of becoming a doctor when she grows up. "There aren't enough health personnel in this area, and when I achieve this dream, I will come and work in our community," she says.
Since starting the green pepper project, Assuman has so far earned UGX 600,000 (USD 163) in the space of six months. He sells his produce mostly to hotels and businessmen who come to buy from Bugiri. Another part of profits, he saves with the SACCO. "World Vision has restored our hope. Life was challenging from the time we lost our dad. He had three wives and our family was the youngest, so we would be mistreated at times," says Assuman.
Buwunga Farmers Sacco, whose motto is 'growing together' has a total of 145 individual members, 98 of whom are women. It has helped to establish 171 village savings groups with 3,672 households. The members save weekly and are able to borrow small loans from the cumulative savings; that helps them improve their livelihoods. The group so far have has savings totalling UGX 24,000,000 (USD 6,549), with outstanding loans between the members reaching UGX11,000,000 (USD 3,000)
---
By Emmanuel A. Okello, Communications Officer, World Vision Uganda