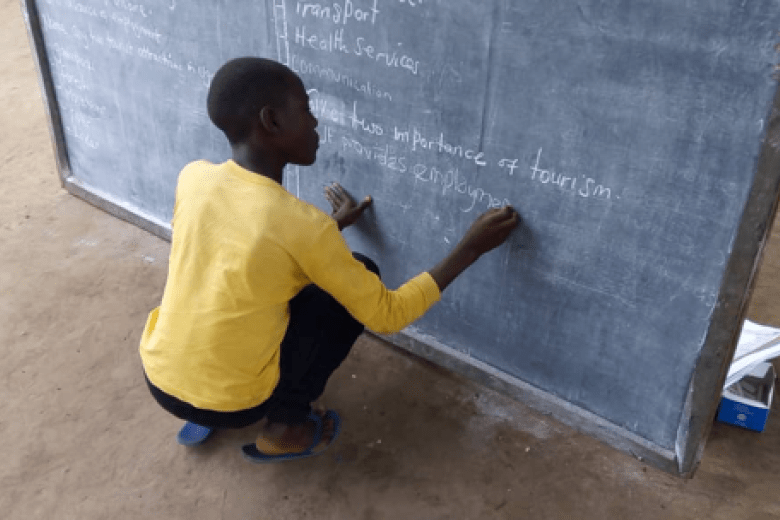 Home learning boosts children's literacy amidst the COVID-19 pandemic
Wednesday, September 9, 2020
By Maxine Kampire & Charlotte Muhwezi
In Nabukalu Sub-County, Bugiri District, pupils are not going to school like it is the case in other parts of the country. This is due to the COVID-19 pandemic that led to the closure of schools in March as a preventive measure to keep the virus from spreading further and affecting children and their families. This has affected children, and their ability to read and write has dropped. In response to this, the Ministry of Education and Sports, and its partners, have made learning more accessible to them.
Shamidu, 11, a primary seven candidate from Nabukalu primary school is one of the many that is affected by the school lockdown. She lives with three siblings and a grandmother. As the oldest, she was overwhelmed by home chores like cooking, cleaning and digging, and never got a chance to study.
With the Ministry of Education guidelines, study materials were distributed countrywide and she was among the beneficiaries. However, she was not able to study on her own and her illiterate grandmother could not help either.
Due to this challenge, World Vision started a home learning initiative and supported teachers to educate children from their homes. Teachers from primary seven were able to take her through the reading materials she received. She was able to study Mathematics, Science, English and Social studies.
"Life is now better; I attend classes in my compound and I do not need to walk anywhere else. I can ask my teachers questions and revise my books easily. This has helped me spend my time on my education" says Shamidu. She is now confident that she will be well prepared for her final exams if schools reopen. She has all the reading and writing materials she needs.
In Shamidu's community, 60% of the study materials from the Ministry of Education have been taught to the pupils
"Children were loitering in town aimlessly and became victims of child violence. In this community, there are many child labour cases because parents subjected their children to work due to redundancy.  With the new initiative of home learning, as World Vision we are confident that there will be significantly fewer school dropouts, early pregnancies and children will still be able to reach their full potential once schools reopen", says Namukambo Sarah, World Vision's Education Project Officer, Nabukalu Sub-County, Bugiri District.
In addition, as part of the standards of operation from the Ministry of Health, all home learning centres in the area have hand-washing facilities (tippy taps), children sit a distance apart from each other and teachers and pupils do not shake hands, and abide by all the other guidelines.