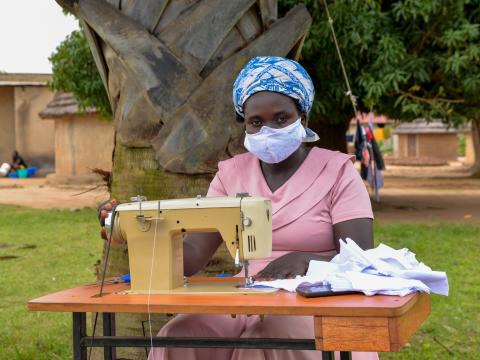 How World Vision's livelihoods programmes are helping communities to overcome the effects of COVID-19
Sunday, September 6, 2020
By: Aggrey Nyondwa Kikobera, Communications Official-World Vision Uganda
In order to break the cycle of intergenerational poverty by 2030, World Vision is building the resilience of Ugandan communities to adapt to climate-related extreme events and other economic, social, and emergency health events like the outbreak of COVID-19.
The resilience and livelihood interventions are implemented in 48 Area Programmes, including a refugee response. With the outbreak of the pandemic and its subsequent impacts, beneficiaries of our livelihoods programmes have been able to overcome and thrive through one of the most economically challenging times.
Teacher becomes Veterinarian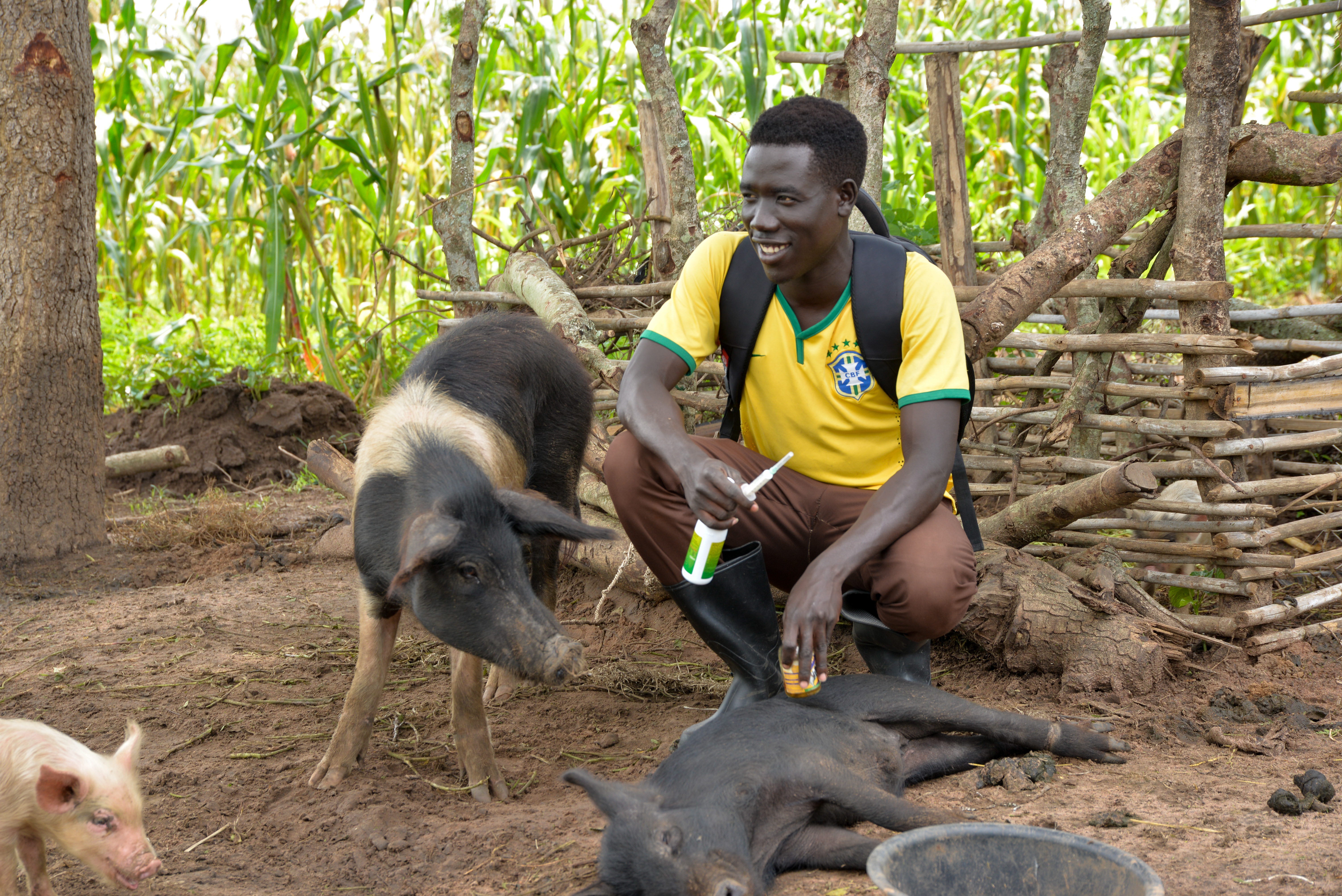 Every morning, 23-year-old Maurice Milla, a South Sudanese refugee, wakes up with great expectations to be called by the community to attend to a sick animal. This means business for him; an opportunity to make an income for the day. Maurice is among the 65 youths in Parolinya refugee settlement that benefited from a World Vision vocational skills training in 2019. He trained and graduated with a Certificate in Agriculture and Animal Treatment.
"I always wanted to be a doctor for animals," he says. "Back home in South Sudan, my father kept so many animals. I was so happy when I got the opportunity to study the course."
Maurice, however, had another job by the time he graduated. He was working as a facilitator at a Save the Children-run Child Friendly Space (CFS) in the settlement. When the COVID-19 pandemic broke out, all schools closed (including CFSs) and he was out of a job.
"When the CFS closed, I had a very good backup. It was an opportunity for me to put all the skills I learnt into practice," Maurice explains.
February, the time when schools closed, is a hot season in Adjumani-North Western Uganda. Due to the harsh weather, animals fall sick often and Maurice's skills were on high demand. He would get about 20 calls a day to attend to sick animals in the community, earning him between 5,000-20,000 UGX ($1.5-5) per call.
"When I am called, I check the animal and determine what is wrong with it. I don't charge consultation fees, so if nothing is actually wrong with it, I don't take the money. But if it requires treatment and medicine, then I charge some money," says Maurice
Maurice is the only veterinarian in his village and because of this, he has become every farmer's finest. "These skills have given me a great opportunity and helped me through a difficult season of lockdown," Maurice reveals. He now wants to pursue further studies and be advanced in this field.
According to Charles Madra, the Moyo Livelihood and Economic Empowerment Project Coordinator (MOLEP), youths from both the refugee and host communities were trained in various skills like tailoring, agriculture and animal husbandry, to enable them overcome difficult financial situations like the one brought about by the pandemic.
"The aim is to empower youths to be self-sustaining at a time like this. We are glad that they are putting their skills to good use," Charles says.
Tailoring skills help Alice work through lockdown
Alice Bako is a resident of Ukuni village in Obongi district. Through a vocational skills training, she was able to get a sewing machine. This has helped her continue to work from home while most of her friends lost jobs.
"We were all struggling during the lockdown, but I was better off compared to my friends," she explains. I got a few customers working from home, but my friends are teachers and boda boda [small bicycle] riders so they had nothing to do," she adds.
Rabbit farming sustains family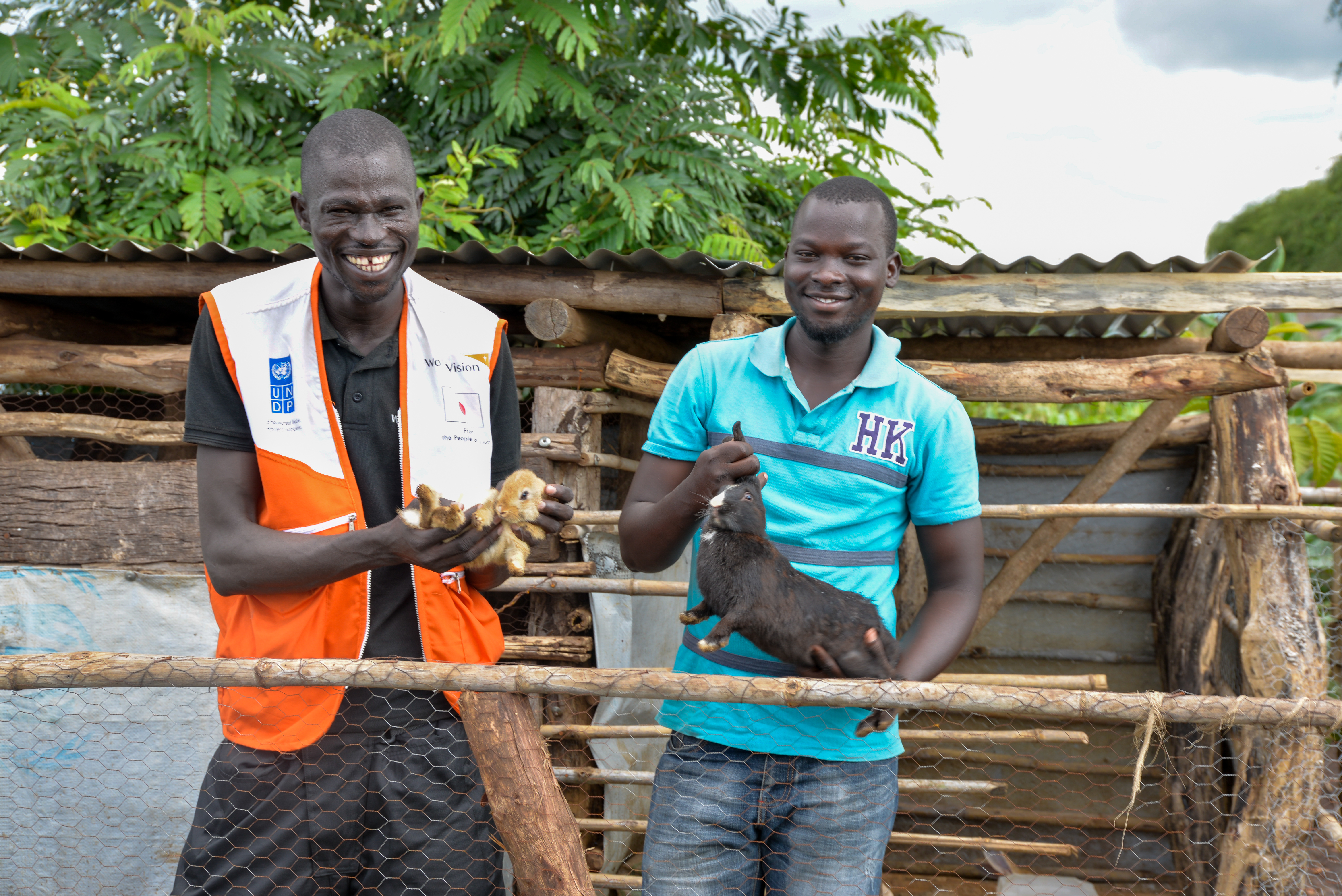 The MOLEP project also provided some 800 people with rabbits. Farmers were trained in rabbit farming and given two rabbits each as start-up. Robert Morobe, a South Sudanese living in zone III Parolinya refugee settlement, is one of the youths that benefited from the rabbit initiative. "My 2 rabbits produced rapidly and in a very short time, the numbers increased," Robert explains.
He now has 30 rabbits and they have been a source of income and food for his family. "I sold some, gave out others to my neighbours, and also ensured that we eat two or three rabbits every month. My siblings like it so much," says the 26-year-old.
"During the lockdown, there were no buyers, so the income reduced. We also had a problem of food but my family was able to survive on the rabbits," he adds. Robert plans to expand the rabbit house so that he can accommodate more. He sells each between 10,000-20,000 UGX ($2.5-5).
Youth group thrives from Fish farming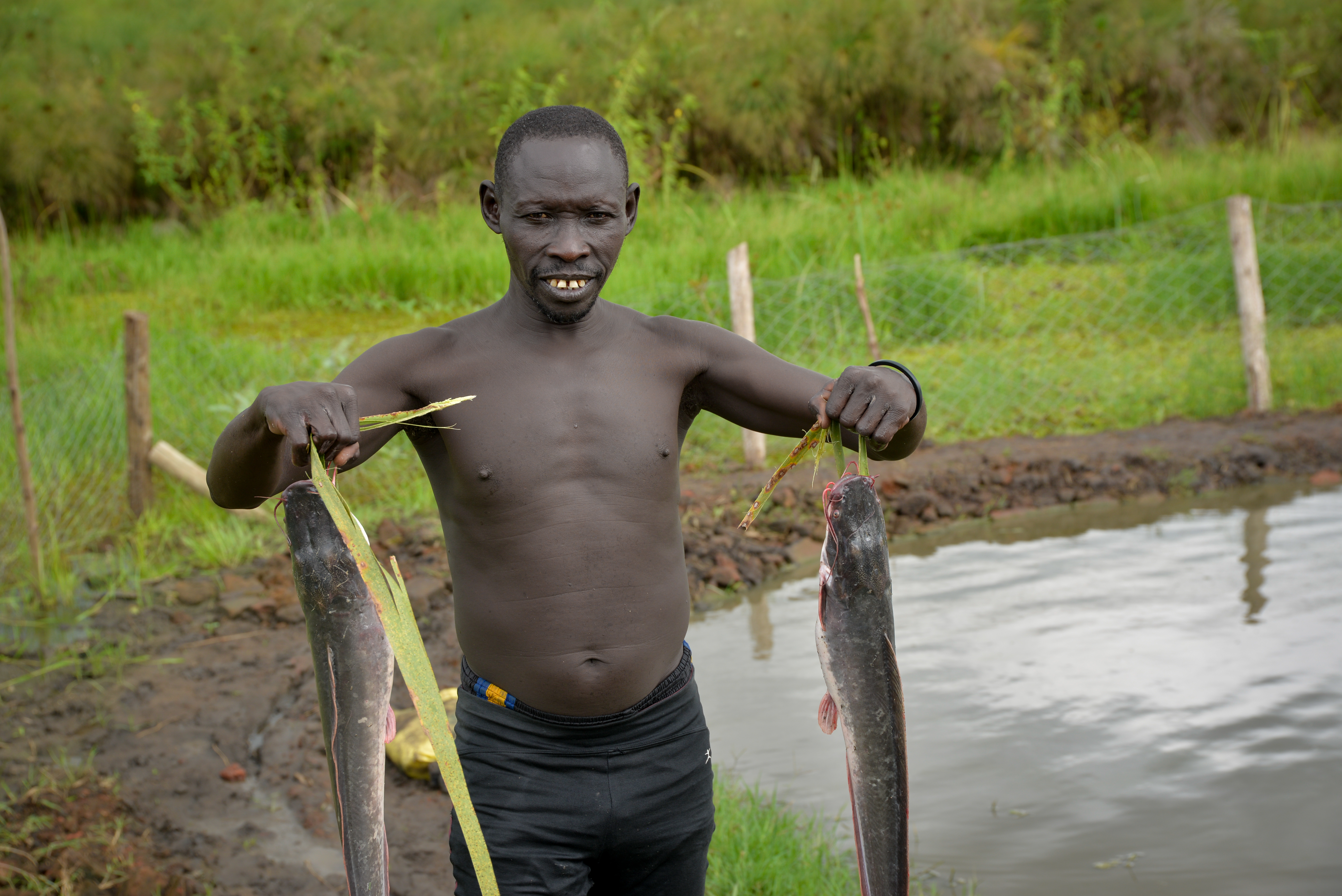 Amalu Fish Pond Group in Obongi district used the lockdown time to concentrate on their fish farming. According to group chairman Charles Tako, the fish are now ready to be harvested, but they will have to wait until December when the market is right.
"The fish are now ready. They are all mature and we have picked some to eat already. But our primary goal is to sell and establish a business. The supply for fish right now is high so there is no demand, we will wait until November when the demand is high," he explains.
In April 2019, World Vision trained the group in fish farming, provided them with fingerlings, and continue to provide food for the fish.
"We supported the group with over 2,500 fingerlings, we also supported them to dig and pump the pond. This group has brought together 30 youths from this village who were previously idle and redundant," says Amos Kisenyi Solomon, the Livelihood Assistant, MOLEP
 
Sewing face masks for refugees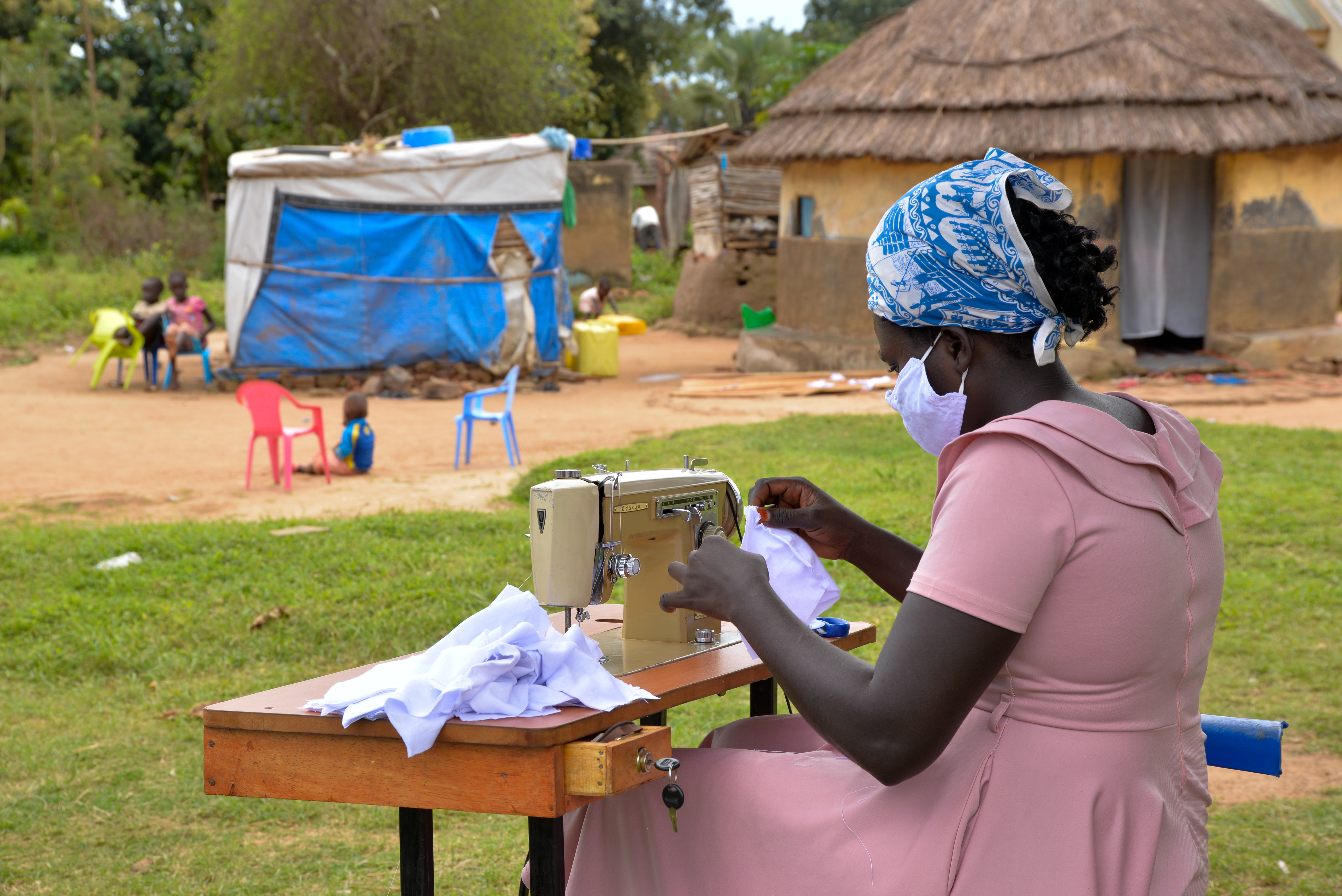 Across the Nile in Adjumani district, over 1,500 people have benefited from the World Vision Australia-funded  livelihood projects during the pandemic. 25-year-old Jen Modong is a South Sudanese refugee living in Maji III refugee settlement. Jen is among the 45 youths that were trained by World Vision in 2019 with vocational skills. During the lockdown, Jen was among the 10 from her tailoring class who resorted to making face masks for sale while working at home. 
"When the lockdown started, I realised that if we start making them, we could earn some money," she says.
Jen and her colleagues were later awarded a UNHCR-World Vision face mask production project to produce face masks for over 187,000 refugees in Adjumani. They were provided with all the required material and paid 500 UGX (14 cents) for each mask made.
"I would sell a mask at 1,500 or 2,000 UGX (US 41/55 cents), but still customers were not many because people didn't have money to afford the masks. When UNHCR decided to produce masks for all refugees, I was lucky to be among those contracted to make them. I have made a lot of money from this project," she notes.
Sunday Ambayo, another graduate of the tailoring course says he earned 140,000 UGX ($38) from the first batch he made. He used the money to add into his business and bought food and medicine for his children at home.
"I would usually use this money for school fees, but since there is no school, I decided to add it into my business, and also treated one of the children who was sick," he says.
Seeds increase food security
According to Jesca Alanyo, the Adjumani Livelihoods Project Coordinator, farmers were also supported with seeds to enable them plant in time and prepare for any COVID-19 hunger aftershocks.
"The countrywide restrictions on movement hindered most farmers from accessing seeds and other agricultural items. We worked so fast to support them with all the seeds so that they don't miss out on the planting season," Jesca says.
"Fortunately, during this time, they didn't have much to do elsewhere so they spent most of their time in the gardens which sped up the planting process," she adds.
Saving for Transformation groups
Annette Mura is a member of a women saving group in Maji III refugee settlement. From her savings, she has managed to start up a grain produce business. She now sells maize, sorghum, and groundnuts. Given the nature of her business (food selling), she was permitted to continue operating during the lockdown, and from her income, she managed to feed her children.
"The lockdown affected our savings as a group. Members lost their businesses, especially those who didn't deal in food items. I was lucky because I was selling food, so I survived this difficult time," she says.
Annette, who is also the treasurer of the group, adds that the group couldn't meet as often as they usually do to cast their savings. "Most members were also forced to save far less than they usually save while others skipped days with no saving at all. A few group members however, still had some money left from their 2019 savings that helped them navigate the situation," she explains.
Start-up capital helps father support family of eight
In Western Uganda, 60-year-old Wilson Mitti, a resident of Busibira Kahunge in Kamwenge District, was supported with start-up funding and training which he invested and is now able to meet his basic needs.
The father of eight demonstrates prudent utilisation of the funds he received. "I was able to construct a better house for my family which is fitted with solar panels for lighting," he explains. "I was also able to invest in goats, cows & sheep. I have also planted vegetables which are a source of food for my family," he adds.
Mitti is grateful for the support given, which is sustaining him through a lockdown. "If it wasn't for World Vision and their support, I do not know what I would be feeding on with all these children," he says.
---
Click here to learn more about World Vision's resilience and livelihoods initiatives in Uganda.