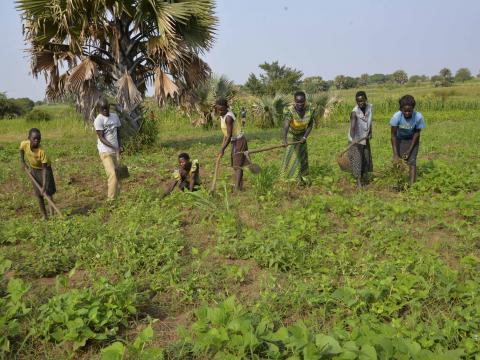 World Vision partners with WFP to meet food consumption gaps, boost livelihoods
Friday, July 24, 2020
Bosco Drani, 29, a refugee from South Sudan, is one of the beneficiaries of the Cash For Asset (CFA) project in Itirikwa sub-county, Adjumani District. Before joining the project, Bosco says he was a casual labourer ploughing people's gardens for a living. The father of four joined the project after receiving information from his village leader.
"We got information from our village chairperson about a new project targeted at improving access to food and food security through cash-based transfers for assets creation, and address the consumption gaps of the most vulnerable among refugees and host communities," Bosco says.
The project came as a blessing to Bosco who, for long, had planned to build a permanent house roofed with iron sheets but was financially handicapped: "Two weeks after registration, we were called for work and engaged in activities like slashing the field, digging and planting maize seeds in the garden. After working for 13 days, money for the first cycle came and I was paid UGX 71,500 (about USD 20). I used part of the money to buy a goat," he says.
Livelihood support
Bosco was entitled to UGX5,500 (about USD 1.5) per day worked. The aim of the cash incentive was to enhance beneficiaries' livelihoods by providing additional financial resources to address food gaps at household level while boosting local trade and economy.
"I kept on working and saving the money. When I had UGX300,000 (about USD 81), I consulted my wife and she advised me to use the money to lay bricks. I employed some youth and together we made a kiln with 10,000 bricks," says Bosco.
"Some of my bricks were purchased at UGX500,000 (about USD 135) for the construction of a store and cooking stove at Itirikwa Primary School," Bosco says. "I also sold part of the bricks to another person who was building within our community at UGX500,000. I combined the money with my other savings and opened a bank account with UGX1.2 million (about USD325)."
Bosco bought a cow at UGX800,000 (about USD 216): "I still plan to build a permanent house but it needs a lot of money. My cow is now one of the assets I have on my road to building a house. I will also continue with the brick laying business because it's lucrative and customers are available. The business has also helped me to meet my family needs like buying food and clothes for my children. All this would have been impossible if the project had not supported me with a cash incentive," he explains.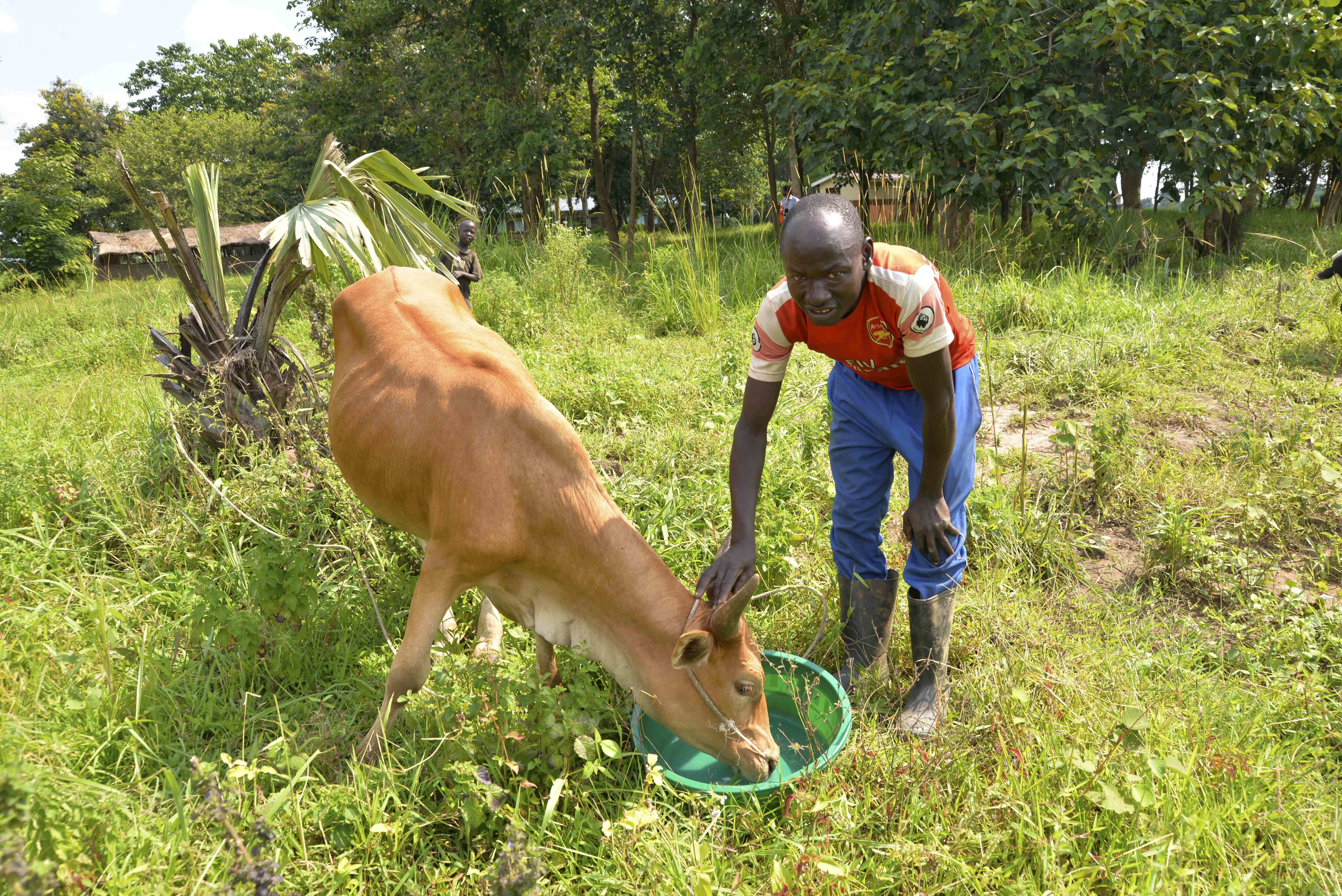 School feeding programme
Phillip Vuchiri, the head teacher of Mirieyi Primary School in Ofua Sub-county, Adjumani district, recounts that the project was rolled out at his school in December 2019. The project targeted parents of pupils to boost access to food and food diversity for their children: "I mobilised parents and 588 children sponsored by World Vision for the project. Last year, we had a similar project but it was a self-help project. Parents mobilised themselves and planted maize to support their children in school."
When parents heard that World Vision and World Food Programme (WFP) wanted to support them on a similar project with a cash incentive for every participant, many picked interest: "The project coordinator told parents that they would be helped to open land for planting food for their children as they had been doing in the self-help project. They were also promised a kitchen and store for keeping their produce. This was good news to the members," Phillip says.
The group opened three and a half acres of land and planted maize and groundnuts. One of the parents volunteered to give an additional 18 acres towards the project. So far, the group has planted maize on 14 acres of land.
"One of the achievements of the project is that both teachers and learners have been equipped with skills in modern farming; they are involved in the planting. Refugee parents have also learnt that they don't need to wait for the monthly food ration to survive," narrates Phillip. "In the past, refugees were not digging but because of this project, every refugee now has a garden and in the near future they will be eating fresh food that they have grown themselves."
On a monthly basis, Mirieyi Primary School would use a lorry of firewood which was ferried about 50km away from the school. This was costly compared to the energy saving stove the project has constructed at the school. Phillip shares: "We are going to be using minimum firewood because the concentration of fire is good with less firewood. We had also displaced Primary One to create room to store our produce. Children were studying under a tree but now that we have a modern store, even if we harvest, we can still have children in classrooms."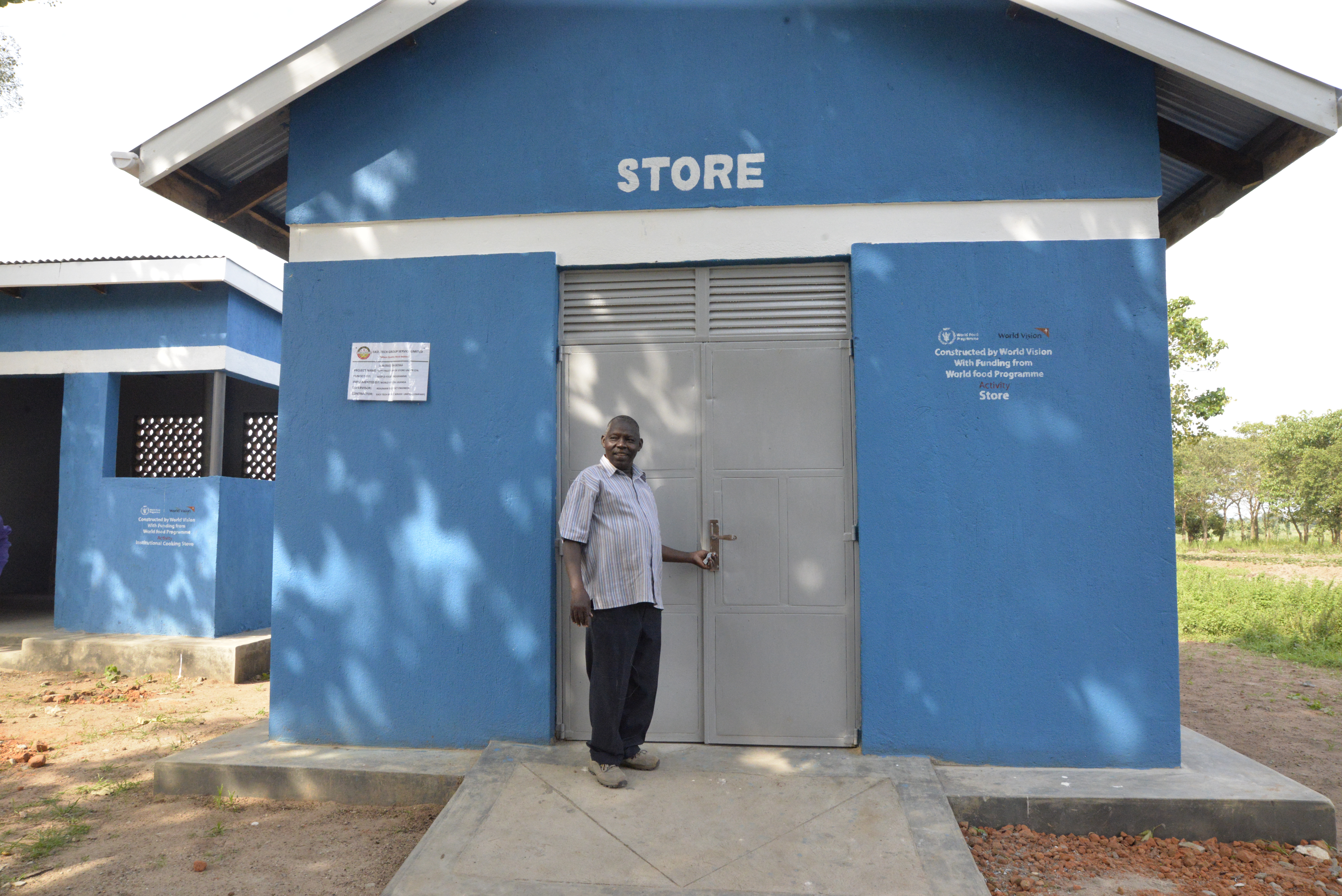 Gloria Iku, head teacher of Oyuwi Primary School in Adropi sub-county is delighted that the feeding programme is going to boost the academic performance of the children at the school: "I am optimistic that this project will increase enrolment and academic performance because what has been keeping some children out of school is hunger. Now that teachers and pupils will have food provided at school, concentration levels will be high and lessons will go as planned. My team and I have taken on the responsibility of sensitising parents on the importance of this project to children as a way of carrying it forward."
Access to assets
According to the Resident District Commissioner of Adjumani, Peter Data Taban, the project has transformed lives of refugees and host communities through investing in livelihood activities and assets: "This was a pilot project and was well managed and greatly impacted families. Some of the beneficiaries have been able to start businesses using the money they received after engaging in project activities which is good for development."
He adds: "The project did not discriminate against anyone; all the beneficiaries were selected objectively. As a local leader, we are optimistic that when schools finally resume, we shall have enough food for our children in schools, which will increase enrolment. The project also has an environment conservation component where schools will be using improved energy-saving cooking stoves which will help in reducing environmental degradation."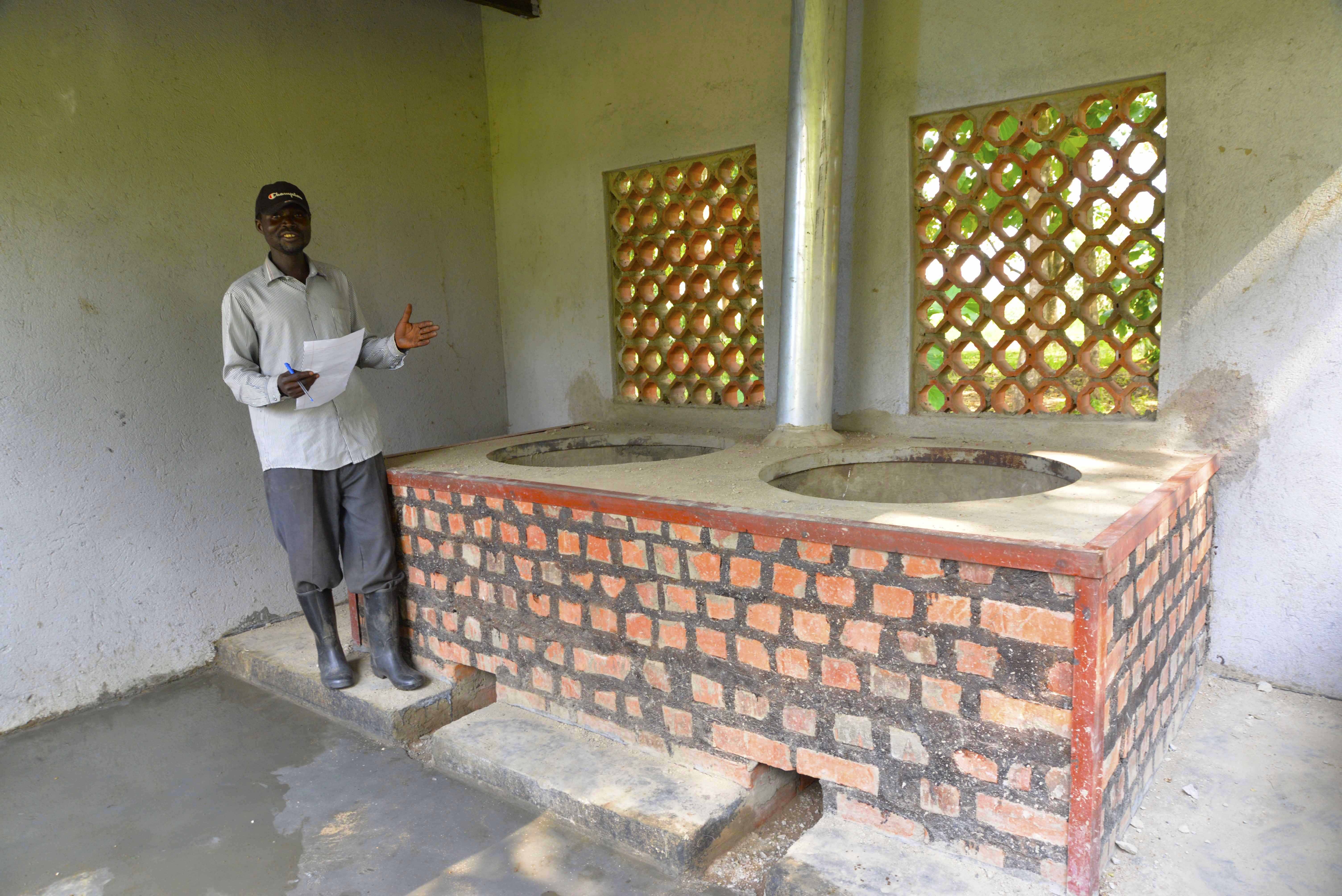 According to the project manager, Kenedy Edema Yekonius, within 10 months of implementation, 4,875 vulnerable households benefitted from the project in the sub-counties of Ukusijoni, Ofua, Ittirikwa and Adropi. Overall, 28% of beneficiaries were refugees while 72% were Ugandan nationals; with a 71% female representation.
"We worked closely with both the district and local leaders in identifying the most vulnerable groups like the elderly, disabled persons, women and youth who were willing to engage in project activities. We assigned work according to everyone's ability as a way of avoiding discrimination," Kenedy says.
"All the activities were in line with the district development plan and one of the major plans we had was advocating for children being in school through the feeding program; that's why all the activities are attached to schools. The essence is that parents work to create assets and food security which will directly benefit their children – hence enhancing their education. We also trained parents in financial literacy and nutrition, which we hope will improve the health and well-being of children," he concludes.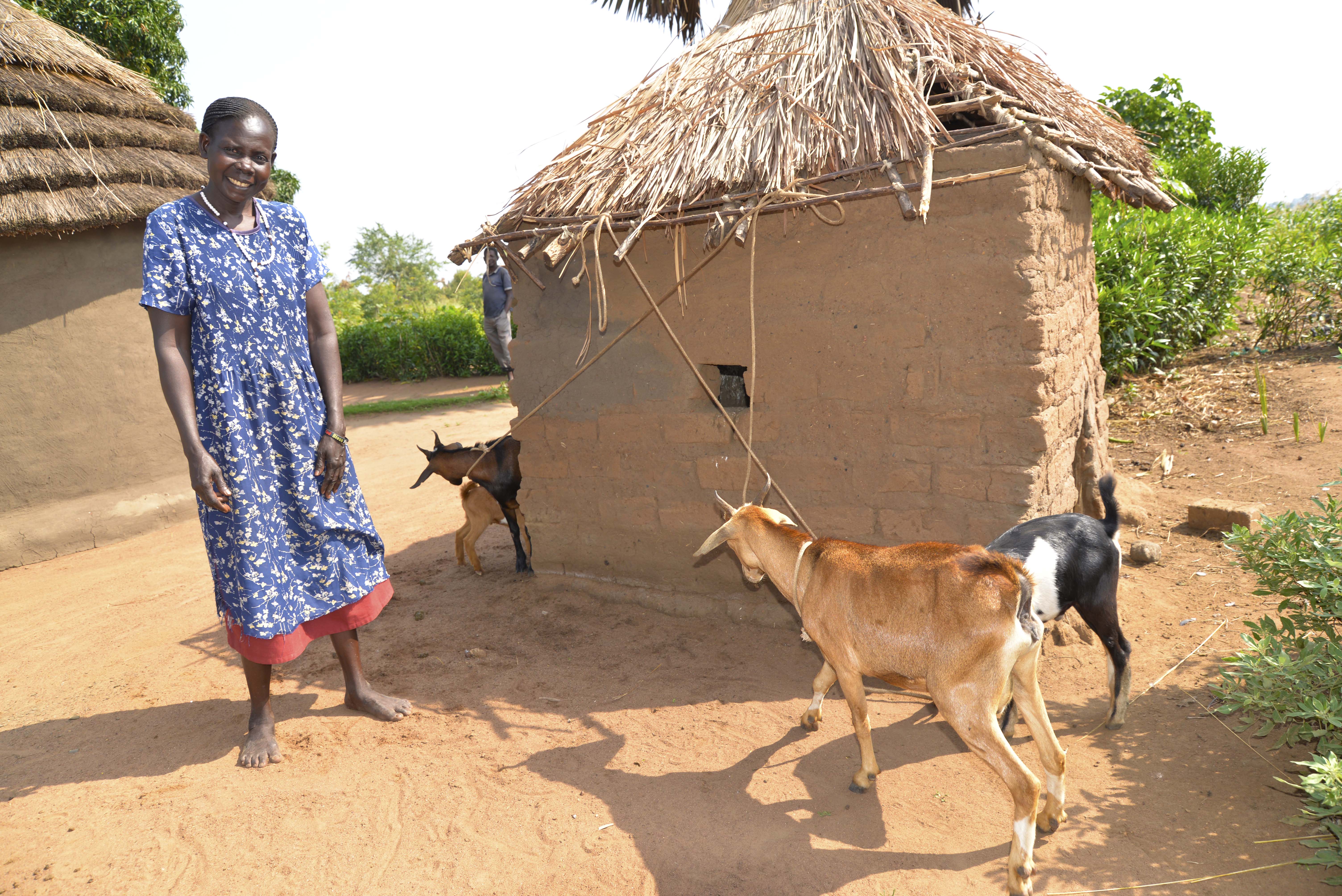 Pascal Ajusi, the deputy refugee desk officer under the Office of the Prime Minister, says the project has had great impact on beneficiaries especially during the lockdown: "The project has enabled people to work and earn money, which is vital in these hard times of COVID-19 where most people's source of livelihoods have been greatly affected. There has also been an element of peaceful coexistence whereby refugees and the host community are brought to work together and this has significantly reduced conflict between the two groups."
-----
By Derrick Kyatuka and Brian Mungu Jakisa