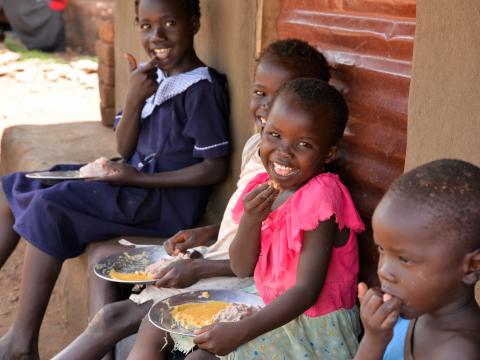 The joy that food brings among South Sudanese refugees could soon vanish as food funding continue to decline
Tuesday, October 13, 2020
By Aggrey Nyondwa Kikobera, Communication Official, World Vision Uganda 
In Bidibidi Refugee Settlement, preparing a day's meal is not a quick and easy task. With the quality and scarcity of firewood, it might take an entire day to prepare a meal. This is why it is important to wake up as early as possible if children are to have their breakfast served on time. 
Days after a food distribution, most households prepare three meals a day; breakfast, lunch, and dinner, but the situation changes a few weeks after. Towards the next distribution cycle, most families resort to a single meal a day, but some, nothing. 
Twenty-six-year-old Janet Isaac, and her mother Charity Kira, 47, wake up at 6:30 every morning to prepare the day's meals for the family. Today, however, will be a little different and special. The family is expecting important visitors later in the day. Pastor Isaac Badaye, Charity's husband and Janet's father, leaves home early to go and pick his visitor. Before he leaves, he ensures there is some money that his wife and daughter will need to prepare the best meal for the day. He also leaves clear instructions to his sons to slaughter his only goat.
As soon as he leaves, Charity and Janet enter the kitchen to start preparing breakfast. 
"We have to wake up early and start preparing breakfast because the firewood is so bad and it takes long. If we wait until the children wake up, they will be so hungry," says Charity as she cuts through a pumpkin picked from her small garden at the back of the house. 
After over four hours in the kitchen, breakfast is served. Pumpkin and tea. Charity serves on two big plates, one for the children and the other for the adults. Everyone gets their cup of tea and the feast begins. 
 "This is the easiest and fastest breakfast to make. We grew some pumpkins in our small garden here, so, I just cut it, add some water and salt, and put on fire. When it's almost ready, we prepare the tea," she explains.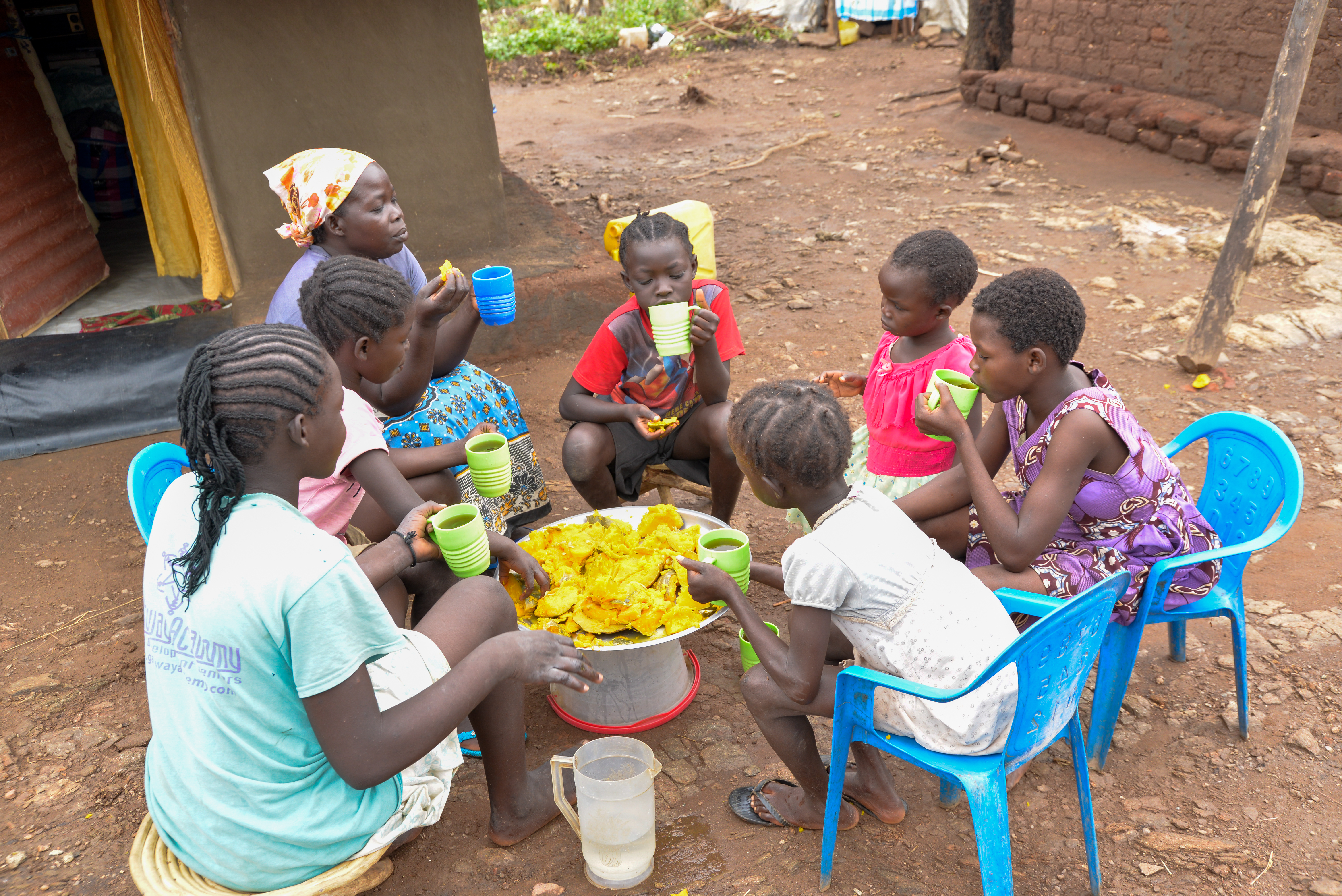 Immediately after breakfast, preparations for lunch begin. Janet goes to the market to buy better firewood, and some of the best spices and ingredients she knows for the various dishes to be prepared today. In the meantime, Charity sorts the cowpeas, washes them, and puts them on the fire to cook.
Tomatoes, onions, cumin, and pepper are some of the spices that Janet buys from the market. After over an hour of cooking, the peas are ready. These are fried, then mashed to make a thick sauce. The family is having Dura (mingled sorghum) for lunch. 
At 1:30 pm, lunch is served. 
Unlike breakfast, everyone is now served on their own plate. Children go first, each picking their plate of food and joyfully retreating under the shade to enjoy the meal. "We always have our lunch at around this time if the firewood is good. It is a straightforward meal. I just boil water, then add the sorghum flour and start mingling until it's ready. This usually takes about 30 minutes," Charity says. 
By lunch time, a few more children have come from the neighbourhood, and Charity makes sure that they are served as well.  "Sometimes we have neighbours' children around when we are serving lunch, this is why everyone has their own plate, so that if a neighbour comes, we can serve them as well, on a separate plate," she adds.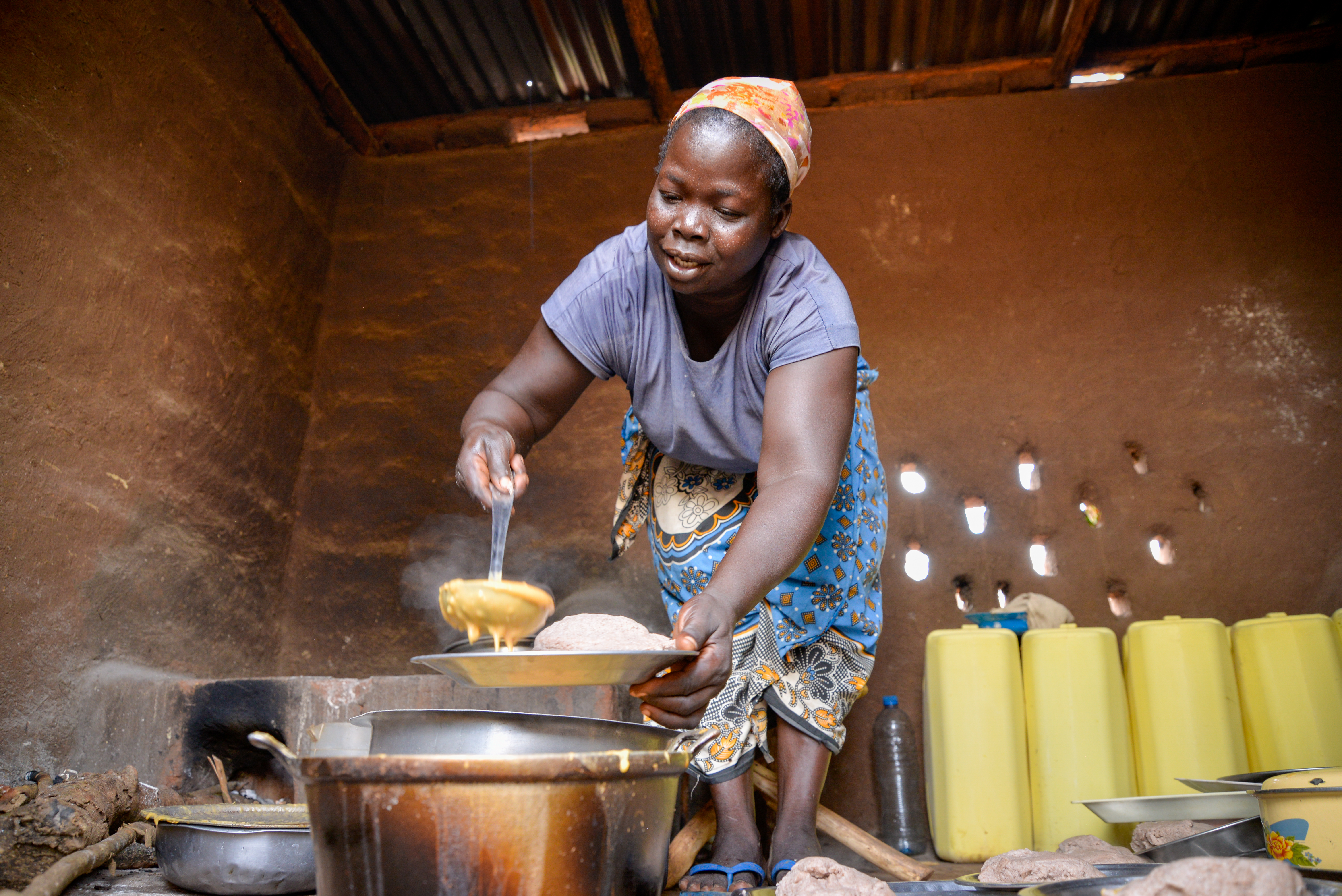 After having lunch, the children rush to the family's radio set and blast into praise and dance, to let the food digest. All of them are visibly happy and satisfied. The elder boys turn to the exciting task that their father asked them to do; –slaughtering the goat. 
When preparing such a special meal, for a special occasion, distant relatives and neighbours are there to take part in the cooking. Janet and her mother are now joined by two other women from the neighbourhood, the renowned experts in preparing goat's meat.  
Roles are divided amongst the four women, but it is resolved that Charity gets some rest first because she has been in the kitchen the entire day. She reluctantly obliges. The remaining trio agrees to prepare three forms of chevon sauce; stewed, fried and offal. These will be served with everyone's favourite, Banda (Mingled-Cassava). Janet will prepare Kumunia (Offal), and the other two will prepare fried goat and stew. It is a busy evening at Pastor Isaac Badaye's home, especially in the kitchen. 
"This is a special day for our family. My uncle stays in Juba and we are so happy that today he is coming to visit us with his wife and children. We have to make the day memorable by having such a great meal," Janet explains as she cuts the meat into smaller pieces. "I will wash this after, then dip it into cooking oil. I will later add onions, tomatoes and other spices," she adds.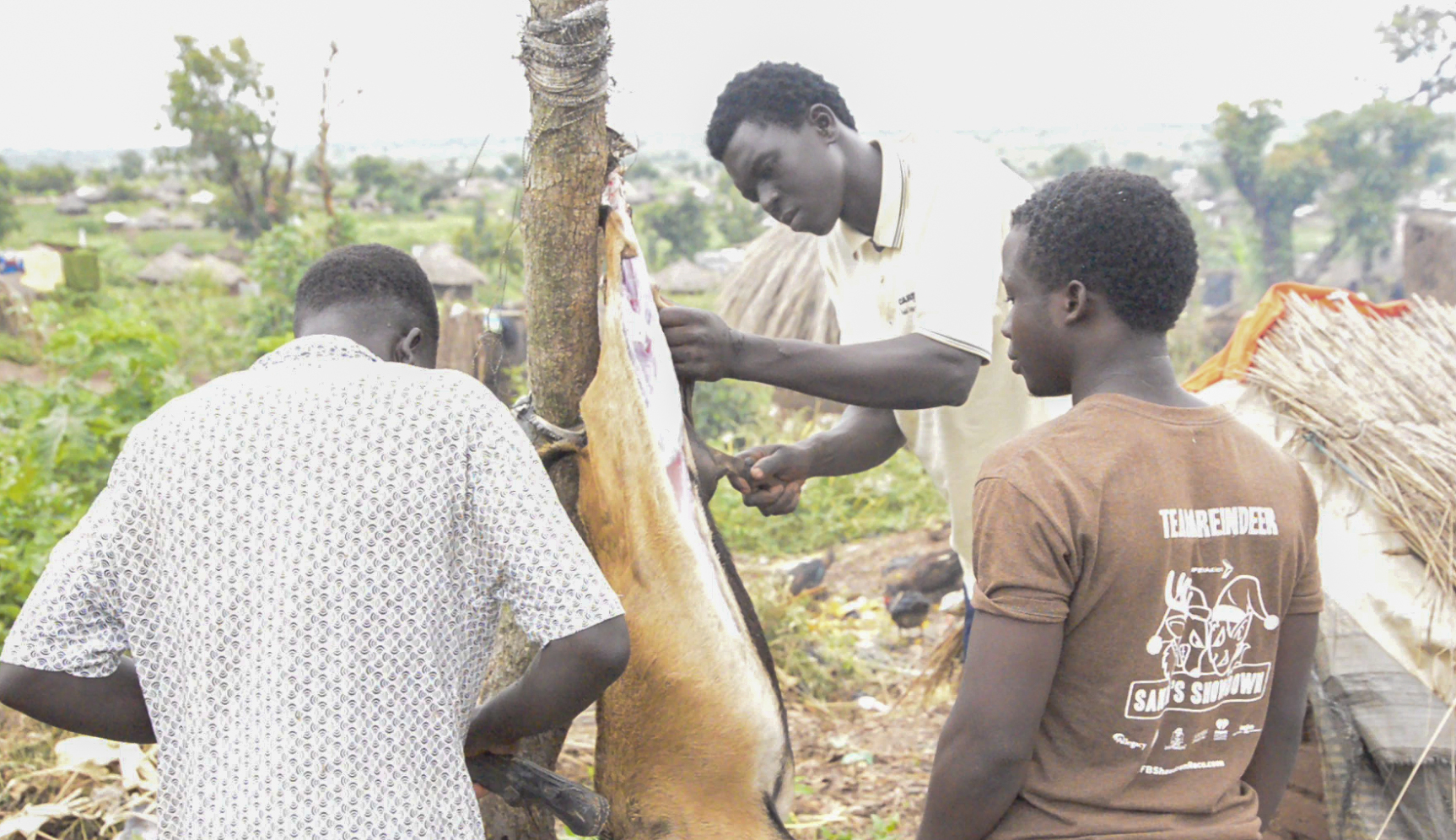 At around 5pm, the long-awaited visitors arrive with Isaac. The excitement and resounding ululations attract more spectators. The visitors are offered a cold drink as soon as they arrive; water and soda, accompanied with some yellow bananas to calm their hunger as dinner gets ready. 
"It has been so long since I last saw my brother. We got separated when chaos began in South Sudan. When I heard that he is coming to visit, I had to slaughter my only goat and prepare a big meal for him. When we come together like this over a big meal, we feel united and the visitors feel so welcome as well," Isaac says. He refers to the bible saying that even Jesus used food at some point to bring his people together, referring to the story of the 5,000 people that Jesus fed, and the events of the Last Supper.  
At 7:30 pm, dinner is served. At this point, more neighbours and village elders have joined and the conversation is at its peak. Family, friends and neighbours, all brought together at a dinner table, to enjoy a meal.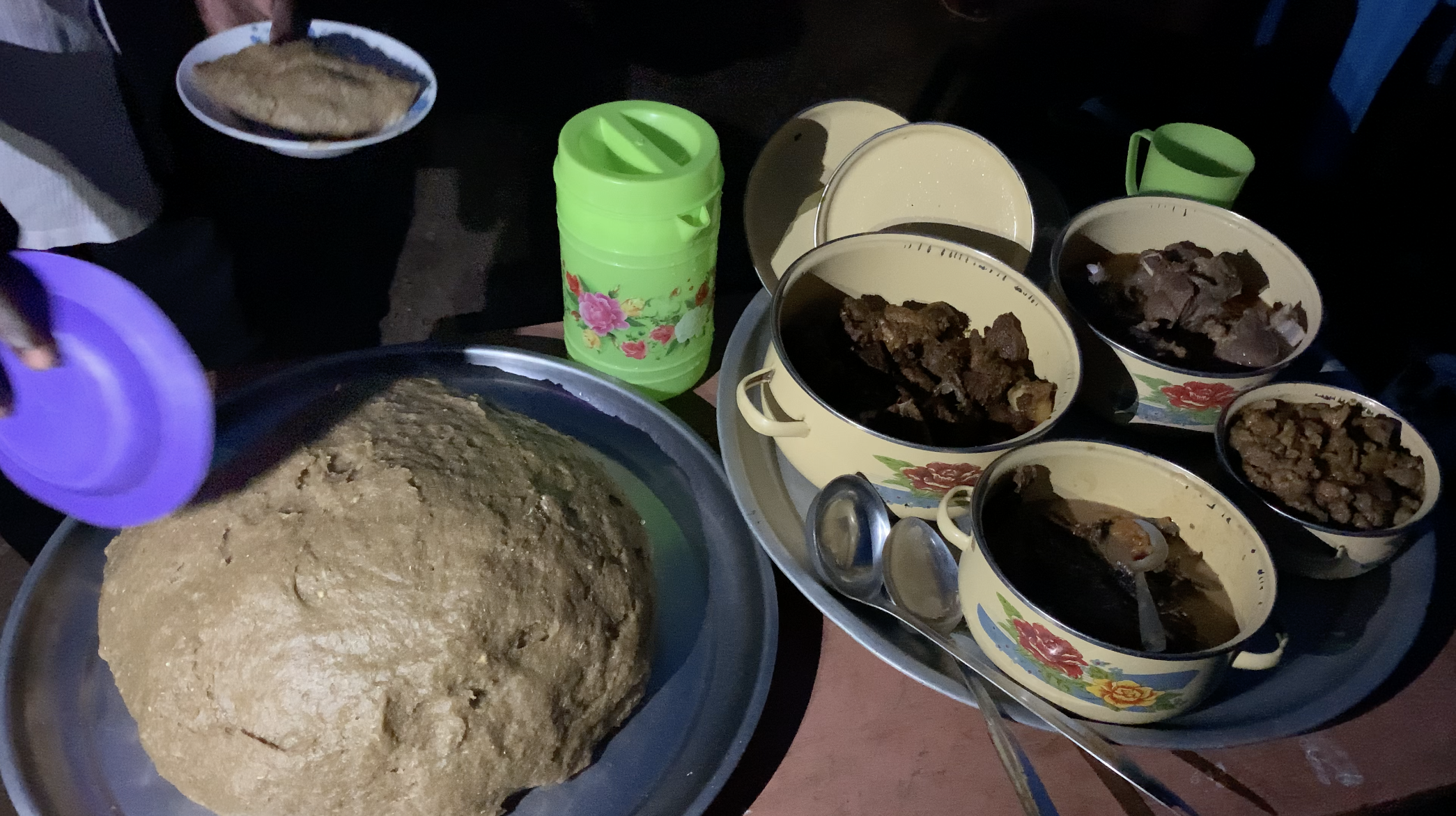 Facing the Imminent threat of hunger 
As they chat, laugh, and celebrate, Isaac and his friends harbour great fears behind their smiles. They know things are about to get out of hand if the situation does not change. The food ration has already been cut by 30% in April, at the onset of the global COVID-19 pandemic. The United Nations World Food Programme (WFP) warns that the situation could get worse as the funding situation continues to deteriorate.  
Isaac's family and over 200,000 other refugees in Bidibidi have now been forced to consider returning to their war-torn country just so they can eat and survive. The Pastor says he hopes he will never see his family go without food. 
"I always try my best to ensure that we at least have one meal a day. As a man, my family looks up to me to provide for them, it is a big responsibility. I will have failed if I don't provide them what to eat," he says. Isaac and his wife Charity have put up small gardens around the house and the church, and in these they grow vegetables and pumpkins to supplement the food they receive. 
According to Comfort Cynthia Achayo, World Vision's Deputy Food Assistance Manager in Uganda, if the funding situation is not addressed, the joy, happiness, and social cohesion that food brings to the South Sudanese refugees will soon be no more.  
"Food does a lot more than being a meal. Refugees use food distribution points as meeting points with friends that they haven't seen in a while, to catch up, and conduct trade and business. They also use food to celebrate various social and family functions. Having the food further reduced affects all this," she says. 
"We have empowered and supported the refugees to establish kitchen gardens which allows them to grow vegetables in small gardens in their backyard, to supplement the food ration that WFP gives them through World Vision," Comfort adds. 
Learn more about why food means survival for refugees in Uganda, and how the 30% ration cuts has affected them.