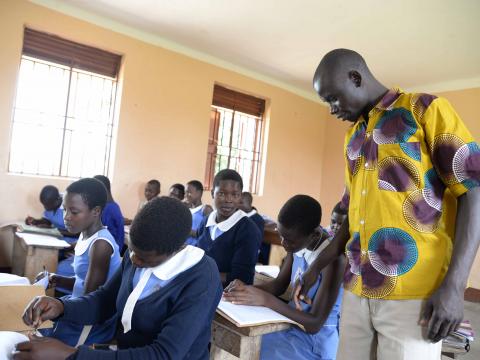 Julius: Gives Back To His Community
Sunday, August 18, 2019
By Damalie Nankunda Mukama and Fred Ouma, World Vision Staff, Uganda
When you meet the 26-year-old Julius helping young children with letter writing at a child development center in Tubur sub-county, you may think that he has had no struggles. He plays games with them and teaches them about the love of Jesus Christ.
However, behind his quiet and calm demeanour, there is a story of resilience and a never-give-up attitude.
A Long Walk
How long would you press on walking 7 km each way to and from school daily? Julius did it for years. "I would wake up at 5:30 to prepare for school but I was always late because of the long-distance," said Julius.
Having lost both his parents at a young age, Julius could not afford to miss out on school. "I remember one evening [returning home] from school, tired and hungry, I made a prayer that God should help me so that this should be my place of change," he said.
Have you ever walked to school and at lunchtime, you sit on a meal of roasted cassava and water for lunch? Well, this was Julius' daily meal both at school and at home.
A Warm Meal
Julius' hunger days came to an end with the intervention of World Vision's child sponsorship programme. Finally, he was assured of lunch and a cup of porridge at break time which made life much easier. "I was not only happy but also more determined to make it," he said.
Evidence shows that a well-fed student is likely to be healthier and more attentive in class than those on an empty stomach. Julius's story proves this point. "I was a brilliant student," said Julius. "My grades improved significantly and I don't remember anyone challenging me in my class because my hunger problems had been solved and I invested my hopes in education. I always gave it my best by revising every night after school."
Meeting Physical and Spiritual Needs
World Vision not only helped meet Julius' physical needs but also his spiritual needs. With time he developed a personal relationship with Christ and went on to become a peer educator as well as a Sunday school teacher in his community.
Julius said that this relationship with Christ was partially nurtured by his sponsor, Dennis. "He always wrote to me about the love of Christ while encouraging me to keep hopeful. Seeing how my life changed with his support, I knew Christ had a good purpose for me," Julius said.
Julius has fond memories of his sponsorship. "I cannot forget the day I received a pair of shoes from my sponsor. I was the first child to put on shoes in my family. I went around showing my siblings my new pair of shoes," he recalled. Julius also got the opportunity to meet his sponsor Dennis and he says it was a very exciting moment for both of them.
Julius was hopeless at a certain point but it all changed. "I don't know where I could be now if it was not for World Vision. I recall that before I got the support, my guardians had failed to raise the little money that was required at school. But I managed to go through my secondary school without them paying any school fees," he said.
Motivated by the death of his biological mother due to childbirth, Julius always wanted to be a doctor to be able to save the lives of mothers when giving birth. He also dreamt of working with World Vision after school to give back to vulnerable children. Unfortunately, he didn't become a doctor and he has not got the opportunity yet to work with World Vision.
An Eternal Optimist 
"It is still work in progress," Julius said. "God's timing is perfect and we can't predict anything for now."
And where there is no opportunity to serve, Julius will create one. He is currently giving back to the vulnerable children in his community at a child development center in his home area, where he is a volunteer.
"It is exciting to work with children. When I teach them something or give them advice, they easily understand it. I feel happy when I see them changing for the better," he said.
Fortunately, the school became a place of change for Julius as he had prayed. Today, he is happily married with two daughters. For him, life is much better than before. "Right from my understanding up to now, I see a very big transformation in my life. I never even had hope of reaching primary school. But, I can now confidently say that I am the only graduate in my whole clan," he said with a smile.