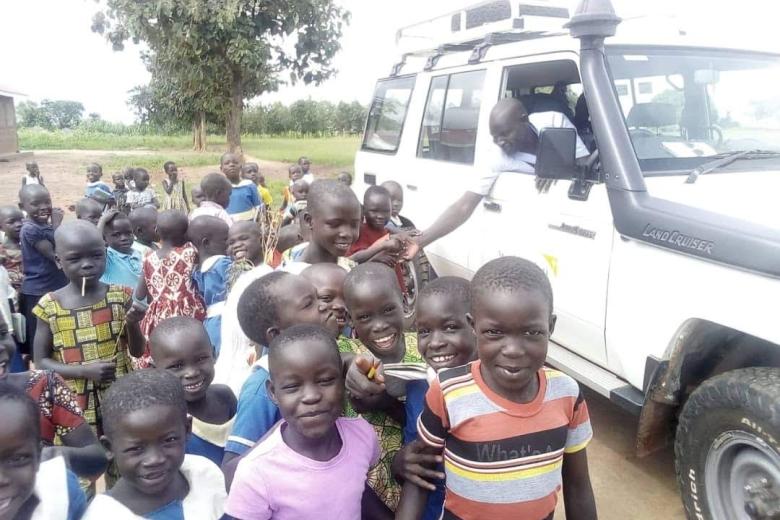 From LRA captive to World Vision staff: Kenneth recalls how far the Lord has brought him
Tuesday, February 9, 2021
By Aggrey Nyondwa and Derrick Kyatuka, Communications Officers, World Vision Uganda
Growing up, Kenneth Kaunda lived a comfortable life with his siblings and parents in Laminocwida village, Pader district in Northern Uganda. All this changed on a fateful Sunday morning in August 1997.
As part of their routine, Kenneth and his elder brother, Samuel, left home to go and collect sugar cane from a nearby family garden. On their way, the duo was hijacked by the Lord's Resistance Army (LRA), a rebel group that wreaked havoc in Northern Uganda in the 1990s.
"As we walked through the tall grass on the road leading to the garden," says Kenneth, "a man jumped out of the grass and pointed a gun at me. I was startled. He asked me not to move or else he would shoot me." Kenneth's brother scattered. Kenneth couldn't—the gun was right at his forehead.
Eighteen-year-old Samuel managed to sprint and escape. Kenneth, who was 12 at the time, wasn't that lucky. He submitted, and was captured.
Kenneth endured the next three months in the jungles of Northern Uganda, towards the South Sudan border, amongst gun and machete-wielding men.
"We would walk for long journeys, sometimes without food," he says. "We carried guns and other heavy loads. I witnessed a lot of terrible and traumatising events for the time I was there, but God was always on my side. Some of my colleagues died but I managed to stay alive."
The narrow escape
Many of Kenneth's colleagues who attempted to escape were killed, but this did not deter him. As the group approached the South Sudan border, Kenneth was determined to escape. When an opportunity presented itself, he took it.
"I was left alone to watch, from the top of a tree," he says. "That's what we, the young boys usually did, to keep the team informed in case of any approaching forces. My partner, the one supposed to watch me, got so hungry and went to look for food, I was sure this was my best chance."
Kenneth creeped out of the tree and ran without looking back. He ran for six hours straight, until dusk.
"I found an old man, who helped me," he says. "My legs were swollen, I was thirsty and hungry. I stayed there for the night, and continued moving the next day.
After the escape
Kenneth was taken to a military barracks where he stayed for close to a month, together with some 400 others, mostly women and children. He then went to a World Vision-supported Children Rehabilitation Centre in Gulu district for psychosocial support.
"I received a lot of support from World Vision for my recovery process. I later recovered from all the war distress, and even resumed school," he says.
Kenneth recalls how bright he was as young boy, always among the top five in his class and he had dreams of becoming a journalist.
"I was very sharp and active in class," he says. "I would always be among the top five performers in my class, but after the abduction, I started to struggle at school. I saw a lot… too much, in the bush."
Kenneth's grades started to decline, and he could barely concentrate in class.
"What you see as a young person usually doesn't leave your head," he says. "The thoughts kept coming and this affected my studies a lot. Besides, school was on and off because the area was still in chaos."
Being abducted cost Kenneth his childhood and made him miss out on his dream.
"I was forced to stop in Senior 4. I then decided to join driving school. If I had remained at school, and if I had not seen all that I saw in the bush, maybe I would have completed university and become a journalist," he says.
A new dream for Kenneth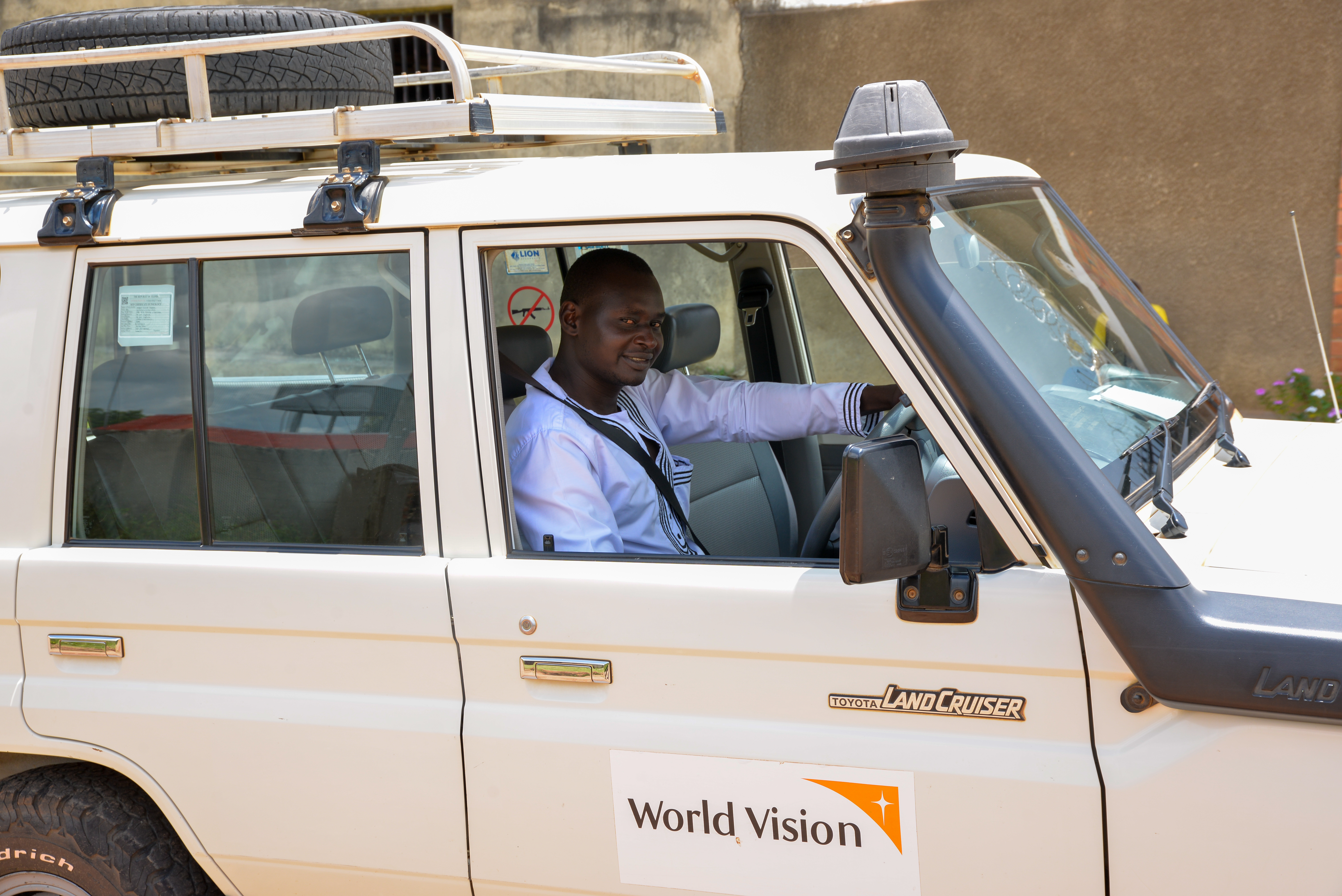 In 2007, Kenneth completed his professional driving course, and three years later, in 2010, he got his first job as a driver for a non-governmental organization (NGO) in his home district, Pader. In February 2015, Kenneth became the happiest man when he got a job at World Vision, the same organisation that had supported him to overcome thoughts of a terrible past.
"I had always dreamt of working for such an organisation. I applied six times but in vain. When I finally got the job on my seventh attempt, I was the happiest," says Kenneth
About Kenneth's work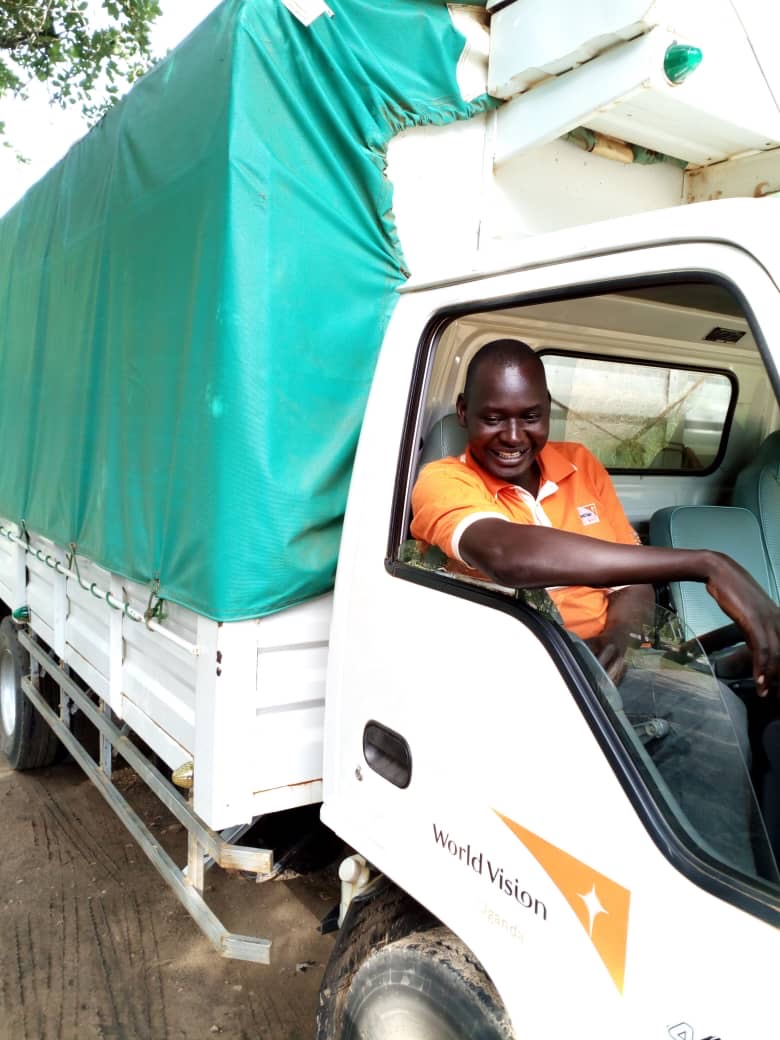 Kenneth is a driver for the recently concluded Animal Gift Catalogue Project in Omugo and Imvepi refugee settlements, in West Nile. The project provided chicken and goats to 2,550 households to enhance household income and nutrition. Kenneth's role mostly involved supporting staff under the project in field, during community mobilisation, sensitisation and monitoring visits.
"I am happy to have been part of this project that helped this many people. From the income raised, I saw parents buying food, books and pens for their children, to keep them in school. I was very inspired," he says.