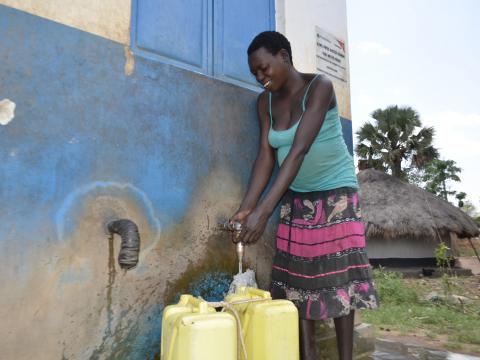 Piped water pours out hope for a better future
Monday, July 5, 2021
"I never thought of the fact that just an improved access to water can have such an effect on the life of people."
These were the words of Monica Akullu, 25, a mother of one from Dogapio village in Oyam District as she drew water from a community tap constructed with the support of World Vision a dash away from her house.
Before getting access to safe water at home, like most women in her community, Monica spent many hours of her day walking to collect water manually. Four to five times a day, she had to travel to the village pond located two kilometres away and carry 300-400 litres of water back to her home.
Her community water point is an extension of the motorised water system constructed at Atipe Health Centre III, one of the health facilities developed, equipped, and upgraded under World Vision's Northern Uganda Health and WASH Technical Project (NUREP). Others are Opetta, Pacer and Acimi health centres.
The Australia-funded project was designed to increase access to, and use of maternal and child health nutrition as well as water, sanitation and hygiene services and practices in the districts of Kole, Oyam and Agago in northern Uganda.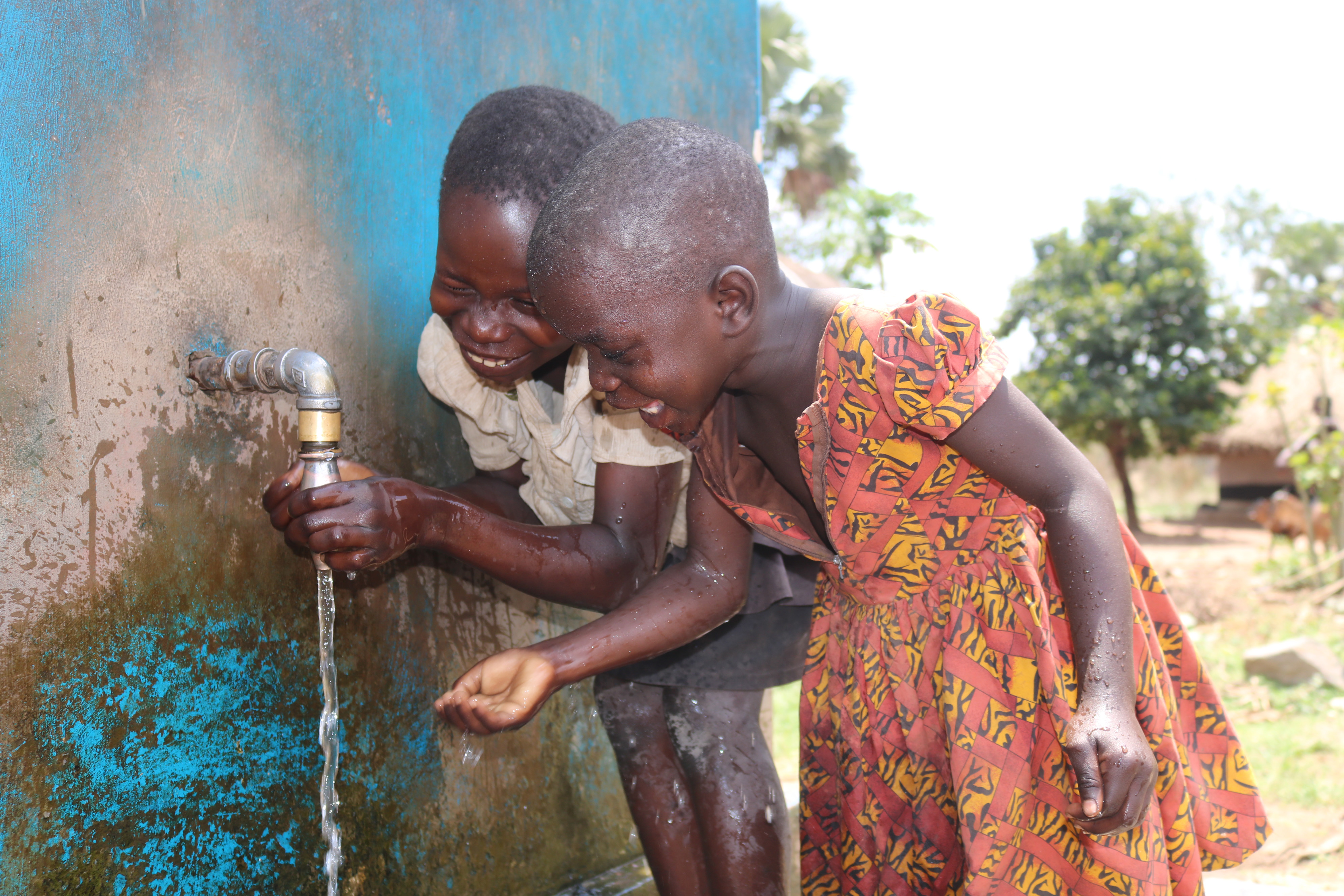 As water now runs from the tap, Monica, who is expectant with her second child, can provide better care for her family. Her water crisis is now in the past. She no longer has to walk long distances for water. A new water supply system is demonstrating the meaning of the saying, "water is life" for residents of this community in rural Uganda.
"No one can survive without water", she says. "All my conscious life is associated with household errands, especially water delivery. You have given us our health back. This is a very special gift. The water tastes so much better now. You just can't compare it. Because of the water from the old well, my son would get sick too often."
Monica adds, "The water was really bad. Sometimes, you could see the germs with your own eyes. We were supposed to add chemicals to clean it, but we were so poor, we couldn't afford them. We were getting diarrhoea, dysentery, and even cholera."
Life is much easier for families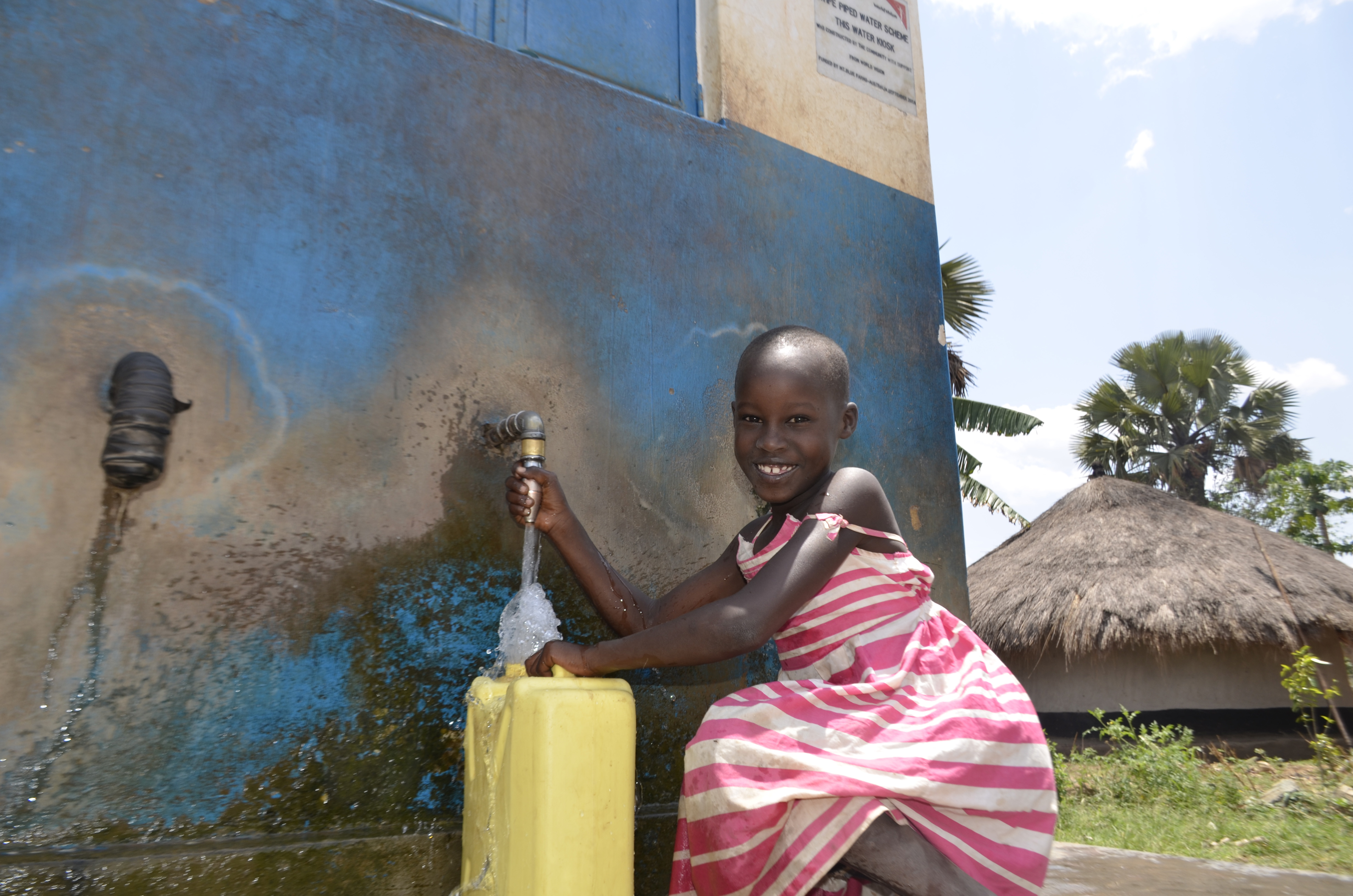 Now that water is easily accessible, Monica and her family are able to get enough safe water daily for cooking, drinking, bathing, and washing clothes and dishes. "We don't get sick because of the water [anymore]", she says. "Before, water was scarce. I couldn't wash clothes or bedsheets regularly. Now, we have more clean water to drink and I can wash our clothes and sheets more frequently, which helps keep us all healthier."
And with water available and closer to home, Monica plans to cultivate vegetables and plant fruit trees, which have never been cultivated because of a lack of water due to long dry spells experienced in the region. This vegetable garden, she says, can give the family access to otherwise expensive vegetables and fruits; saving money that would be spent at the market, improving the family's diet with diverse food, and potentially providing income from the sale of excess produce.
A lack of access to water and sanitation at home has significant implications on the health of people. Currently, there are 13 million people without access to safe water and 26 million without access to improved sanitation in Uganda. Monica was one of the millions who lacked both. Now what was once her reality is now a memory of the past.
To date, the project has helped about 40,000 rural residents in the three districts of intervention gain access to improved drinking water. Stories of resiliency and hope are made possible by improving access to safe water, and people like you.
---
Written by Fred Ouma – Development Communications Coordinator, World Vision in Uganda