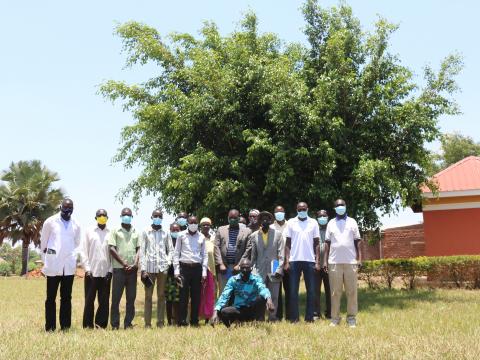 Men lead a revolution to improve maternal and child health
Monday, July 5, 2021
In northern Uganda, dedicated and forward-thinking men are breaking down traditional perceptions of gender roles, taking the lead on improving sanitation and hygiene practices to enhance maternal and child health in their communities.
In many communities across the country, traditional gender roles have, until now, inhibited men from promoting maternal and child health. Recognising their role as key decision-makers, men in the districts of Oyam, Kole, and Agago are determined to change their community story.
"Women and children can't change their behaviour if we husbands and fathers don't support them", says Kenneth Moko, a resident of Bar village in Kole District. "A revolution is unfolding and we're rightly leading from the front to create healthy families and communities."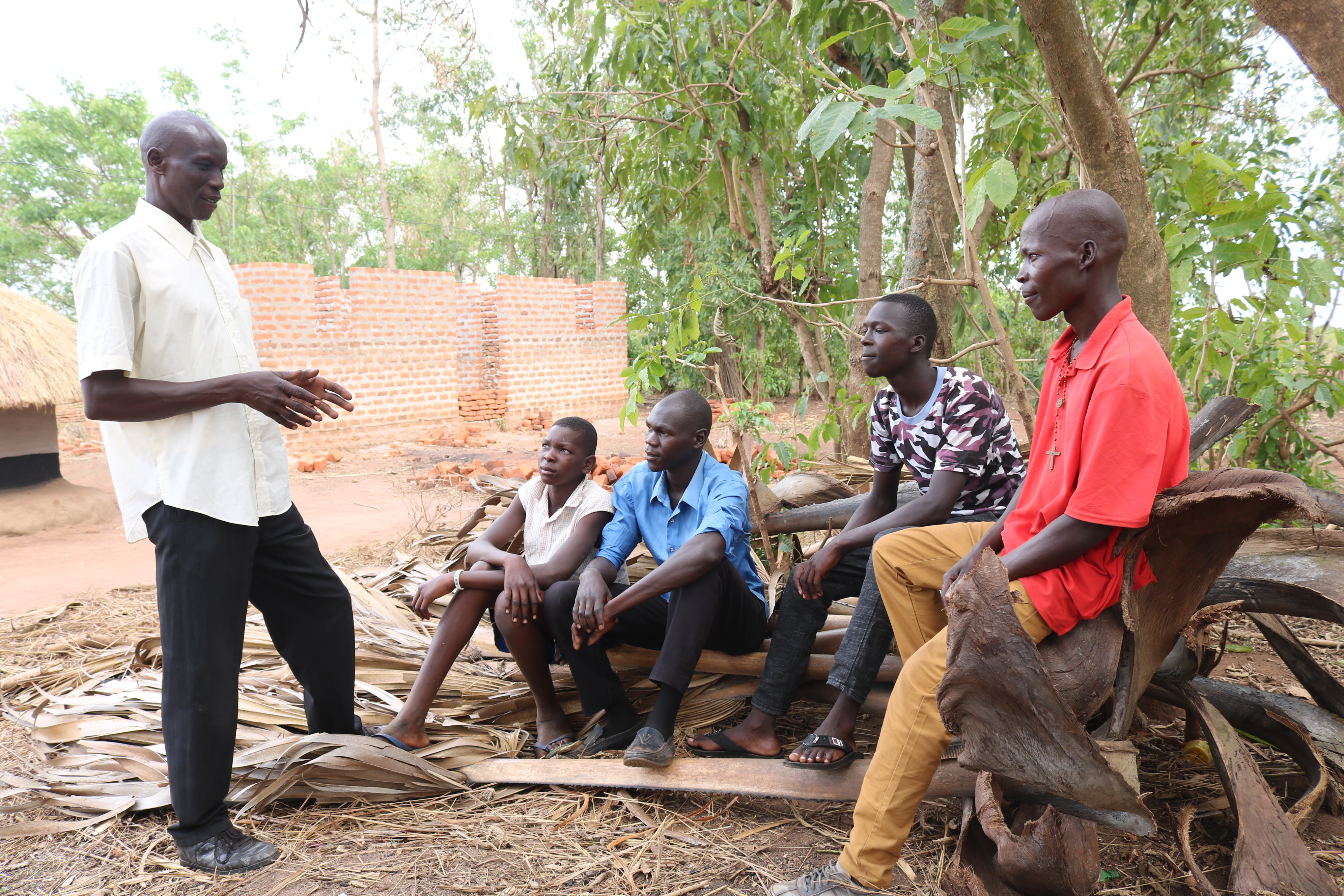 The 47-year-old father of six (four girls and two boys) is a well-known community leader. Kenneth is a 'lead father'; a title of respect bestowed by the community on men of upright character. Trained and supported by World Vision, Kenneth is mobilising fellow men and extended families to play their role in ensuring both mothers and babies are as safe and healthy as possible.
Most Ugandan women in rural communities are dependent on their husbands. Men's participation and influence are thus very important in their lives. "Mothers' and children's health depends on us, men", shares Kenneth. "Men should provide their families with healthy foods and support."
As a male community health educator, Kenneth understands too well the important role men play in creating healthy families and communities. A reputed advocate in his community, Kenneth is on a mission to change the long-held traditions and beliefs about gender roles. "It's possible to solve our family and community health challenges if men and women closely work together to find a solution", he says. "When we unite, the burden is far smaller."
The turning point
The personal experience of his own son suffering from severe malnutrition due to neglect, helped Kenneth to connect with the reality of life, and to appreciate his wife and the daily difficulties that women like her face in their lives. Now, he realises that leaving all of life's burdens to women is unfair and a selfish act with dire consequences.
"I saw my child waste away", says Kenneth. "He was getting weaker and weaker, and I paid no attention. I told myself, 'his mother should handle [it]'. I seriously believed I was too busy to get involved in so-called women's work. But as they say, the best apology is changed behaviour. I am glad I am a different man from that of yesterday."
Besides sharing household roles traditionally undertaken by women, men like Kenneth trusted in their own communities are promoting and supporting mothers and children to access healthy foods and specific nutritional services. "If I help with chores, hygienic practices are easier to achieve", says Kenneth.
After completing multiple training sessions organised by World Vision, men are constructing household hygiene infrastructure, such as latrines and hand-washing stations.
Many in rural Uganda view latrines as a luxury, and few have the knowledge, resources, and the will to establish basic sanitation practices. More than 5.7 million Ugandans still practice open defecation, which can result in serious illnesses such as diarrhoea, which kills almost 2 million people around the world each year, with a particular impact on the health and nutrition of children.
Trained men like Kenneth now have a new understanding of improving sanitation and hygiene practices. Some confess that, although they had latrines before the training, they now know about proper hand-washing and the need to use soap or ash in addition to water.
"I didn't have the opportunity to learn about hygiene practices as a child", testifies Timothy Owani, 33, a father of two from Dogapio village in Oyam District. "Now my two children (Marion - six, and Edmond - four) are learning from me about the importance of hand-washing and using a latrine."
Kenneth and Timothy are leading by example. They are improving access to, and use of maternal and child health nutrition and water, sanitation, hygiene services and practices. That's not all. They are also taking up every opportunity and space to spread the word about the importance of sharing responsibility to their fellow men. Neighbours are watching the men construct latrines and assist their wives, and they are following suit within their own families.
"We're speaking to men in churches, at funerals, village meetings, or anywhere we find them gathered", says Timothy.
Women are optimistic about the increased male appetite and involvement in the health of mothers and children. "Good times await us", says Aciomiddy Ebong, 50, a mother of six from Acoto village in Kole District. "All signs are promising a better tomorrow and we're really grateful to World Vision for making it possible."
And to ensure universal coverage and that these good practices continue, the men are constructing and maintaining latrines for the most vulnerable in their communities. "We want 100% latrine coverage", says Kenneth. "That requires everyone, but we know there are child-headed families and the elderly. As a community, it's our collective responsibility to have everyone involved. For human dignity, we have to support these families have sanitation and hygiene facilities."
The Northern Uganda Health and WASH Technical Project (NUREP), was designed to improve the nutritional status of children under five, as well as pregnant and breastfeeding mothers. The Australia-funded project also aimed at increasing access to, and use of maternal and child health nutrition as well as water, sanitation and hygiene services and practices by developing, equipping and upgrading of four health facilities in the districts of Kole, Oyam and Agago in northern Uganda. The health facilities are Opetta, Atipe, Pace and Acimi health centres.
To date, NUREP project initiatives have positively impacted more than 56,000 households with 86,000 pregnant and lactating women and children under five.
"All this would not have been possible without the generous hearts of the Australian people. Thanks, and God bless you", concludes Kenneth.
---
Written by Fred Ouma – Development Communications Coordinator, World Vision in Uganda