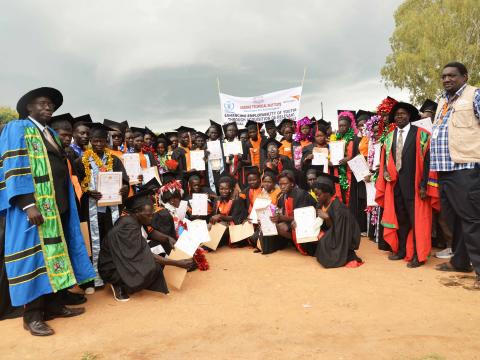 World Vision Partners with WFP To Empower Refugee Youth With Vocational Skills
Friday, July 26, 2019
By Derrick Kyatuka, Communications Officer, West Nile Refugee Response
The best way to empower South Sudanese youth staying in refugee settlements in Uganda is through equipping them with different skills and supporting them with kits to start their own businesses. The skills empowerment training shapes youth to become more creative, productive and resourceful.  
It's against this background that World Vision partnered with World Food Program (WFP) and the Government of Uganda to extend a humanitarian hand of love to vulnerable refugee youth living in Imvepi and Bidibidi refugee settlements through a skills development programme and ensure that their lives become better during their stay in Uganda. The majority of these youth are young mothers or children who have been forced to abandon their studies previously. 
Beatrice Ajonye, 26, is a beneficiary of the six months training where she learned skills in tailoring. The mother of two says that before she was chosen for the training, she was staying home looking after her children.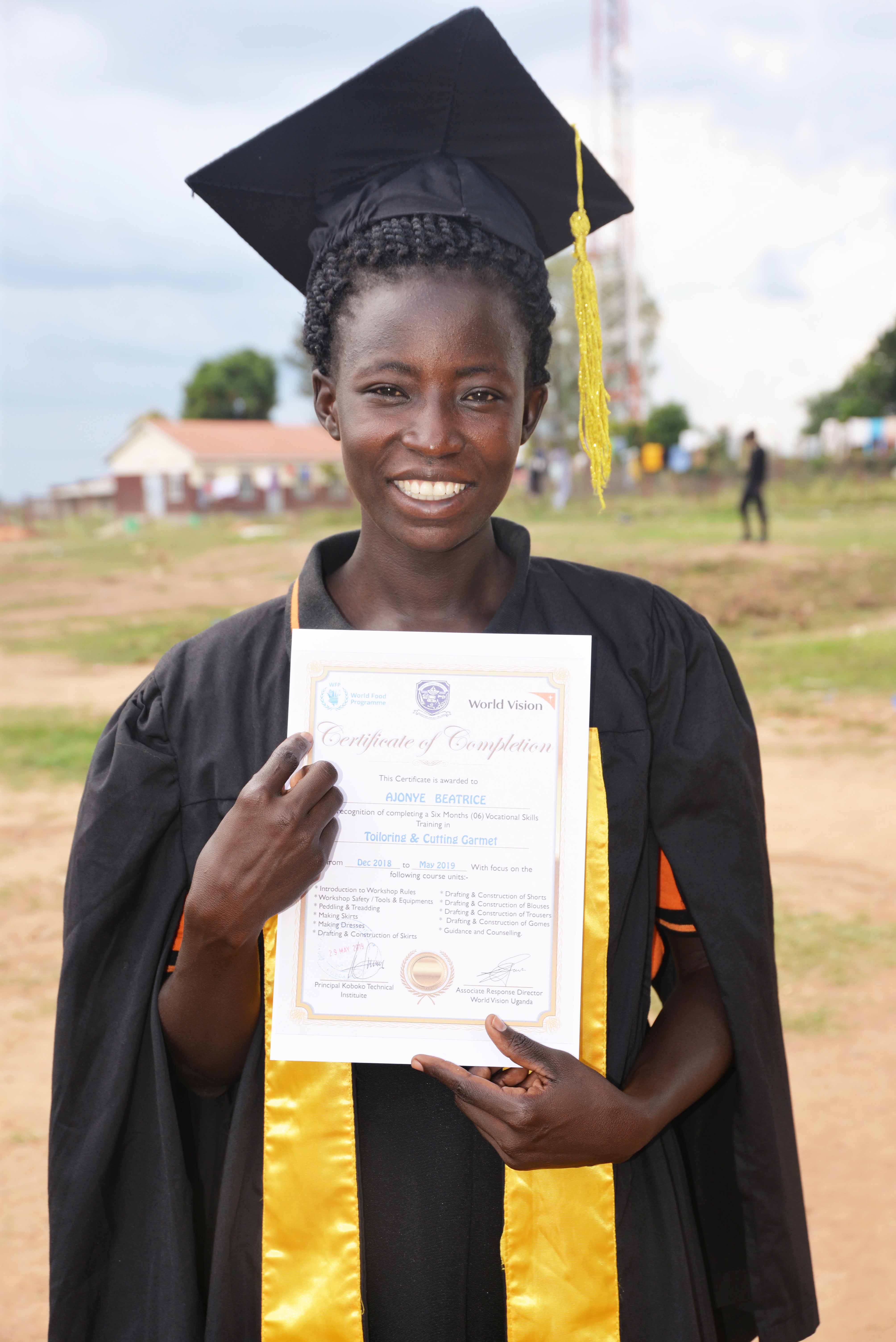 "I have been staying in Imvepi refugee settlement since March 2017. Life in the settlement is not easy, especially when you have a family. I would spend my time doing casual jobs to get money to support my family because my husband went back to South Sudan," she says.
She is grateful for the training opportunity that came her way and she's optimistic now about her future and that of her children.
World Vision has surely changed my life. I have noticed that there is already a great change in my life with the help of the love and support offered towards my training. I appreciate all the efforts towards my skills empowerment and I hope to start my own business [soon].
Beatrice also received personal items to use during the training like a mattress, jerricans, blankets, bedsheets, books, food and medication.
"The items made life easy and truly put smiles on our faces as refugees who were wondering how life would be in a foreign land after the civil war broke out at home. I came with a young child that I could not leave in the settlement. But, even with the little one, I had nothing to worry about and the training was amazing," Beatrice notes.
For Richard Wani, 24, also refugee from South Sudan, the skills training program has restored his hope. Since he was 18 years old, he always dreamt of becoming a hairstylist.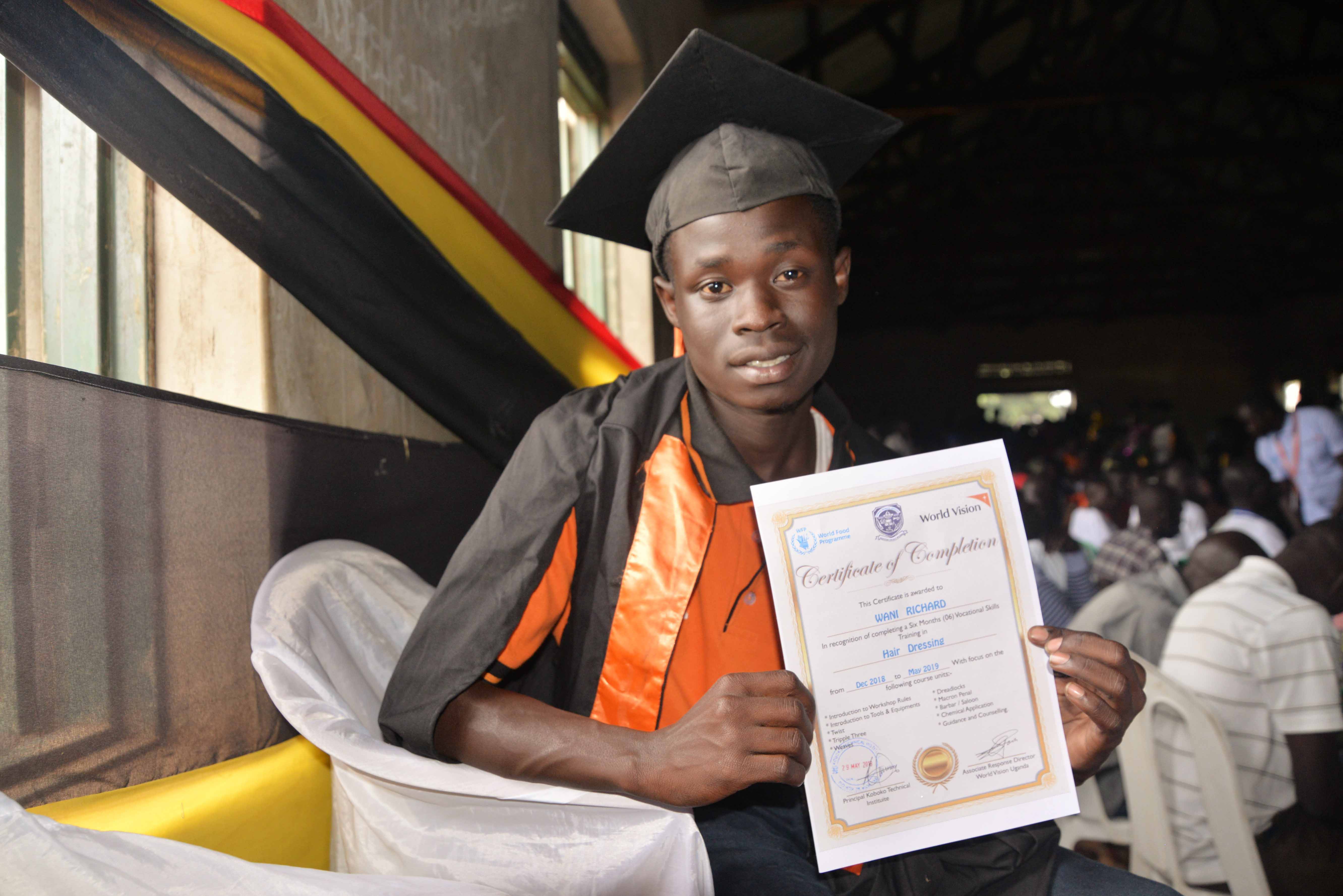 "Most people think that hairdressing is only for women. Back home, I saw a man who ran a salon for women and he was making money. That man influenced my decision to join hairdressing when I got the opportunity to be trained," Richard explains.
He adds that;
Before I was chosen for the training, I was just staying at home idle for two years because my parents could not support me to stay in school. At home, life was challenging because we had to entirely depend on the monthly food ration provided to us. I would do casual jobs to earn some little money to support myself.
Richard was also trained in business management skills, customer care skills and communication skills. He hopes to use these skills to keep his business float after getting the start-up kit.
Florence Amame, 19, notes that the training has boosted her self-confidence and she hopes to use her newly acquired skills in tailoring to better her life.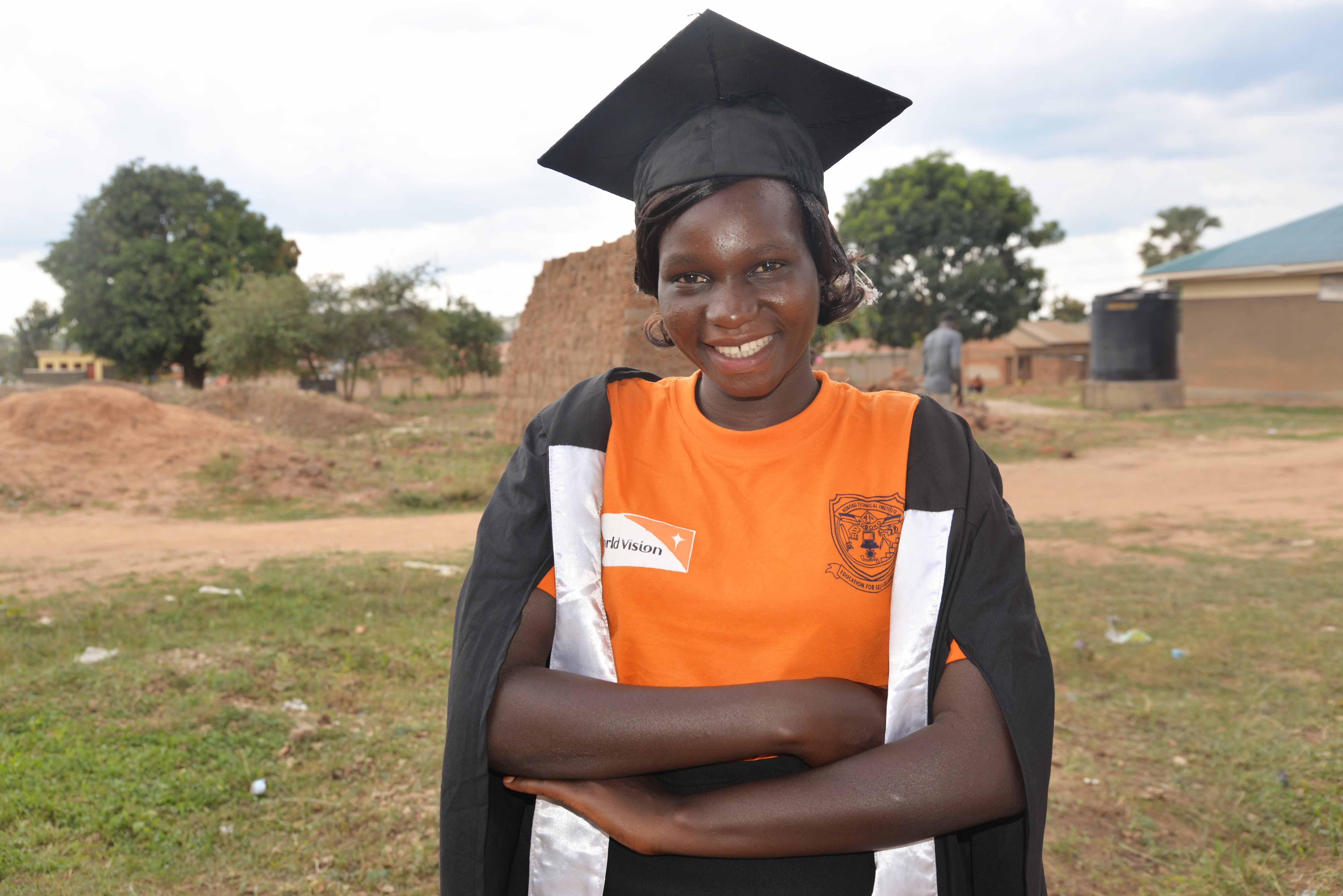 The opportunity to be trained ended the desperate period I had been in for two years. I was excited about the training and the six months of training have greatly changed my life.  I have learnt many new things, made new friends and have been exposed to new cultures. The skills acquired will help me to support my siblings, who are still in school, when I startup my own business,
According to the Associate Director of World Vision in the West Nile Refugee Response, Gava Simbarashe, World Vision partnered with WFP under the General Food Assistance (GFA) project and sponsored 100 vulnerable youth from Bidibidi and Imvepi refugee settlements for vocational skills in seven vocational courses.
We trained the youth in motor vehicle mechanics, tailoring and garment cutting, catering and hotel management, building and concrete practice, carpentry and joinery, electrical installation and hair dressing and beauty management,
He adds that during the six months of training, four months were theoretical and two months were spent as apprentices among eleven business centres within Koboko town. 
Geoffrey Ondong, who represented WFP during the graduation of the trainees, encouraged the youth to embrace the opportunities being extended to them by development workers in the response. 
The focus is now shifting from providing gifts- in- kind to refugees to self-reliance and if opportunities like this one come a long, don't hesitate and take them on. These skills will be of great help even when you return to South Sudan.

 
"If you want to succeed in the business that you will soon start, work in groups... remain committed, have respect for others and be trustworthy because the skills you have acquired mark the beginning of self-reliance in your life," he adds.