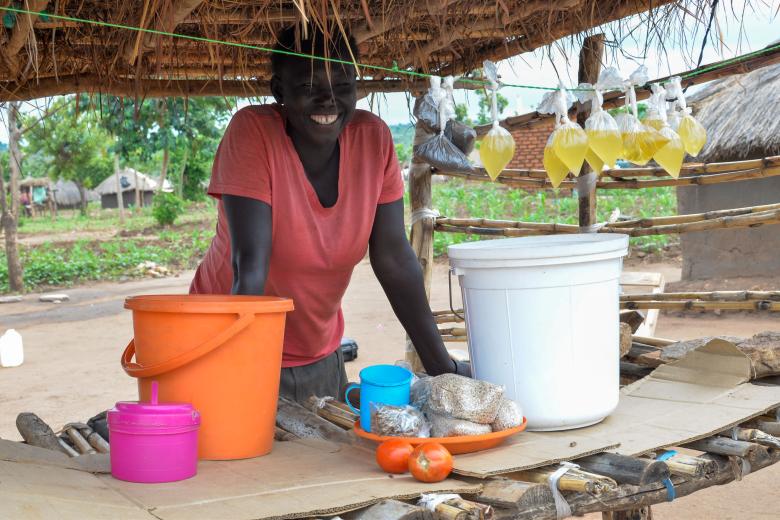 World Vision, VisionFund come together to transform lives of refugee women and children in Uganda
Thursday, June 17, 2021
By Aggrey K. Nyondwa, Sam Opio and Loma Wani
--
Agnes can manage to eat three meals a day
Agnes Jagoro, 37, is a happy woman. She fled conflict in South Sudan in 2016 to Uganda where she expected to settle down and start over again. She lost relatives and friends to the conflict. She also lost her business and her children's school was disrupted. In 2018, after two years of struggling as a refugee, she joined other people from her village in Bidibidi refugee settlement to form a savings group called "God Knows", supported by World Vision. The group was given a savings kit and trained on financial literacy, business management skills, and Savings for Transformation (S4T).
"I had lost all hope because after losing almost everything in South Sudan, I tried again here in Uganda but my family still suffered. It wasn't until I joined this World Vision group that my life started to change", says Agnes.
Agnes joined a group of 25 members, mostly South Sudanese women trying to transform their lives and support their families. Group members save UGX 5,000 (US$1.5) every week.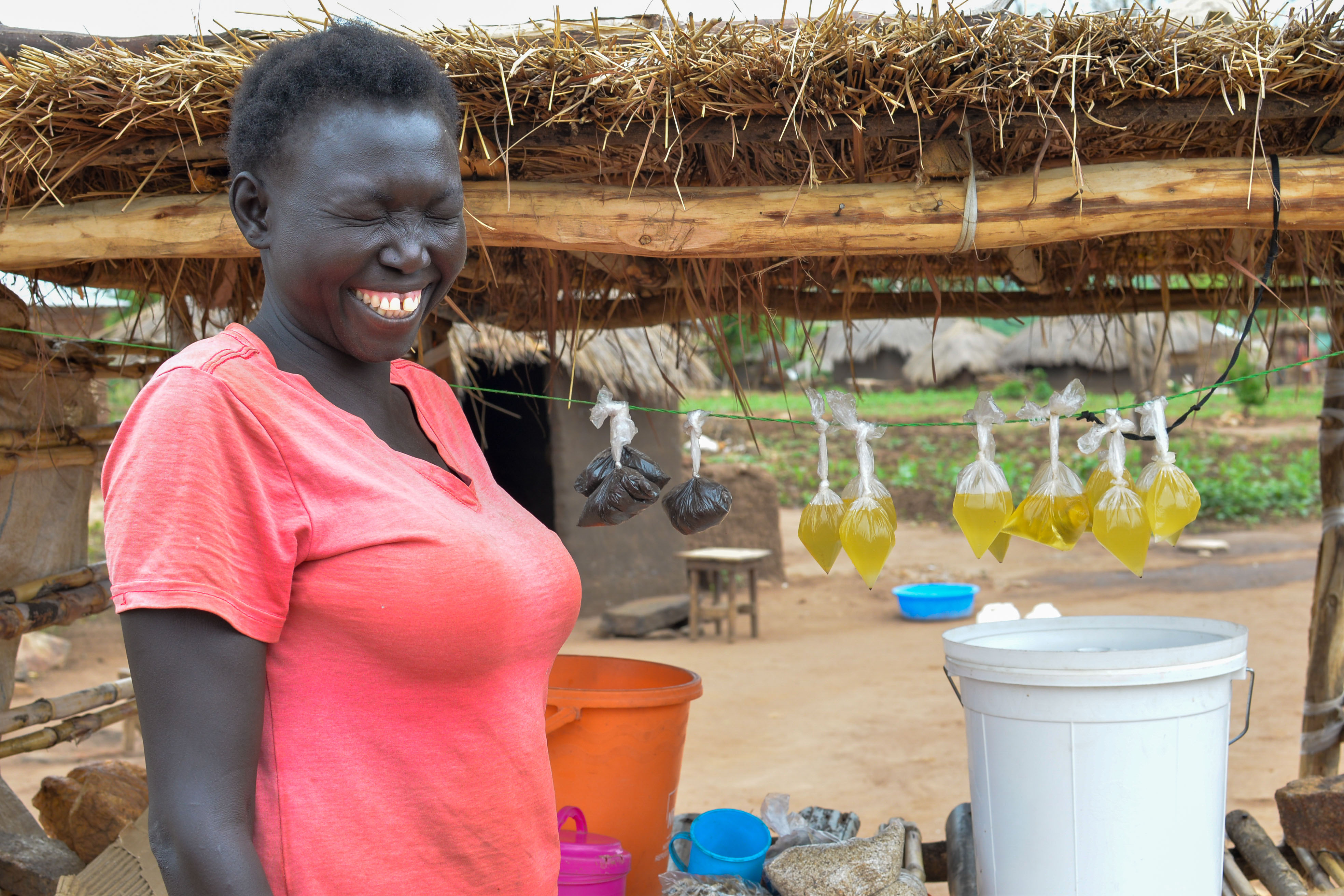 "Joining this savings group has raised my family's standard of living. I can afford to buy clothes and pay school fees for my children. The last time we shared the money, I received UGX 500,000 (US$140) which I used to buy furniture for the house and scholastic materials for my children", adds the mother of seven.
In March 2021, Agnes' group received a UGX 4 million (US$1,080) loan from VisionFund, a World Vision microfinance subsidiary, to help boost their investment. With this money, the group started issuing out loans to its members and Agnes was among the first to benefit.
Today, Agnes has started her own business thanks to the loan she received. She now earns about UGX 20,000 (US$5) everyday and can afford to buy some extra food for her family. Unlike many other families in the settlement who are faced with a hunger crisis following a 40% cut on their monthly food rations, Agnes' family eats three meals a day and she can afford an alternative diet for her children.
"Many people here eat only once a day, some don't eat at all, especially now that the food was cut. This problem hasn't reached my household and it will not, because I have a small business that gives me enough money to buy more food", she says.
Kiden now employs two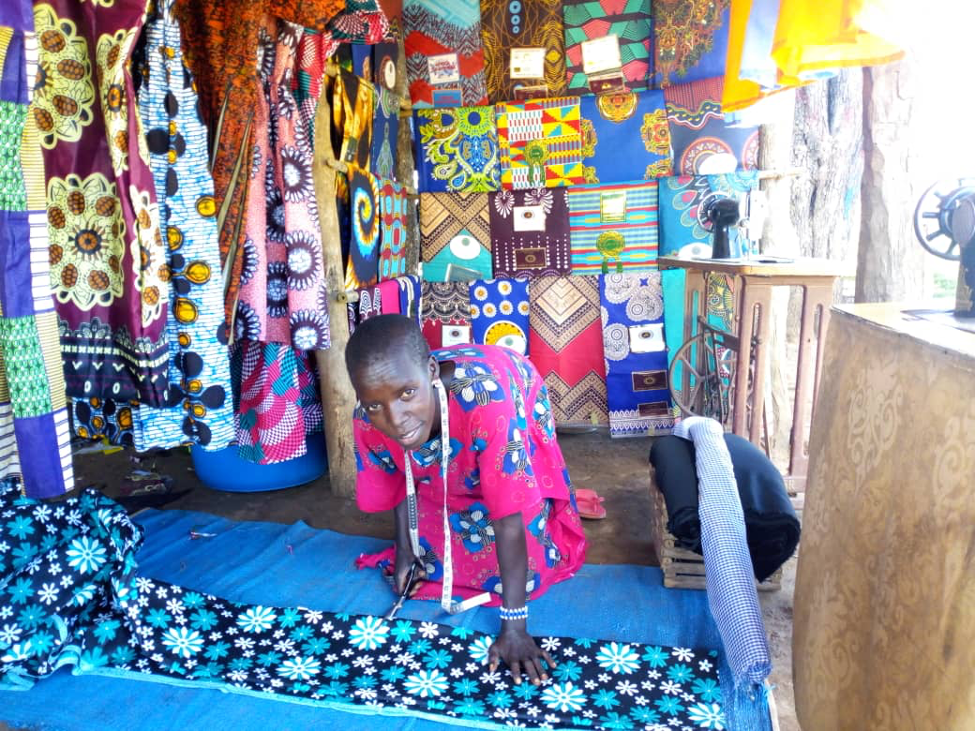 Just like Agnes, Kiden Emma Kenyi, a South Sudanese staying in Palorinya refugee settlement, is a joyful woman. Kiden, having fled South Sudan with just a sewing machine, joined a savings group as soon as she settled.
"The only thing I carried with me from South Sudan is a sewing machine", she says. Kiden crossed to Uganda in 2016 with her four children. Her husband was abducted before crossing but he is now believed to be back in South Sudan.
In order to raise her children, Kiden joined a village savings groups called Totogita, meaning "knock and the door will be open". The group received financial literacy training and a savings kit from World Vision, and later a loan from VisionFund to boost their investment.
"When VisionFund came in 2019, they identified, selected, educated, and assessed my group for a loan and fortunately we qualified", she says.  The group got a loan of UGX 3.6 million (US$1000) and she was able to borrow 1 million (approx. US$300).
"I used the 1 million to buy school uniform rolls and some kitenge (fabric) materials. I made primary school uniforms and parents around bought uniforms for their children from me", she says. "Some clients especially the women also ordered kitenge dresses."
Kiden's life has totally changed from a struggling single mother, to an employer.
"I bought two additional sewing machines and I have employed two people that I work with", she says. "I also train learners in tailoring, and I am proud to say that I can now pay school fees for my children in private schools,"
"I have also constructed an iron sheet roof for my house and we no longer live in the tarpaulins (makeshift shelters). I bought a bicycle for the children to use for going to school", says Kiden.
Community members coming together to alleviate poverty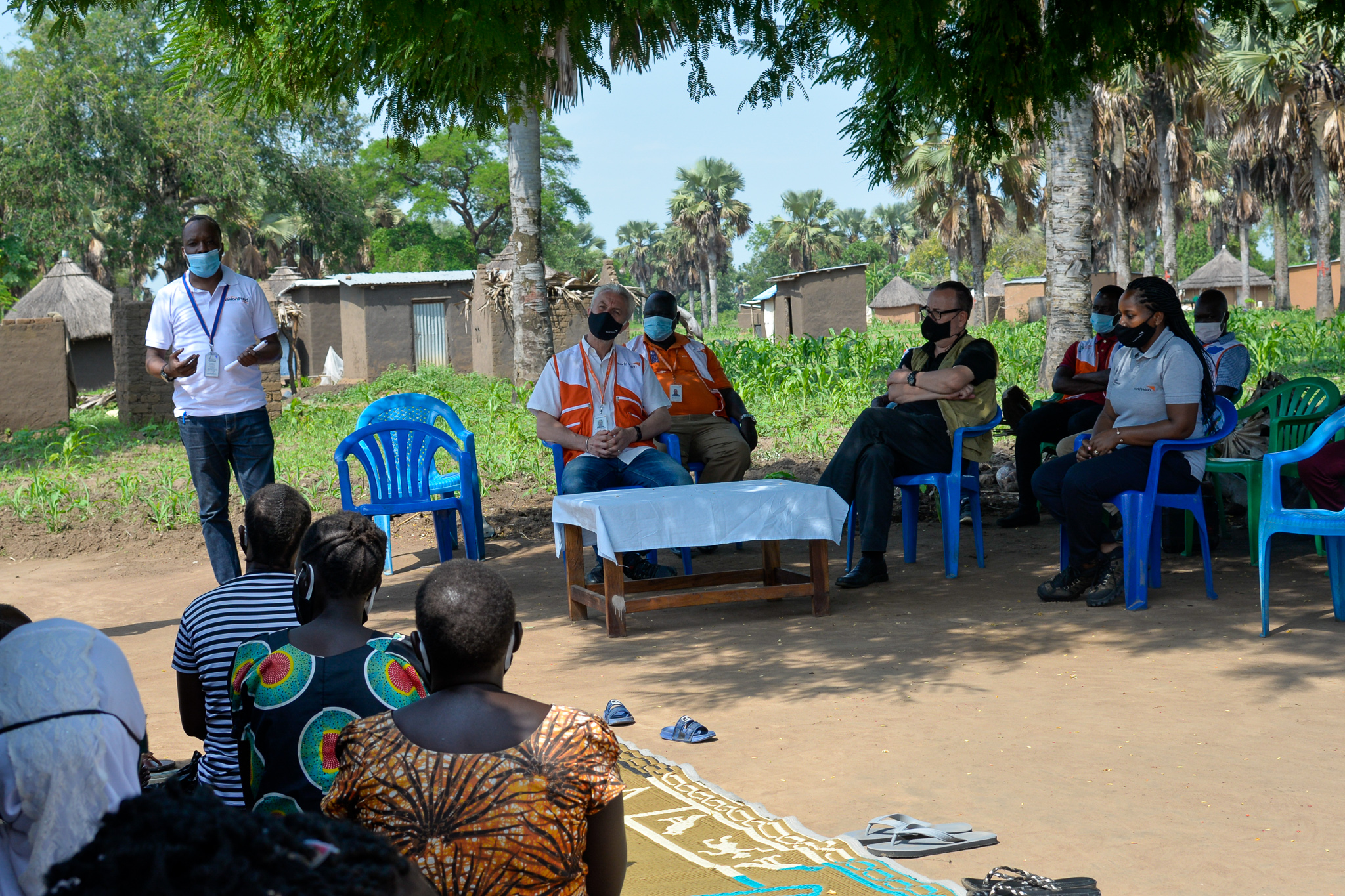 Alafi Savings Group in Palorinya refugee settlement started in June 2018 by community members who had a common interest in saving and poverty alleviation. The group was formed by 15 members but has grown to 30 members with more than half of them women. The group has completed three saving cycles and accessed two loans from VisionFund, one for 3 million and one for 6 million Uganda Shillings. In their first cycle, the group saved up to UGX 6.5 million (approx US$1,800), and by the third year they had raised this figure to UGX 12 million (approx. US$3,300).
"VisionFund trained us on how to save, invest, and how to use the loan wisely. This helped us very much in our businesses", says Ibrahim Abdallrahman Abdala, the group chairman.
Members use loans and share-outs to meet immediate household needs like food, healthcare, scholastic materials, utensils, clothing and school fees. Others invest the money into business and farming.
"We are glad to witness such levels of transformation amongst the refugee and host communities", says Roger Nyakahuma, the West Nile Regional Manager for VisionFund in Uganda. "Our strategy is to improve the lives of children through offering relevant solutions to the rural and vulnerable communities, with a focus on women."
World Vision aims at contributing to the sustained well-being of children and their families by helping vulnerable communities to use the S4T approach to improve access to finance, enhance social cohesion, increase incomes and assets.
"We are working to build the resilience of households through financial inclusion and literacy, thereby ensuring that families have a sustainable source of income", says Noel Alabi, a resilience and livelihoods specialist at World Vision in Uganda. "With financial literacy courses, refugee households are expected to be better equipped to make sound financial decisions, effectively interact with financial service providers, and achieve their financial goals. They will also be more resilient to future shocks, such as ration cuts or COVID-19, and plan their way around it."