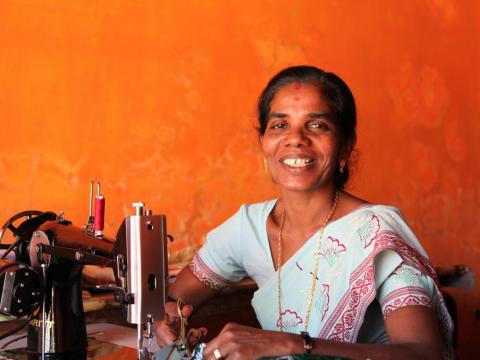 Savings for Transformation
Women who can access financial resources are able to make decisions about their lives and meet their families' basic needs. Savings for Transformation (S4T) is an approach being used by over six million active participants, many of whom are women, to facilitate savings and credit in a small-scale and sustainable way. S4T instils hope and contributes to child well-being by enabling community members to plan ahead, cope with household emergencies, develop their livelihoods and invest in the health and education of their children.
S4T groups are owned, managed and operated by the members, using a simple, transparent method whereby groups accumulate and convert small amounts of cash into savings. The group's savings can be lent as credit to earn additional income, kept in a safe place for emergencies, or both. S4T projects are low cost (requiring only facilitation staff and a small operating budget). They are community led and therefore, highly sustainable.
Savings increase the resilience of families by helping them to protect and care for their children by providing a safe and convenient way to save money. Groups of people meeting together for the purpose of saving also helps to build social capital, a major contributing element of community resilience.
Who is using the S4T Project Model?
Angola, Bangladesh, Brazil, Burundi, Cambodia, Congo (DRC), Ethiopia, Ghana, Guatemala, Haiti, Honduras, Indonesia, Kenya, Lesotho, Malawi, Mali, Mauritania, Mongolia, Mozambique, Myanmar, Nicaragua, Niger, Pacific Timor Leste, Peru, Philippines, Rwanda, Senegal, Sierra Leone, Somalia, South Africa, Sri Lanka, Swaziland, Tanzania, Uganda, Vietnam, Zambia, Zimbabwe
Key contact: Angeline Munzara – S4T Project Manager
Email: angeline_munzara@wvi.org