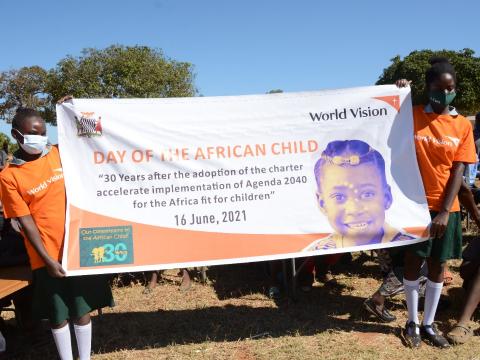 Children present views to duty bearers on Day of the African Child
Sunday, June 20, 2021
"As we celebrate this Day of the African Child, we children need to be responsible and work with leaders to create an Africa fit for us", says 10-year-old Nchimunya.
The bright child speaker was speaking to the delegates and Guest of Honour, the Southern Province Permanent Secretary Ms. Joyce Nsamba, during the commemoration of the Day of the African Child 2021 at Moyo Primary School in Pemba District (Southern Province), which was under the theme "30 years after the Adoption of the Charter: Accelerate the Implementation of the Agenda 2040 for an Africa Fit for Children".
Speaking on behalf of her fellow children, Nchimunya called on the leaders and community members to help children access their full rights, especially rights to education. 
"All children have rights. If we are to enjoy an Africa fit for us, [we] must be helped to grow into responsible children by ensuring that we have access to education –not just education but quality education. Another issue that [is] robbing children of their chance to get educated is child marriage. It has destroyed [the] lives of so many children, especially girls, and robs the nation of its future as we are the future", she shared. "Please, society, help us end child marriage and other forms of child abuse."
Nchimunya further urged her fellow children to be responsible and respectful to elders and others.
"As African children, we are proud of who we are. We believe in togetherness, we believe in respect and responsibility. Therefore, we must be respectful and show that we deserve a conducive environment that promotes child participation."
Through Ms. Joyce Nsamba, the Government of the Republic of Zambia reaffirmed its commitment to creating an enabling environment and enhancing child protection in schools and communities.
"As a Government, we will guarantee free education and other socio-economic opportunities to all the children in the province and the country at large. In ensuring that children are protected, we will be working with both the private sector and non-governmental organisations because they play a significant role in spearheading child protection interventions and developmental programmes", shared Ms. Nsamba.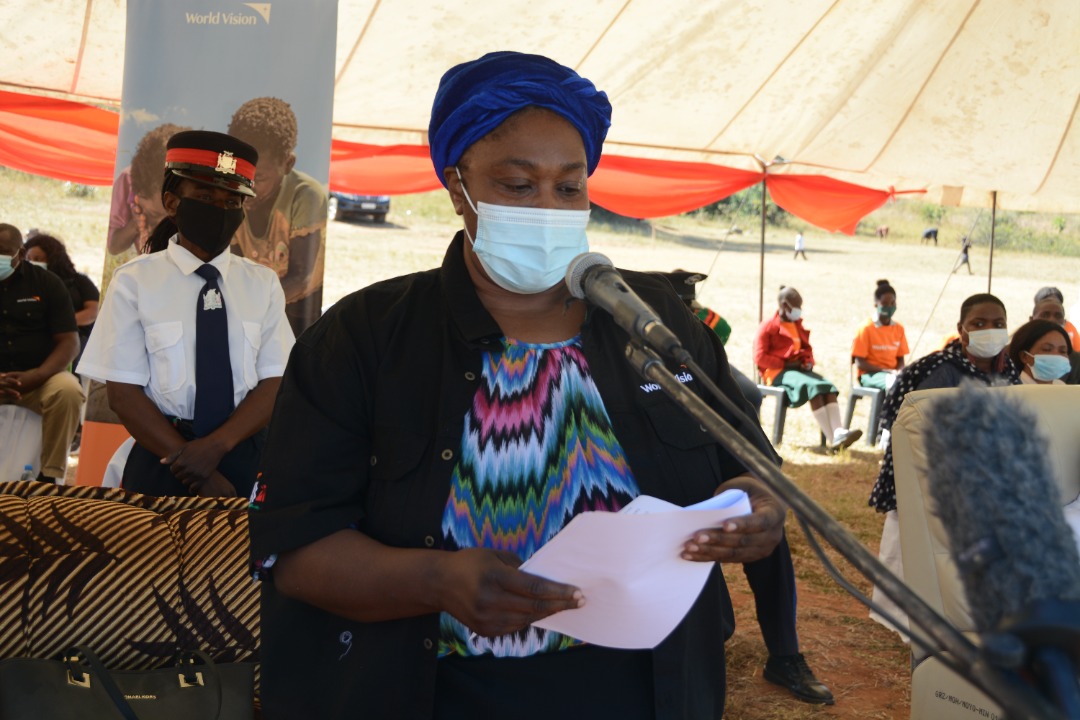 The Provincial event was attended by children and district officials from Namwala, Pemba, Sinazongwe, and Kaoma districts.
The Day of the African Child presents an opportunity for children in Zambia and across the continent to express their views to duty bearers and decision-makers. Children submitted their petitions and had a question and answer session with delegates.
On behalf of World Vision, Associate Director for Advocacy, Dr. Carol Mweemba, emphasised that an Africa fit for children is fundamental for children to live lives in its fullness. She also noted: "As you may be aware, and also in line with the theme of creating a safe environment fit for children, World Vision, which is a faith-based and child-focused organisation, has been operating in Zambia for more than 30 years now; improving the lives of many children and households through the implementation of different programmes in health, farming, water and sanitation, education, child protection and advocacy for voiceless children".