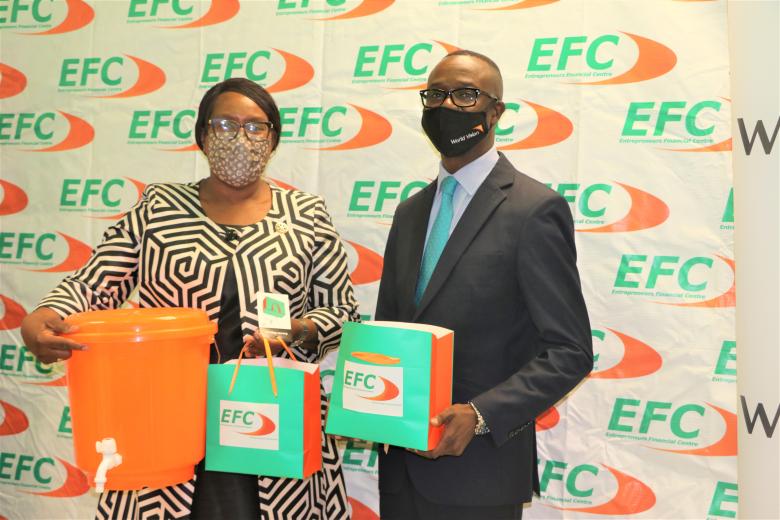 Entrepreneurs Financial Centre donates items to World Vision for fight against COVID-19
Tuesday, March 16, 2021
The Entrepreneurs Financial Centre (EFC) has donated 500 branded face masks and 18 hand-washing buckets to World Vision's Zambia Office, in order to combat the COVID-19 pandemic in Chongwe District.
The donation is part of World Vision's Zambia Board of Director's fundraising initiative to support 20 schools (17 primary and three secondary schools) and 11 health care facilities in Chongwe with reusable face masks, hand-washing buckets with taps, hand sanitisers, handheld thermometers and cleaning materials or detergents.
Commenting on the donation, World Vision's Zambia Board Chairperson, Mr. Malcolm Chabala said, "this donation supplements our ongoing efforts in the fight against COVID-19 to protect vulnerable children and frontline workers from the pandemic and, in particular, the health centres that we have identified in Chongwe district where the masks will be distributed. The donation of 500 face masks and 18 hand-washing buckets from EFC will go a long way in helping us reach our target to enable health workers to confidently attend to health care service seekers without fear of contracting the COVID-19 disease."
World Vision's Zambia Board of Directors has embarked on a fundraising initiative for two projects in the education and health sectors in Chongwe district, where World Vision operates three Area Programmes as part of our ongoing large-scale programmes to respond rapidly, effectively, and efficiently to mitigate the spread of the novel coronavirus.
"In October last year, World Vision, through its Zambia Board of Directors' initiative, donated over 3,000 face masks, 100 hand-washing stations, 200 bottles of hand sanitiser, and 20 handheld thermometers valued K135, 885 (just over US$ 6,100)) to 17 primary schools and three secondary schools in Kapululwe and Chongwe South. The donation benefited 3,239 pupils; an indication that we are heading in the right direction in our efforts," added Mr. Chabala.
In her remarks, EFC Board Director Ms. Helen Samatebele noted: "This donation reflects EFC Zambia's commitment to its corporate values and cares for the communities in which we operate. During this time of great uncertainty, it is our hope that collaborations such as this, between EFC Zambia and World Vision, will provide the much-needed hope and assurance to the people of Zambia and the world that we are in this together."
"The donation of face masks and hand sanitisers to World Vision has come at the right time with the outbreak of the second wave of the COVID-19 virus. To the World Vision Board Chair, it is our hope that this donation will assist your organisation in your quest to contribute to the fight against COVID-19," added Ms. Samatebele.