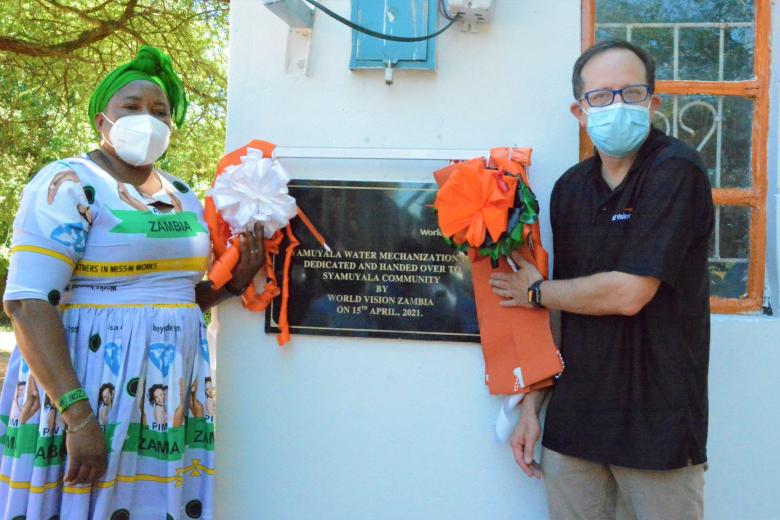 Over 6,500 people receive clean water in Sinazongwe
Friday, April 16, 2021
By Kambani Phiri - World Vision Communications Specialist, Zambia
Access to clean water is a basic need for humanity and a necessity to sustain life forms. Water scarcity and lack of access by children are among the main obstacles to quality education and good health. Access to clean water is unequal. According to the Zambia Demographic Health Survey 2013-14, 90% of households in urban areas have access to safe water compared to only 53% of households in rural areas.
From time immemorial, Syamuyala and Sikankeka communities have had water challenges. People from the two communities have had to share water with animals, which has resulted in many diarrhoea cases over the years, especially among children. Consequently, children's school attendance –especially for girls– was affected as they would fall ill or walk very long distances to fetch water.
Recently, Syamuyala Primary School and the surrounding Community solely accessed water from two faulty boreholes and unprotected wells; a situation that posed a significant risk to the children.
For the Sikankeka community, the situation was worse, as the only health centre 'Sikankeka Health Centre' servicing a population of 5,808 people with an average of about 102 Out Patient Department (OPD) patients and one expected live birth per day lacked a water source to provide basic water access to staff and patients. This led to health care workers having to walk to a 30 kilometre borehole to access water for critical services.
To alleviate the two communities' problem, World Vision constructed two 10,000 litre mechanised water systems at Syamulaya Primary School and Sikankeka Health Centre in Sinazongwe district of Southern Province.
Speaking during the official handover of the mechanised systems to the Government of the Republic of Zambia, Sinazongwe District Commissioner Ms. Sheena Muleya said the water systems would improve hygiene and cleanliness at the school, health centre, and communities at large.
"Water is not only a basic need of life; it is also essential for the survival of all life on earth. The provision of the water systems has come at the right time as we implement the Seventh National Development Plan (7NDP). As such, these two systems will help improve the lives of children and their communities. Children may now enjoy their full rights because of water, as they will have ample time to be in class and good health without the threat of diarrhoea and other diseases that came from consuming dirty water", said Ms. Muleya.
She added: "These systems provide an opportunity for the two institutions to improve and diversify their income sources. With this water availability, I urge the two communities and management of the school and health centre to start engaging in gardening and other income-generating activities, which will help bring income for the two institutions' maintenance. Members of the community must also come on board to ensure that the water points are well maintained and sustained to benefit the generation to come".
Commenting on the handover, World Vision's National Director for Zambia, John Hasse, noted that World Vision attaches great importance to children's health and education in Zambia.
"World Vision's focus is on helping the most vulnerable children overcome poverty and experience fullness of life. Lack of water robs children of their right to education and good health. It is for this reason why World Vision invests so much in projects that transform children's lives. The water systems allow children and their families to have good health and spend more time in class because they will be free from water-borne diseases," said Mr. Hasse. "I am hopeful that, with the water system in place, there will be improvements in children's educational performance, reduction in absenteeism, especially for girls, and improved retention rates for teachers.
Mr. Hasse further added that the water systems would benefit the lives of over 6,500 people in the two communities. "The water systems constructed at a cost of ZMW K423,360 ($20,160) are estimated to benefit and transform the lives of 699 people in Syamuyala community by directly benefiting 378 pupils and an additional 5,808 people; a population serviced by the Sikankeka Health Centre," he said. "Together with the Government of the Republic of Zambia, we can protect children today and empower them for tomorrow."
He concluded his remarks by expressing World Vision's pleasure to collaborate with the Government in creating an environment in which children are free to participate in education activities regardless of their gender and socio-economic status.
The handover was held during a delayed commemoration (15 April) of this year's World Water Day (22 March), focusing on the theme 'Valuing Water'.