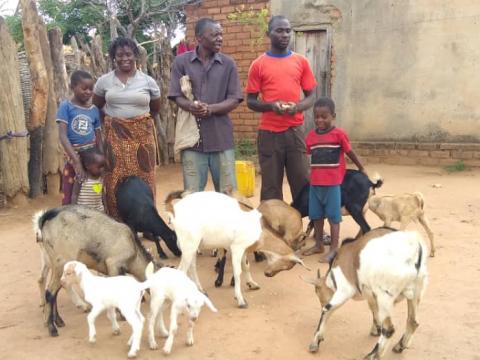 THRIVE transforms a farmer's life
Thursday, May 14, 2020
Rodrick Mbewe, a Lead Farmer, has demonstrated a transformational change in well-being because of the training that he has received as a registered farmer under the Transforming Household Resilience in Vulnerable Environments (THRIVE) Project under Katete Area Programme (AP).
Mr. Mbewe, aged 55 and married to Margret Phiri (44) with four children and two grandchildren, lives in Jombo Village of Katete District. As a Lead Farmer, he has changed his ways and outlook on life for the betterment of his household since he encountered THRIVE.
"I have tried as much as possible to implement the knowledge and skills obtained from the pieces of training from the project; such as the art of bulking. As a member of Vulamukoko Crops Aggregation & Marketing Cooperative Society (VUCAMACSO) Commercial Producer Group (CPG) under the bulking centre, I was keen to try out bulking with the (CPG)," he explains.
He further said that after the 2019 harvest of maize, he agreed with the wife to do a comparison by selling some maize soon after harvesting and storing some to be sold during the lean period.
"I was curious to know the difference in prices, so I sat with my wife and we agreed to sell 30 bags of 50Kg maize in August 2019 at 2 Kwacha per kilogram (USD 0.15/Kg) which amounted to ZMW 2,300 (USD 175). During lean periods from January to March, we sold 18 bags of 50kg maize for ZMW 6.3/Kg (USD 0.45). This resulted in ZMW 5,736 (USD 410)," says Mr Mbewe. "I did not only bulk maize but also 10 bags of sunflower, which was sold at ZMW 130 (USD 9.3) per bag."
From the sales of bulked maize and sunflower, Rodrick Mbewe was able to buy a motorbike worth ZMW 8,500 (USD 607) paying cash on purchase and managed to pay for school fees for his grandchildren. Mr. Mbewe further took it upon himself to help fellow farmers in the community by offering to train them on the key skills he learnt from THRIVE.
"I believe that the community can only develop when we share working practices, that is why I took it upon myself to help my fellow farmers by sharing the best practices I obtained from World Vision Zambia through the THRIVE training."
Moses Banda, a farmer trained by Mr Mbewe says, "Mr Mbewe is an inspiration to us in this village not only in the farming area but also how he takes care of his children and the entire family."