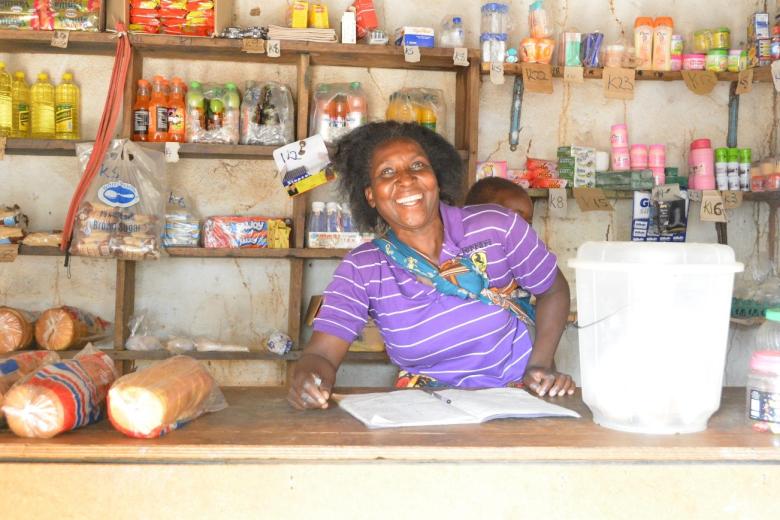 Village Banking: The source of women's livelihoods in Southern Province
Thursday, September 24, 2020
Life in Zambia's rural areas is characterised by poverty, with most families unable to afford three meals a day. Because rural women and young girls play a critical role in providing food for their families due to their participation in income-generating activities and savings groups, the income that they generate is vital to improving the livelihoods of their families and communities at large. However, even though their roles are critical, women often face business management challenges due to a lack of skills and knowledge on record-keeping, and financial as well as entrepreneurial skills. 
In response to these challenges, World Vision's Moyo/Hamaundu Area Programme team in Zambia conducted a capacity-building training in village banking with a few selected women from Jamba village in Chief Hamaundu's chiefdom, Pemba District of Southern Province. The group of women further received mentorship in a holistic livelihood training called Empowered World View (EWV). EWV is a holistic approach that interrogates certain beliefs and cultures that tend to keep people in the cycle of poverty. It is designed to enable men, women, and children to ultimately change behaviours in a manner that will ensure sustainability and positively reinforce resilience capacities to absorb shocks, adapt to change, and transform risks into opportunities.
These pieces of training led to the formation of 'Dare to Discover' savings group in 2018. The group began operating with five members, and currently, the group now has 80 members, mainly consisting of women and young girls between the ages of 12 and 44.
"Before COVID-19 broke out, business was normal, as we frequently met to conduct our monthly transactions. The pandemic's advent brought about devastating realities, as we could not meet as previously, and most of our businesses came to a standstill." narrates Maina Chabota, 44; the 'Dare to Discover' savings group facilitator.
Maina, who is one of the group's first members, explains that the group's members had no plans to give up on their dreams of growing their income base. As a result, they had to find creative ways of operating and making money during a difficult period. They took advantage of the shortage of face masks in the community, and from this realisation, they were able to unlock a business opportunity amid financial challenges.
"As leaders of the group, we convened a meeting to discuss the way forward for our savings group; we then divided ourselves into smaller groups and appointed a person to lead each group as they conduct transactions to minimise risks of contracting COVID-19. We then decided to each contribute K5 ($0.25) towards the purchase of local fabric for making face masks," Maina explains. "With these contributions, we raised K400 ($20) and bought the much-needed fabric to use for making face masks. Since I am skilled in tailoring, I was able to teach the group members how to sew face masks. We managed to sew 170 face masks, which were selling at K5 each and from the sales; we were able to raise K850 ($42)."
The enterprising group diversified their income-generating activities by sewing doormats and purchased hand sanitisers for resale during community gatherings such as weddings, funerals and meetings; and baking flour to make cookies, scones, and buns for sale.
"We realised that we could also make money during community gatherings such as weddings, funerals, and community meetings. We used to encourage people to sanitise their hands as they came through to the gatherings, and we used to charge K1 ($0.050) per person for using our hand sanitisers," shares Maina. "During these gatherings, we also encouraged traditional leaders to compel people to buy face masks and to sanitise their hands as frequently as possible. In as much as we were more intent on helping people protect themselves from the possible exposure of the disease, it worked to our advantage because we were able to raise more funds for our venture."
The 'Dare to Discover' savings group Chairperson, Courage Mainza, 32, shares that the raised K28,000 ($1,400) from the sale of the face masks, knitted doormats, cookies, and hand sanitiser initiative. "We decided to open up a grocery at one of the popular shopping complex in the community. We also decided to share a small percentage of the profit to all our members. This was to allow members to establish individual businesses as well as allow some parents to supplement funds for their school children as they return to schools," she says.
Courage further narrates that the group intends to use the business' money to have a mechanised water system installed in the community, and that they have plans to venture into horticulture farming in the future. The group hopes to raise enough money that will enable them to install the mechanised system to aid their farming business.
"We intend to raise enough money that will allow us to install a mechanised water system to be used for our garden because we do not want to rely on the water for the community," says Courage. "We are grateful for the training we received from World Vision. Our success as a group is due to the training we received from World Vision, and our appeal to World vision is to continue empowering the poor with skillsets just like they did to us."