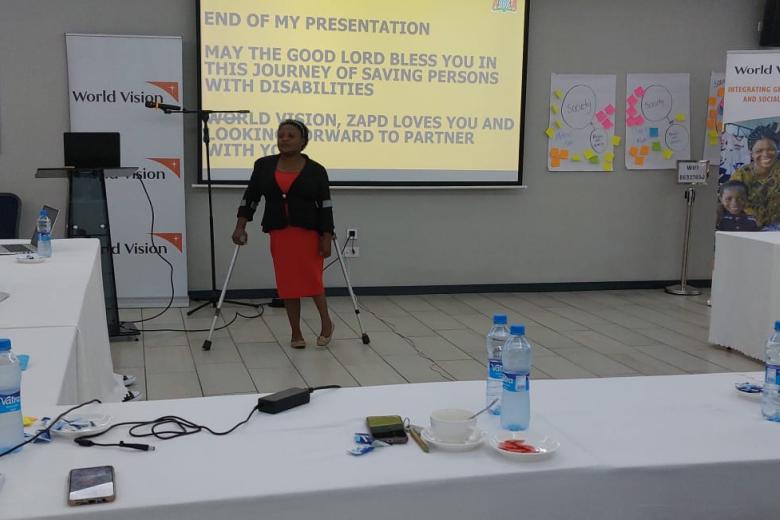 World Vision Hosts Disability Inclusion Training with the Goal of Enhancing Disability Inclusion Efforts
Sunday, April 2, 2023
A Disability Inclusion ToT Action Learning Training recently took place in Kabwe, led by key trainers such as World Vision Gender Equality and Social Inclusion (GESI) Director Abigail Will and World Vision Regional GESI lead Dephin Mpofu: Co-facilitators were Emmanuel Ngulube, GESI Advisor for World Vision Zambia, and Doreen Chizyuka, iWASH GESI Coordinator.
The workshop began on March 21st and ended on March 23rd. The main objective was to develop a clear roll-out work plan focusing on how World Vision Zambia can enhance disability inclusion efforts, particularly under the Sponsorship program.
A group picture of some of the participants at the training
Several Area Programs participated in the training, including Luswepo, Suwila, Mwamba, Bwacha, Twikatane, Mufumbwe, Manyinga, and Buyantanshi.
Participants were inspired by experiences shared by Chimwemwe and Abidone from Malawi on the first day of the training. Several organizations working with persons with disabilities, including The Zambia Agency for Person with Disability ( ZAPD) , Beit Cure, Nate Foundation, and Christian Blind Mission (CBM), also participate in the workshop.
Overall, the Disability Inclusion ToT Action Learning Training held in Kabwe was crucial to creating a more inclusive society for persons with disabilities in Zambia.