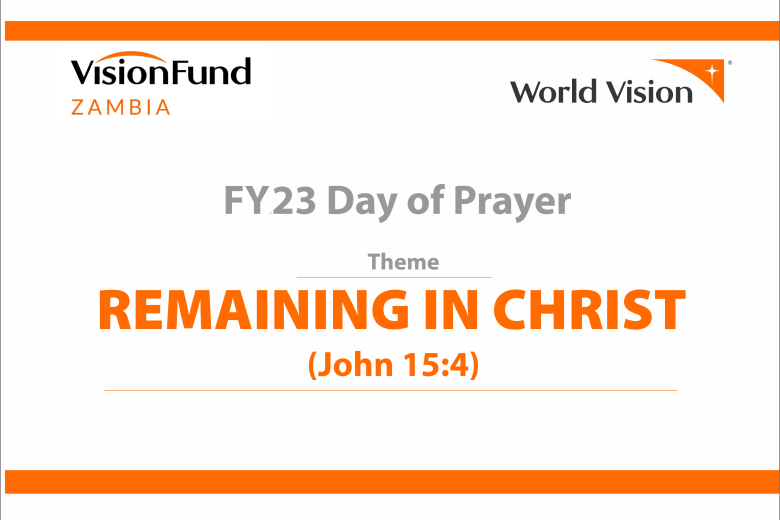 World Vision in Zambia Commemorates FY23 Day of Prayer
Wednesday, October 5, 2022
World Vision Zambia and VisionFund Zambia staff gathered to commemorate the day of prayer at the start of the 2023 financial year (FY23) on 4th October 2022. All staff gathered in various locations: Lusaka, Solwezi, Livingstone, Chipata, and Mansa.
The theme of the Day of Prayer was "Remaining in Christ," which was drawn from John 15:4. It was marked with prayer, worship, meditation, group activities, and dance.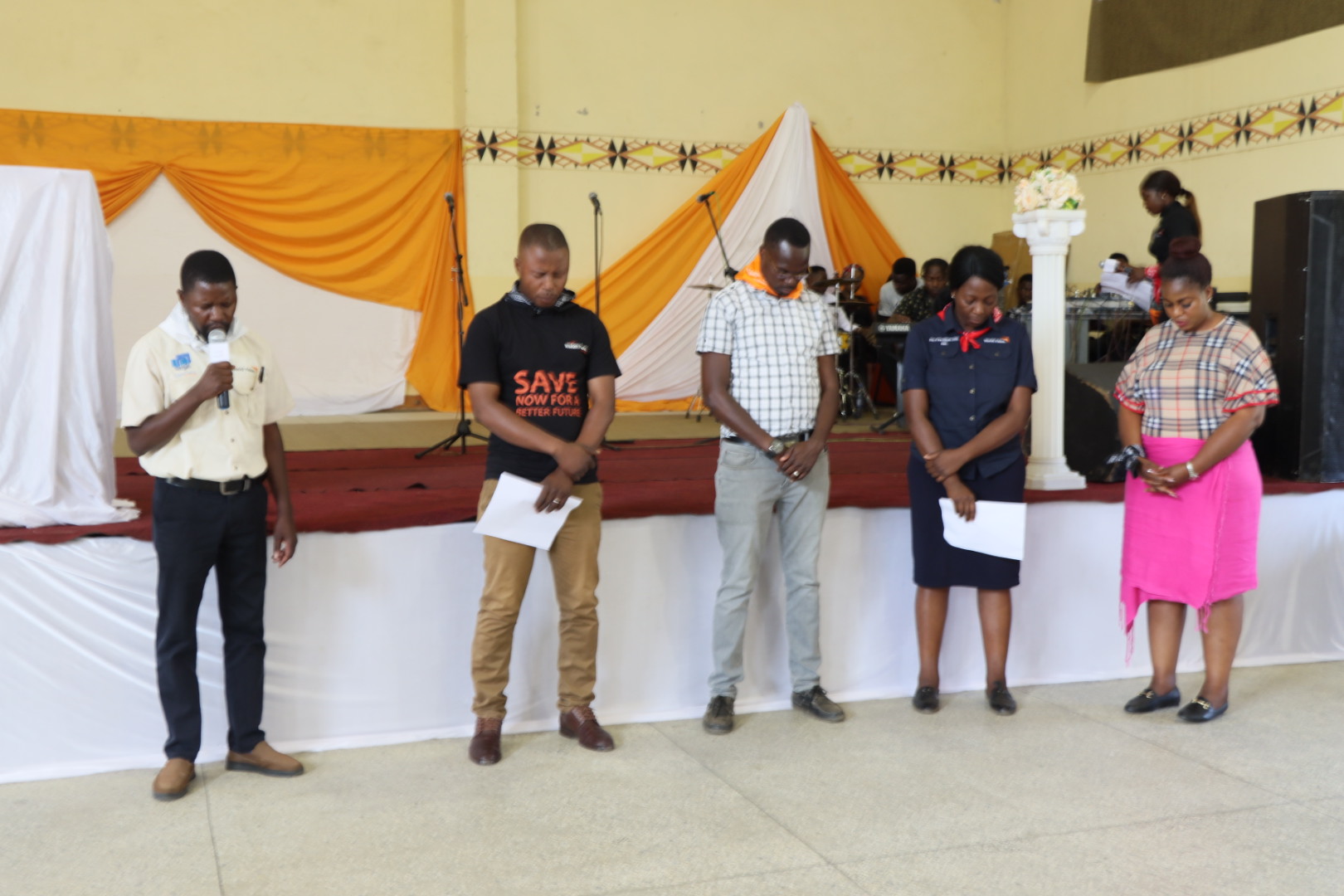 In a video message from Northern Kenya, World Vision International President Andrew Morley said the world had faced challenges such as conflict, climate, and Covid-19, as well as the global food crisis, which are all devastating.
So, it's time we asked ourselves. No matter how faithful we remain, how can we continue to bear fruit as we read in John? So then, how do we bear fruit with what is happening across Syria, Ukraine, or to the children of Myanmar, Venezuela, Afghanistan, and many other places? The answer is right here in John 15. Jesus tells us, "remain in me". This is the core of what it means to be in World Vision. Together with all our different partners. And this only works when, through this partnership, we are rooted together in Christ.
Here is the link to the full video message from World Vision International President Andrew Morley.
And speaking in a sermon, Zambia Army Deputy Chaplain General Manford Muke, urged the staff to abide in Jesus Christ by obeying the commandments and following his way.
Reverend Colonel Muke said abiding in Christ means having a prayer life, reading the Bible every day, being in constant fellowship, and being a witness of Jesus Christ.
"You cannot please God until you believe that he exists. And you have to produce fruits as children of God", he said.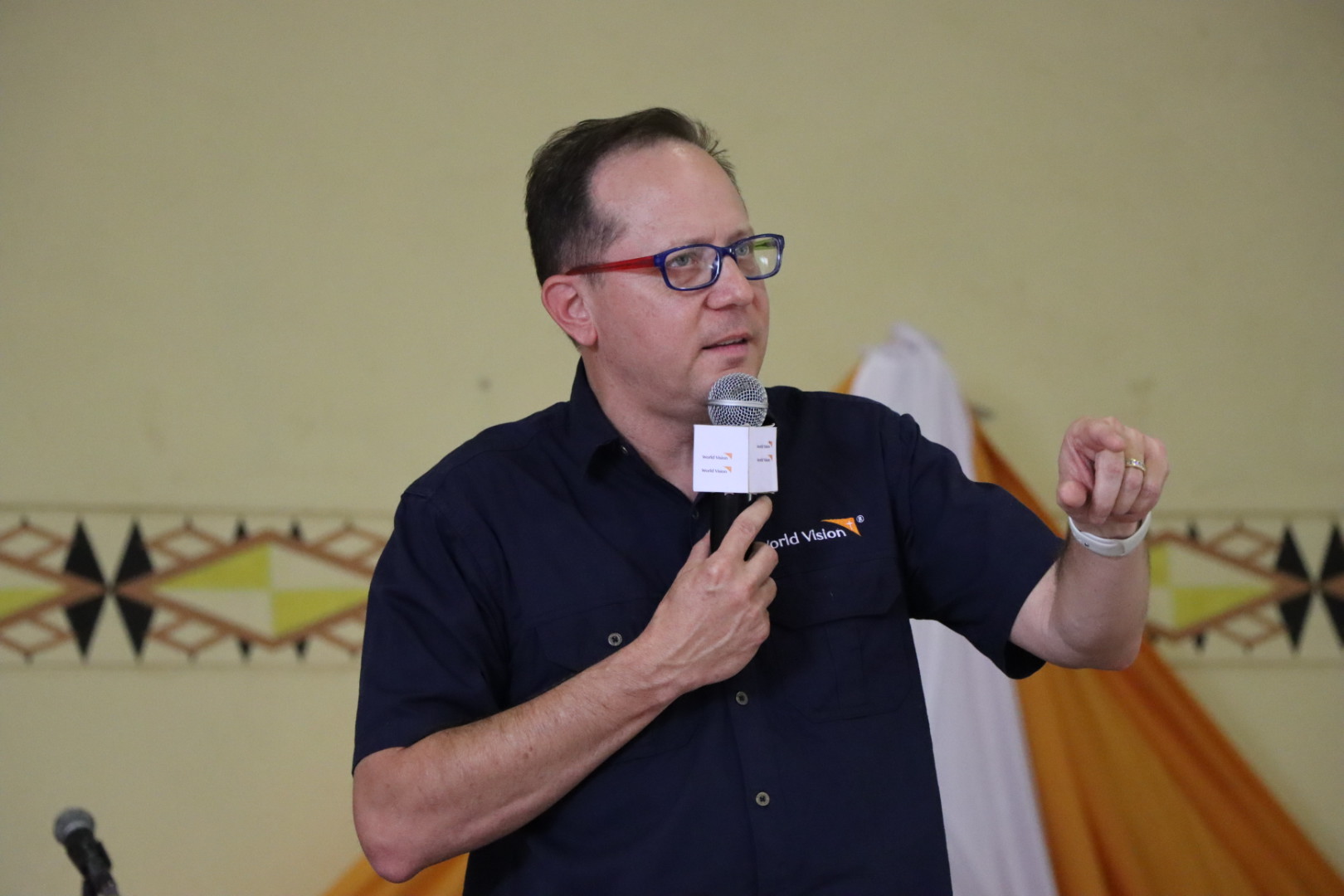 And World Vision Zambia National Director, John Hasse, said the staff has so much to be grateful for as the myth that the organization was shrinking has been quashed because it has been growing and will continue to do so in the next two years.
God wants us to do more of what we do. Priority should be to be in Christ. World Vision Zambia and VisionFund Zambia are working together; that is why we are praying together.
Mr. Hasse said World Vision's priorities in the next financial year include working together with Vision Fund.
"VisionFund is now profitable with a profit of 5.7 million Kwacha (USD 356,250) in the last financial year and has a total outstanding loan portfolio of K121,317,000.  (6 million US Dollars) Our priority now is to build on this success and enhance our working relations at all levels at both national and community levels," he said.
The World Vision Zambia National Director also disclosed that the 'Employee of the Year awards would return in November 2022, where 1st, 2nd, and 3rd prizes will be given to the nominated employees.
The World Vision Zambia National Director said World Vision Zambia wants to create diversity in the organization and rebuild extra effort and engagement this financial year now that the COVID-19 cases have gone down.