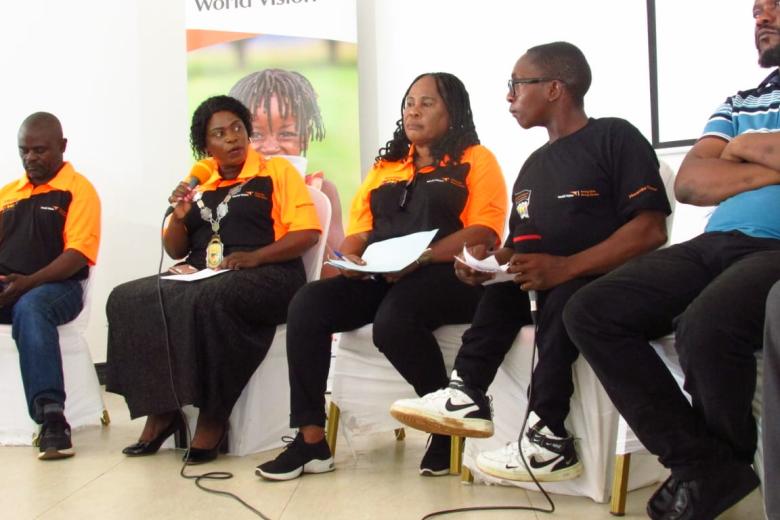 World Vision Zambia Creates Spaces for Children to Engage with Service Providers
Friday, March 31, 2023
By Teddy Mofya, Development Facilitator CESP, Zambia
World Vision Zambia recently hosted a symposium for over 150 children from rural areas in Mungwi and Kasama, including children living with disabilities, to amplify their voices and views on child wellbeing during the 2023 commemoration of the International Children's Day of Broadcasting (ICBD) on March 5th, 2023. Under the theme "Invest in us, protect us, we are the future".
The symposium created spaces for children to engage with ten key Government of the Republic of Zambia service providers in Northern Province, including the Provincial Deputy Permanent Secretary, Kasama District Commissioner, Mayor of Kasama, and other stakeholders. The event included a live broadcast interface meeting where children were oriented in the enacted Child Code Act number 12 of 2022, gave feedback, and received updates on investments the government is putting in place to support and uphold the rights of girls, boys, and young people.
Kasama District Commissioner, Elizabeth Mpandashulu, assured the children that the government would ensure their rights are upheld and protected through the provision of free education and investment in structures that promote and protect their rights.
"I would like to thank World Vision Zambia for supporting the government's efforts in the area of education, health, child protection, water and livelihood, which has helped uplift the living standards of the people of Northern Province, especially boys and girls."
During the event, children shared their thoughts and expressed gratitude to World Vision and the Civic leaders for accommodating their views.
"I am grateful to World Vision for the opportunity to interact with government leaders," said a 13-year-old Enock.
"Thank you for considering us as children from a special school; this is rare," said a 12-year-old Patricia. "The meeting was very nice, and I have learnt a lot, especially about our rights as children."
For Musonda,13, the women leaders inspired her to work extra hard in school so that she could become just like them.
And Charles Phiri, World Vision Zambia's Mwamba Cluster Programme Manager, said World Vision Zambia's goal is to reach the most vulnerable children through community-based and community-empowered programs that focus on changing the environment they live.