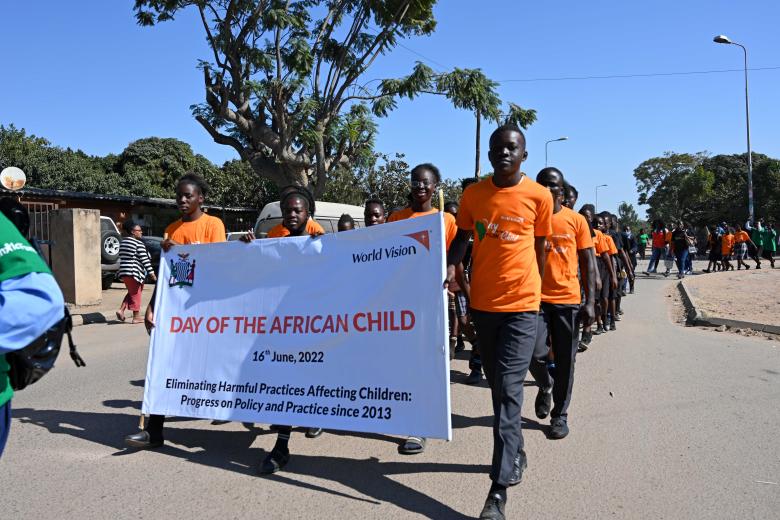 Zambian Government commitments to enacting the Child Code Bill at commemoration of Day of the African Child
Friday, June 17, 2022
As a commitment to protecting children from various forms of violence, the government of the Republic of Zambia has committed to tabling the Child Code Bill in parliament for enactment. 
Lusaka Province Minister Hon. Sheal Mulyata said the measure will safeguard children from abuse or violence, including child marriages and sexual exploitation.
The provincial minister said this at the commemoration of the Day of the African Child 2022 in Kafue district.
Meanwhile, World Vision in Zambia has commended the government's commitment to enacting the Child Code Bill, which will address constitutional flaws that often allow perpetrators of child abuse to go free.
Michael Musumali, a Child Protection Specialist at World Vision said the Child Code Bill will harmonise various legislation meant to safeguard children from abuse.  
"The Child Code Bill will help us correct lacunas such as defining who a child is and when passed, the bill will protect children from birth to 18 years from all forms of abuse and exploitation.   
In a vote of thanks, Mutwale, a pupil at Shikoswe Secondary School has expressed optimism about the government's commitment at enacting the Child Code Bill, because it will protect children from abuse and exploitation.
The learner has also thanked the government for easing access to education by introducing free education.  
This year's Day of the African Child was themed, eliminating harmful practices affecting children: progress on policy and practice 2013.
World Vision has partnered with government in Kafue district by providing water sanitation and hygiene services in schools and health facilities in Chipapa Area Program. The organisation is also improving access to education through the construction and rehabilitation of classrooms among other interventions.