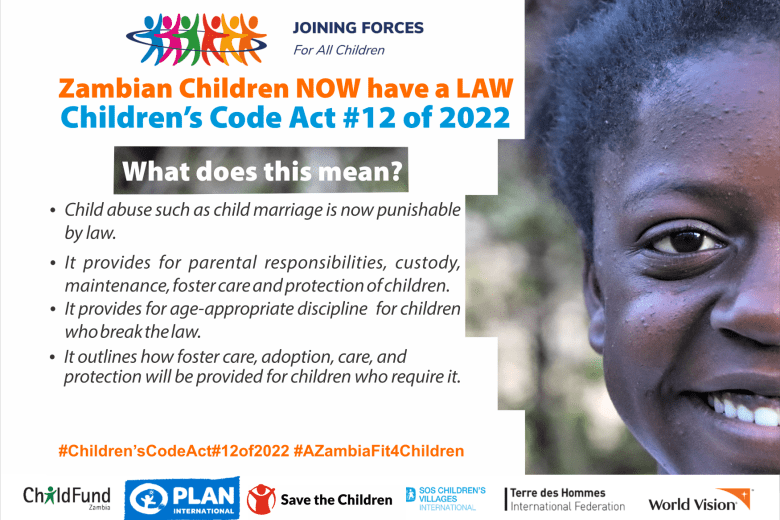 Zambia's Children's Code Act Prohibits Child Abuse and Promotes Child Protection
Monday, January 23, 2023
By Tisa Banda, Communications and Donor Liaison Officer
August 24, 2022, will go down in history as a special day for the children of Zambia. It is the day that the Children's Code Act became law in Zambia, solidifying their rights and protections and officially establishing procedures for regulating foster care, adoption, and childcare facilities.
This brings harmony to the definition of a child and fully prohibits child marriage.
There were a lot of inconsistencies and challenges in how children's programmes were implemented before the bill became law.
 "We had no clear law banning child marriage. We have so many different laws that talk about child marriage. First of all, there was a law that would allow a child to get married at any age. You would have a customary marriage where you would see that a child would be allowed to get married at any time, provided they attain puberty. And then we had a Marriage Act, which would stipulate that a child can get married at 21, but with consent, a child could get married at 16. So, we could see that different laws were talking about different things, especially when it talks about banning things to do with child marriage. When you look at the Penal Code, you see that it did not sufficiently protect children over the age of 15 from sexual abuse. As long as you are at 15 years, if you have sexual contact, they will say that is rape. But below that, they would say that you have been defiled, meaning the law was already categorizing the age groups.  Anyone above 15 was considered to be raped. Therefore, they were supposed to be considered an adult", said Carol Mweemba, World Vision Zambia Advocacy Director.
Reforms on child wellbeing
Besides prohibiting child marriage, the code also achieved other reforms for children, such as corporal punishment of children, ending violence against children, and protecting their rights.
The law prohibits child neglect and compels parents/guardians, the government, and partners to be responsible, respond to children's welfare, and ensure they have all the necessary benefits, rights, and liberties.
It also improves field officers' work, as it was previously challenging due to the ambiguity in the law.
 "One of the problems we were having was that the people could argue. "You are telling me what I've done is wrong, that I've married the young girl. But where is the law that says you cannot marry someone you know at the age of 15 or the age of 14?' Now, this law has harmonised the definition of a child. If anyone marries a child, a boy or a girl, who is below the age of 18, that person is committing an office. And they are liable to prosecution", said World Vision Zambia National Advocacy Campaign Coordinator James Zimba.
The law reform process was spearheaded by the then Ministry of Youth, Sport and Child Development, the Ministry of Community Development and Social Services, and the Joining Forces Alliance.
Save the Children, a member of the Joining Forces Alliance, points out that this law brings to light child safeguarding issues.
"Part 18 of the Act will tell you strictly what child safeguarding is from not only the concept of the state but also the concept of the law. Previously, child safeguarding was seen as a preserve of NGOs, and so, government facilities such as schools, hospitals and other institutions that give service to children didn't know what child safeguarding was but what this law does now is that it demands that any facility that gives a service to children will have to put in child safeguarding measures", said Hermis Maunda, Save The Children's Technical Specialist for Child Rights Governance.
Zambia has made a commitment to end all forms of violence against children. The new code will help the country in working towards protecting the rights and safety of its children.