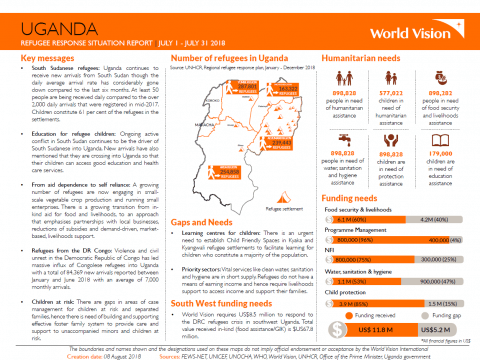 Uganda - July 2018 Situation Report
Wednesday, August 22, 2018
South Sudanese refugees: Uganda continues to receive new arrivals from South Sudan though the daily average arrival rate has considerably gone down compared to the last six months. At least 50 people are being received daily compared to the over 2,000 daily arrivals that were registered in mid-2017. Children constitute 61 per cent of the refugees in the settlements.
Education for refugee children: Ongoing active conflict in South Sudan continues to be the driver of South Sudanese into Uganda. New arrivals have also mentioned that they are crossing into Uganda so that their children can access good education and health care services.
From aid dependence to self reliance: A growing number of refugees are now engaging in smallscale vegetable crop production and running small enterprises. There is a growing transition from inkind aid for food and livelihoods, to an approach that emphasises partnerships with local businesses, reductions of subsidies and demand-driven, marketbased, livelihoods support.
Refugees from the DR Congo: Violence and civil unrest in the Democratic Republic of Congo has led massive influx of Congolese refugees into Uganda with a total of 84,369 new arrivals reported between January and June 2018 with an average of 7,000 monthly arrivals.
Children at risk: There are gaps in areas of case management for children at risk and separated families, hence there is need of building and supporting effective foster family system to provide care and support to unaccompanied minors and children at risk. For more information read or down load the report here.