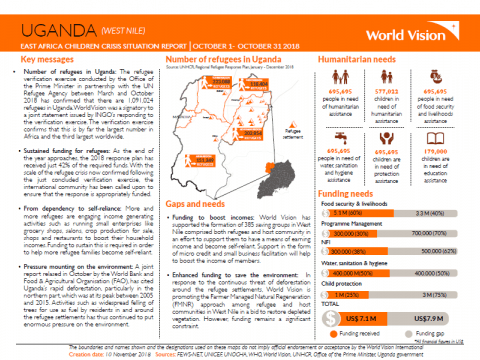 Uganda - October 2018 Situation Report
Monday, November 19, 2018
Number of refugees in Uganda: The refugee verification exercise conducted by the Office of the Prime Minister in partnership with the UN Refugee Agency between March and October 2018 has confirmed that there are 1,091,024 refugees in Uganda. World Vision was a signatory to a joint statement issued by INGO's responding to the verification exercise. The verification exercise confirms that this is by far the largest number in Africa and the third largest worldwide.
Sustained funding for refugees: As the end of the year approaches, the 2018 response plan has received just 42% of the required funds. With the scale of the refugee crisis now confirmed following the just concluded verification exercise, the international community has been called upon to ensure that the response is appropriately funded.
From dependency to self-reliance: More and more refugees are engaging income generating activities such as running small enterprises like grocery shops, salons, crop production for sale, shops and restaurants to boost their household incomes. Funding to sustain this is required in order to help more refugee families become self-reliant.
Pressure mounting on the environment: A joint report relased in October by the World Bank and Food & Agricultural Organisation (FAO), has cited Uganda's rapid deforestation, particularly in the northern part, which was at its peak between 2005 and 2015. Activities such as widespread felling of trees for use as fuel by residents in and around the refugee settlements has thus continued to put enormous pressure on the environment.
For more information, read or download our October 2018 situation report.