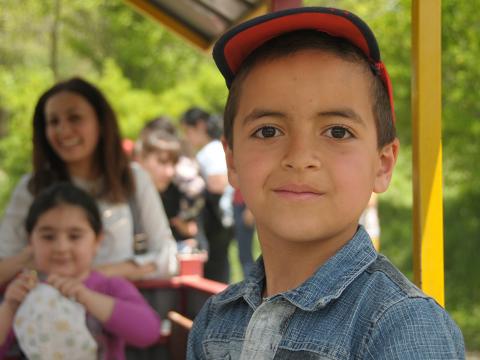 Community Level Access to Social Services (CLASS)
Grant project name: Community Level Access to Social Services (CLASS) Program 
Funded by: USAID
Sub-grantee: Child Development Foundation (CDF)
Time frame: 3 years (September 2017-September 2020)
Project Goal:
The "Community Level Access to Social Services (CLASS)" project aims at promoting the establishment of community-based social services in Armenia through introduction of community-based Social Worker position within Local Government and by enabling communities to identify, prevent and address their social issues. The project will particularly build on the existing policy priorities and initiatives of the Ministry of Territorial Administration and Development and Ministry of Labor and Social Affairs. 
CLASS will help promote State institutionalization of the community-based Social Worker's role and strengthen the capacity and cooperation of key social protection actors at local and regional levels in Armenia. Specifically, the project contributes to the strengthening the community level social services goal by fostering policy reform, which is essential to creating conducive conditions for deinstitutionalizing orphans and vulnerable children. 
The project will build on the achievements from the cooperation between the USAID and the Government of Armenia on national child welfare reforms and strengthening the integrated social services system in Armenia. It will also leverage World Vision's successful experience of introducing Social Workers into the communities, raising community awareness, connecting families and children to decision makers and socio-economic service providers, and equipping the most vulnerable families with the necessary skills and tools to be able to keep children within the family and prevent children from being institutionalized; previously supported through the USAID funded "Stakeholders Acting Together for Strengthened Child Protection in Armenia" project.
The project pursues two big outcomes: 
Established community-based Social Worker position within Local Government
Communities are able to identify, prevent and address their social issues. 
Background
According to the 2014 state statistics, 37.3% of children in Armenia live in poverty and 3.3% - in extreme poverty. The latest dynamics demonstrate that child poverty is growing faster than the overall poverty rate in the country. The situation is particularly critical for many children with disabilities and special needs, children in conflict with the law and children living and working on the streets. 
Deinstitutionalization of residential care institutions was designated as a strategic objective by the State, yet there are approximately 3,500 children in State-run and private residential institutions. Of these, only 3% of these children are parentless or have been abandoned; the vast majority is "social orphans".
The "Stakeholders Acting Together for Strengthened Child Protection in Armenia" project, funded by the USAID's Displaced Children and Orphans Fund (DCOF) within USAID and implemented by World Vision, demonstrated that effective social work supporting community-level child protection structures combined with integrated case management coordination between the three tiers of child protection structures can successfully prevent violations of child rights, manage rights violation cases in an improved manner and support de-institutionalization. The project introduced 85 certified Social Workers to 160 communities of Armenia, who in only three years, reunified 205 institutionalized children with their biological families, supported 1299 children in especially difficult circumstances, conducted more than 3000 home visits, managed 702 child cases and prevented the institutionalization of 994 children. The project resulted in some local self-governments paying for Social Workers and made evident to decision makers that the introduction of Social Workers at local government level can address the needs of vulnerable populations and result in cost savings for the government in a long run.
The Government of Armenia has already recognized that the inclusion of community Social Worker in the local state government structure for communities with population of more than 5000 will result in services improvement, and the need of such change in the current law on local self-government was adopted in 2017. Also, the Ministry of Territorial Administration and Development has accepted territorial development strategy for 2016-2025 that prioritizes accessibility of social services at community level as well as equal development of regions.