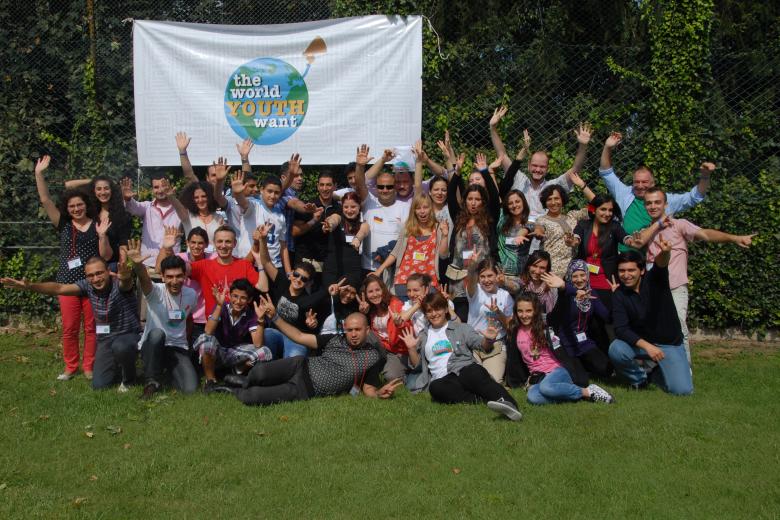 "The world YOUTH want: defining the global development agenda; post 2015"
Friday, October 5, 2012
article by Sandy Maroun and Armenuhi Sahakyan
More than half of the world's population is under the age of 25. These young people are the future of their communities, their countries and ultimately the world. For this reason, it is vital for them to have a say in determining what they want that world to look like.  
Recently, youth from the across the Middle East and Eastern European region were given an opportunity to jointly define, "The world YOUTH want" as a first step in influencing the Post 2015 Millennium Development Goals (MDGs.) "We did not know about the MDGs," admits Anoud, 15, a girl from the West Bank.  "We had no idea that we, as Palestinian youth, could transmit our voice to the United Nations and [that we] have a role to play!  That is awesome," she says.
A first step

"I recognize that things around us are bad and corrupt," says Bichinet Corneliu, 15, from Valsui, Romania. "I am not sure what I can do alone." Although the task is daunting, he does not give up. "Millions should join their efforts to have an impact on decision making," he says. "The 50 of us gathered here may put a start to that."
"Millions should join their efforts to have an impact on decision making"
Anoud and Bichinet are among the 75 youth, who arrived in Armenia and Istanbul from Albania, Armenia, Azerbaijan, Bosnia and Herzegovina, Cyprus, Gaza, Georgia, Germany, Kosovo, Lebanon, Romania, and the West Bank to participate in "The world YOUTH want" forum, organized by World Vision's ART Network (The ART Network raises up youth leaders to be Aware, Raise their voices and Take action) to discuss and define how best to influence the Post 2015 development agenda.
Before attending the forum, youth worked hard to ensure they would be good representatives of their peers, especially those in the most difficult of circumstances. They received training on the MDGs, including the new goals to be set in place after 2015. They conducted research in their communities to understand the priority issues and the dreams of their peers for the future which was then consolidated to develop one common position. Peer Educators also conducted trainings on how to keep children safe online with the youth journalists who covered the event. 
The results
In his research, Shehab, a 15-year-old, from Lebanon found that Lebanese youth have many harmful habits, such as drug addiction. "Day-by-day it is increasing," he says. "But, youth who consume drugs should not be treated as criminals. They should be treated in rehabilitation centers. In jail, youth will keep taking drugs and they will never be able to quit and improve their lives," he says.
After surveying 162 of their peers, the youth from Bosnia and Herzegovina found that poverty, unemployment and poor education were the most pressing concerns. They also learned that youth said they wanted to "actively be part of finding the solution and solving the problem."
In Georgia, on the other hand, they found that healthcare was one of the main concerns. "There are not enough affordable medical facilities," says La, a 16-year-old girl from Georgia. "People are not informed about different diseases and some people in our communities can't travel to receive [the] necessary healthcare.
In response, the youth want to lobby the government for quality healthcare services
"In response, the youth want to lobby the government for quality healthcare services and to harness the power peer educators to spread valuable information about diseases.
Although the forum has come to an end, the work continues. The youth continue working on the development of local and national level advocacy plans to maintain the momentum and the work of influencing the post 2015 MDGs.
"If you can transmit our voices to the United Nations, that'll be great!" stresses Anoud. "We are not only expressing the views of Palestinian youth, we are presenting the youth of this world."
Anoud and her fellow youth activists will have opportunities to transmit their own voices to the UN as World Vision supports them in their advocacy efforts around this and other topics.
"If you can transmit our voices to the United Nations, that'll be great!"
"We had no idea that we, as Palestinian youth, could transmit our voice to the United Nations and [that we] have a role to play! That is awesome