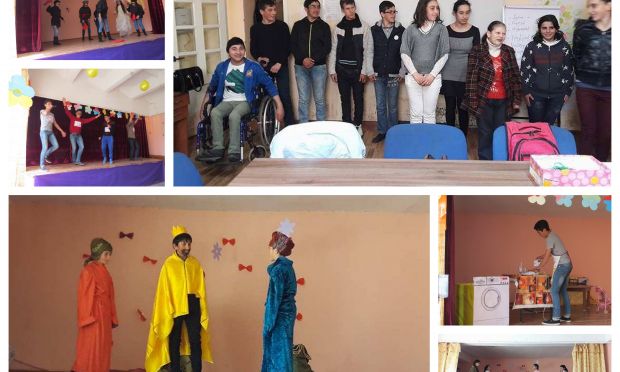 World Vision works in Armenia's communities to insert accurate child protection mechanisms that enable the community members, including children, to identify, report, refer and respond to the cases of child's rights violence.
World Vision's R&R (reporting and referral) is one of the tools to work with the child protection actors in the communities preparing them to respond to situations where a child is being abused, exploited or neglected, and always provide relevant assistance to the child and the family. The R&R mechanism usually engages with the beneficiaries through both formal and non-formal initiatives.
The Theatre clubs formed in the urban and rural communities of Stepanavan area serve as successful samples of non-formal initiatives that aim at preventing child violence in communities by encouraging vulnerable children to participate, learn and speak up for themselves.
The Theatre club in one of the rural communities of Stepanavan area was initiated by Anna Magtaghyan, an enthusiastic teacher of the local school. After participating in World Vision's R&R learning session, Anna decided to work on developing social skills among children and breaking stereotypes about vulnerable children considered to be less active and capable.

Currently there are 23 children attending the club among whom 12 are vulnerable and most vulnerable. "Children are participating actively, even those who were shy at the beginning to take leading roles in the performances. Luckily I was able to involve many boys who used to spend most of their time in the streets doing nothing," says Anna Magtaghyan.
Volodia Vahramyan, 13, is one of the active members of the club, "Before attending the club the education was not a priority for me and many of my friends; they didn't think it's cool to be involved in educational projects. But many of them have changed their minds and are now very actively participating in the performances," says Volodia.
It has already been a year that the club members are meeting twice a week and working on various topics, including culture, traditions, arts etc. Recently, they have started to work on a forum theatre model, through which they address the issues on child rights and child protection. The parents and the teachers are the main audience, however they are going to broaden their geographic coverage and perform for the nearby communities too.
"I am very happy to have the opportunity to attend this afterschool programme; the club helped me and other students believe in our abilities and become more active in school and community life," shares Narine Sahakyan (14 years old)