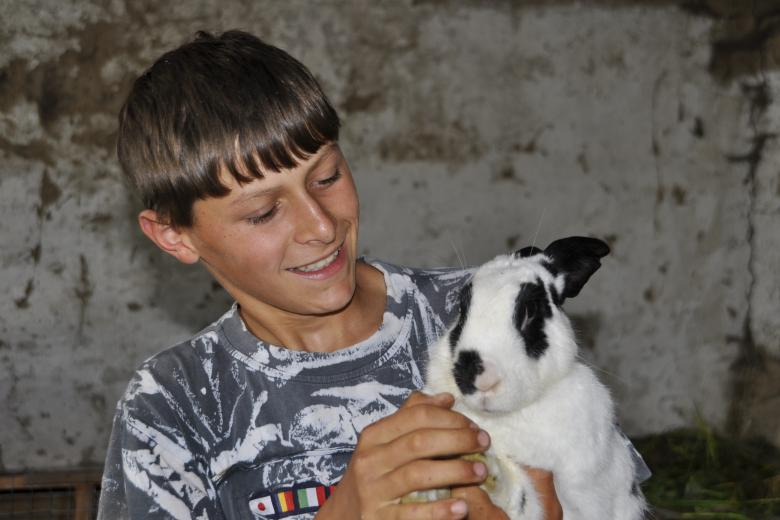 Knowledge, skills and confidence – World Vision equips youth for better adulthood
Tuesday, August 12, 2014
Lack of educational opportunities including: the small number of middle and high vocational schools located in the cities and towns in Armenia, high tuition fees and transportation costs, little awareness of their rights or participation in community development activities, as well as very few leisure and enrichment opportunities are among the issues youth in Armenia are currently facing.
This, in its turn, mirrors the alarming unemployment and therefore poverty rates resulting in lost youth potential and percentage of youth who migrate to neighbouring countries that offer better opportunities. A study released in 2013 by  the Ministry of Sports and Youth Affairs in Armenia revealed that some 83.5 per cent of youth in Armenia would migrate for employment, if the proper opportunity is offered.
World Vision has been working with the youth in the communities of Armenia through its Area Development Programmes and diverse projects and considers youth to be a strategic partner to achieve well-being of communities and a dignified living for children and their families. In this area, World Vision partners with the Ministry of Education and Science, the Ministry of Labour and Social Affairs, international agencies and local NGOs to bring lasting and sustainable change.
Dignified living with secured employment
In Armenia, the unemployment rate among youth between the ages of 15-24 is twice the average unemployment rate in the country at more than 40 per cent, according to the United Nations Development Programme (UNDP). However, according to the survey by the Ministry of Sports and Youth Affairs in Armenia the unemployment rate among a slightly wider elder group of youth, those between 18 and 30 years old is 18.7per cent, with the average of youth between 20 and 24 years old slightly higher, at 23.4 per cent.
According the Ministry of Labour and Social affairs one of the main weaknesses in the educational system in Armenia is the lack of professional orientation services at schools. As a result, World Vision has been partnering with other organizations to try to fill the gap and provide the path to employment for youth in Armenia.
Since 2010, World Vision has been organizing vocational classes for 1,470 youngsters for the youth from vulnerable families across the country and most importantly for the youth living in state childcare and protection institutions. The classes were organized based on the youth's identified interests in conjunction with consultations of job market specialists to ensure that those vocational class choices best match the market demands. Hairdressing, tailoring, cooking, sewing, carpet weaving, woodworking, computer skills, shoemaking, design, cattle breeding, computer skills, plumbing, nail care, small business management and basic agricultural skills were among the most common choices of the youth.
"I was planning to migrate to Russia to find a job, but, thanks to the welding classes organized by World Vision and the tools they have provided I now have a constant income" 
"I was planning to migrate to Russia to find a job," said Mkrtich Nersisyan, 22, from Gavar Region of Armenia. "But, thanks to the welding classes organized by World Vision and the tools they have provided I now have a constant income which enables me to take care of my parents and younger siblings. I am planning to get married and have my own family, because now I can provide for the family all by myself," he adds.
Since 2011, World Vision has boosted its engagement with youth by educating them their child rights and how to protect themselves, healthy lifestyle, entrepreneurship, as well as communications and leadership skills. World Vision promoted the establishment of 166 student councils across the country, with 1,400 active students who participate in their school's management and their community's development.
Hundreds of projects have been initiated by the student councils and youth groups to address various topics, including: cleanup of community areas, the establishment of foreign language, computer classes, the renovation of libraries and school labs, and organization of various training sessions for community members, etc.
"The student council in our school conducted a survey to understand the occurrence of violence against children in the community. For most of our community members, child beating is not an example of violence, but rather a method of upbringing," says 16-year-old Satenik, a member of student council in one of communities in Sisian. "We realized that we needed to teach people in our community [and tell them] about child rights and violence. We organized meetings with parents so that they could understand what violence against children is and learn about the rights  of children."
Events, activities and initiatives for the youth by the youth living in both rural and urban communities of Armenia nurture the idea of community development and care, where the youth possess a sense of ownership towards the development of their community and consider themselves as the main actors responsible for bringing change.