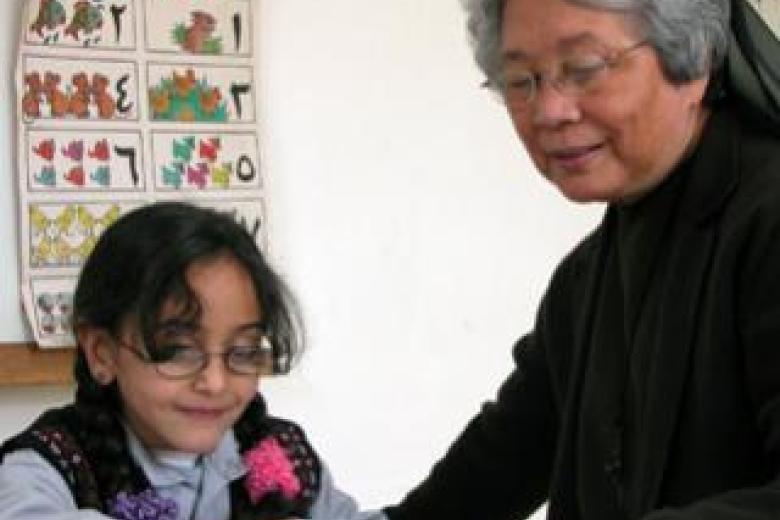 Fulfilling a calling in the Holy Land
Wednesday, March 8, 2006
Yet even as a young girl, 65-year-old Sr. Rose Mesa of the Franciscan Sisters of the Eucharist knew that she was destined to serve the Lord in the Holy Land.
She first came to the Holy Land in 1983. She says: "It was my calling to come here. I knew this even when I was young. For me, it was important to live the Gospel where it happened. I originally came for three months but decided to stay when I saw the great need here."
In 1996, with help from World Vision and the Catholic Church, she established in a small institution to council families and later on in 2001 a small school to help children suffering from the affects of violence and continued conflict.
The Holy Child Program is the only school of its kind in the Palestinian territories. Located in Beit Sahur, a mainly Christian town just south of Bethlehem and home to 12,000 people, the school serves the Christian and Muslim communities in the area.
"I opened the school upon the request of the community that wanted me to treat children suffering from Post Traumatic Stress Disorder (PTSD). I started out with only four children in a two-room space, but because of rising demand we had to move to a bigger place and accommodate more than 30 children," explained Sr Rose.
Nothing is more difficult for her than to say, "I am sorry but there is no place for additional children"
However, there is so much requirement for the school's services that she has to turn back parents who come to her sometimes "with tears in their eyes" asking that their child be allowed to join the programme. Nothing is more difficult for her than to say: "I am sorry but there is no place for additional children."
Last year, there were 38 children enrolled in the programme, which made the small school overcrowded and burdened the staff of 12. As a result Sr. Rose decided that she is not going to take any more children so as to give attention to the 30 boys and girls in the programme.
The programme integrates various forms of child therapies including play, music and animal therapy. The staff in the school provides the children with a safe and protective environment, which helps them overcome their fears.
These methods of expression offer the children creative outlets that allow them to deal with pain and fear in ways that are neither harmful to themselves nor to others, thus building foundations of mutual understanding, hope and peace with their communities
To help more children, Sr. Rose is interested in establishing an outreach programme to help families in the Bethlehem area. Through World Vision Jerusalem-West Bank-Gaza, she has approached WV UK for funding. She hopes that if the programme is approved she will be able to assist a wider circle of families who need services similar to the ones she offers at The Holy Child Programme.
According to a study published by Dr. Cairo Arafat in 2003, 93 % of Palestinian children feel unsafe and exposed to aggression, injury, house demolition or arrest. In addition, more than half the children feel that their parents and teachers are unable to protect them.
The demand for the school's services dramatically increased after the outbreak of the Intifada in the summer of 2000. In addition to the usual causes of trauma such as family and peer violence that children everywhere in the world are exposed to, the Palestinian children were exposed to political violence.
Sr. Rose notes that it usually takes about two years after the incident for trauma to fully develop and surface in symptoms such as panic attacks, isolationism and sometimes increased aggression, which explains why there was a rise in demand for the school's services two years after the Israeli reoccupation of Bethlehem in April 2002.
"Many children were traumatized seeing their relatives, friends and neighbours killed, injured or arrested or their houses searched in the middle of the night," she says. "But now there is also increasing domestic violence with so many parents spending all their time at home since they don't have work to go to."
One child that Sr. Rose is particularly proud of is Wafa who first came to the school two yeas ago at the age of four. Wafa helplessly watched her father bleed to death on the rooftop of their house after he was shot by an Israeli army sniper in 2002.
Many children were traumatised seeing their relatives, friends and neighbours killed, injured or arrested or their houses searched in the middle of the night
When she first came to the school, she was quite violent, always kicking and screaming. The World Vision staff that regularly visit the Holy Child Program are very impressed with the great progress Wafa has made since then. She is now a smiling happy girl that is ready to go back to her mainstream school.
The children come to the school five days a week, and their parents are asked to come every month for counseling. Sr. Rose believes that without the positive involvement of the family, it is difficult if not impossible to help the children.
Most children spend one or two years in the school, but in extreme cases they can spend up to four or even five years before they are ready to go back to their schools.
The boys and girls allowed to join the school are aged 4 to 16, and many of the children who have graduated come back to the school to visit saying how much they miss Sr. Rose and the other teachers.
The Holy Child Program is one of the 21 local organizations that World Vision supports.