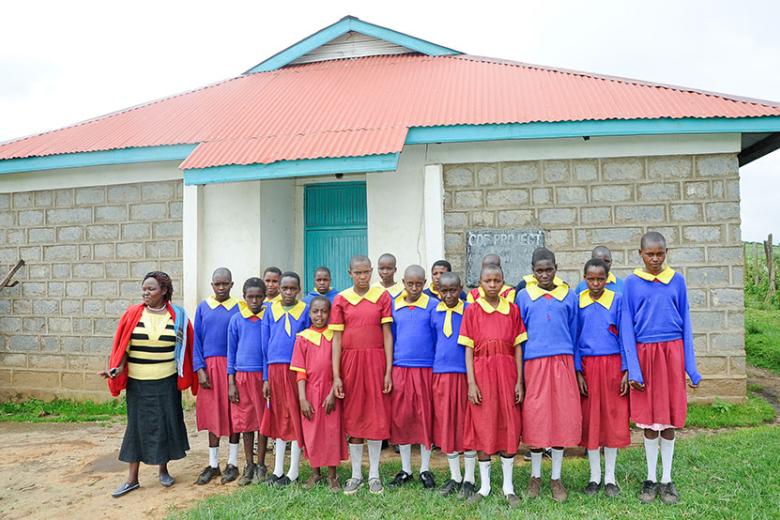 Giving girls a chance to be what they want to be
Monday, September 24, 2012
On the hilly slopes of Narok, some 150km southwest of Kenya's capital Nairobi, stands Ntimama Ridge Primary School, popularly known as the school on the hill. It is here that a boarding facility, constructed by World Vision, is serving as a rescue centre for girls fleeing from Female Genital Mutilation (FGM) and early marriage
Started in 2009, the facility offers temporary shelter to the girls as arrangements are made to apprehend their parents and report the matter to the area chief. Last year, the centre had close to 10 girls who had escaped FGM and early marriage.
Agnes Ntimama, the school's deputy head teacher, says some girls completely refuse to go back home, fearing that their parents, upon being released, may force them to undergo the practice. "In such a case we keep the girls here while we liaise with other anti-FGM agencies for assistance," she explains.
The FGM prevalence in Narok stands at over 70 per cent, according to an evaluation report by anti-FGM organisations working in the area. It is a cultural practice that involves mutilation of the female genitalia, and is mostly carried out on young girls, sometimes between infancy and age 15. The procedure is quite painful as it is carried out with rudimentary tools and no anesthesia. 
According to World Health Organization, the health consequences are dire, including severe bleeding and problems urinating, and later, potential childbirth complications and newborn deaths. Communities that practice FGM maintain that it is a crucial part of a girl's/woman's identity, and is a ticket for them to get married. Those who undergo the procedure are often rewarded with gifts, celebrations and public recognition. Non-conforming can result in stigmatisation, social isolation and 'difficulty in finding a husband'.
The impact of FGM on education is as harsh. Within Narok, girls' enrolment in schools has suffered, with many of them dropping out. "Most of these girls leave school from class five. Once they undergo the cut, they are forced to get married since they are made to understand that they are now grown women," Ntimama notes.
Ntimama refers to five years ago when at her school there was not a single girl in Grade 8. They had all left to go and get married. 
Anti-FGM campaigns
Anti-FGM campaigns led by World Vision are now bearing fruit in the area. Seminars and door to door campaigns on the dangers of the practice are held, targeting parents, government officials, children, men, women, teachers and the community as a whole. It is here that young girls have an opportunity to interact with role models (women in the community who have not undergone FGM), and see that one can be successful and live a normal life without undergoing FGM.
Many girls are now beginning to resist circumcision pressure from their parents and peers. "We are now seeing more girls uncircumcised, and the local schools are registering an increase in enrolment and retention of girls in primary schools," observes Senewa Mesopirr, who heads an anti-FGM project at a World Vision programme in Olenton, within Narok town. 
An Alternative Rites of Passage initiative, also encouraged by World Vision, involves the use of counseling programmes on girl empowerment, laced with community celebration and affirmation, in place of FGM. Communities are slowly embracing this concept, which has seen an increasing number of girls in Narok graduate on the programme. Last year 349 girls graduated, up from 216 in 2010. 
This is the case at Ntimama Ridge Primary School, where the number of girls is more than that of boys, thanks to the boarding facility that has helped keep girls in school. "I like being in school because I want to complete my education and become a doctor," expresses 13-year-old Naipanoi Ntimama.
Similarly, 15-year-old Tusiampei Oyei, says the boarding provision at the school has given her a chance to pursue her dream of becoming a pilot. "I aspire to pass my primary school examinations, complete secondary education and join the university before I can start flying airplanes. I wish all parents would abide by the law and say no to FGM. This would give their girls a chance to be what they want to be in life." 
Enacted in October 2011, the Prohibition of Female Genital Mutilation Law contains punitive penalties including a jail term of seven years and a fine of about US $6,024 for anyone convicted of promoting FGM.