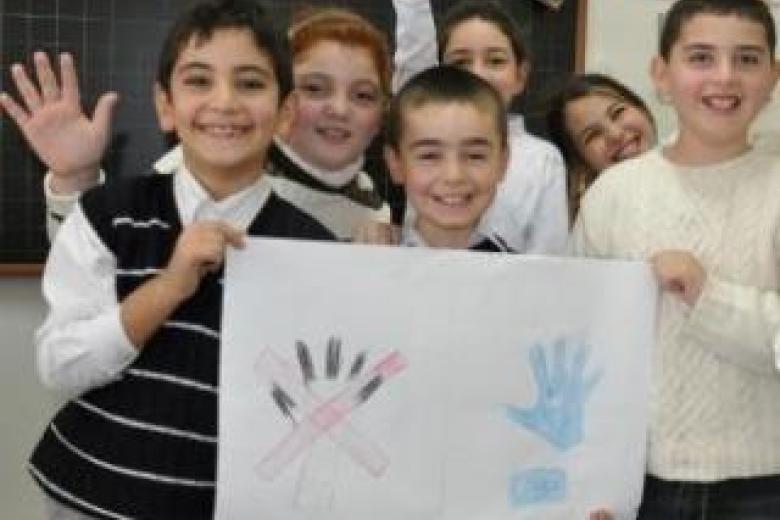 Global Handwashing Day celebrations support culture of hand washing with soap
Thursday, October 21, 2010
World Vision celebrated Global Handwashing Day through its Area Development Programmes (ADPs) for the first time in Armenia, with schoolchildren aiming to foster and support a culture of hand washing with soap.Students aged seven to 11 took part in a variety of hygiene-related educational and awareness-raising activities. They introduced poems, verses and compositions that recognise the importance of washing hands with soap. As well, some posters were developed by young participants to promote new hygienic behaviours.
The verse I created says that soap breaks down the dirt that carries germs and leaves hands smelling pleasant.
By communicating the hygiene message to children and involving these in the celebration process, World Vision Armenia was able to effectively create a far-reaching beneficial impact. Now school children take the message home to their parents and siblings and also into their communities.
"The verse I created says that soap breaks down the dirt that carries germs and leaves hands smelling pleasant. When not washed with soap, hands can transport bacteria and viruses. I have a younger sister and I already taught her how important it is to wash hands with soap", said Eghiazaryan Lilit, aged 10.
Lack of soap is often a barrier to effective hand washing in schools across the country. Poor sanitation facilities and lack of running water and soap in school toilets means that students can't effectively wash their hands with soap at critical moments, such as after using the toilet and before handling food.
"It is hard to transform hand washing with soap into a behaviour while at school, as here washing hands properly is not easy at all. We rarely have any chance to wash hands with soap because there is often no running water or soap in the school toilet", said Arthur Karapetyan, 11.
"Toilets and hand washing stations are absolutely critical to pupils' health and to reducing absenteeism in school. However, our school receives up to 100000 AMD (US$275) in funding for sanitation purposes. This amount roughly comprises 10% of the overall sanitation needs in place", explained Ghukasyan Diana, principal of secondary school N 85.
On Global Handwashing Day within its Gifts-in-Kind programme, World Vision Armenia provided soaps to schools and kindergartens. Furthermore, in the framework of the Civic Voice and Action initiative, World Vision established collaboration with authorities of some schools and it was agreed that schools will allocate an amount of funding for soap acquisition and water shortage regulation.
World Vision also plans to regularly monitor sanitation conditions in the premises.
-Ends-