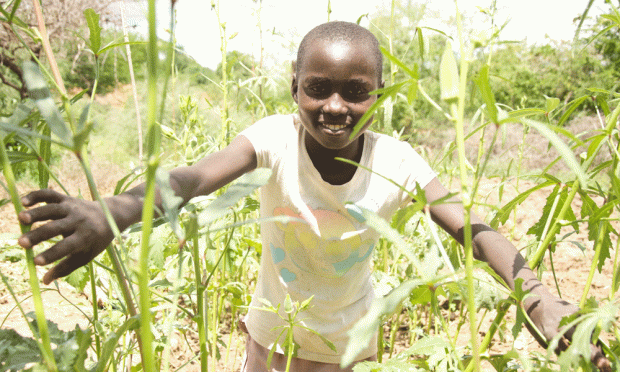 I have enough Okra on my plate
Veronica moves inside the okra family plantation just like a real farmer. The 12-year-old sniffs and touches the plants – otherwise known as ladyfingers – with an incredible smile on her face. There are beans growing here too and she quickly imagines the taste of her favourite soups and stews made of okra.
Veronica is learning the ropes of farming by watching her parents. Her family of eight live in Mtito Andei, in Makueni County, an area plagued by irregular rainfall and land that's too dry.
Farming in this semi-arid region, located in south-eastern part of Kenya, used to be challenge.
"The okra we grew was not enough to feed our family.I would go to school without taking breakfast. I was constantly hungry and could not concentrate," Veronicasays.
Innovation
The introduction of a water harvesting technology project in 2012 by World Vision Kenya transformedVeronica's family, along with hundreds of other familiesliving in Mtito Andei Area Development Program.
Veronica's parents and other farmers were trained onhow to apply new farming technologies in agriculture. The family learned to use water harvesting technology during the short rainy season.
Rain water is directed into a small earth pan or farm pond.
The pan harvests surface run-off water and givesfarmers an opportunity to practice micro-irrigation as they grow crops during the drought season. 
The innovation enabled the community's farmers toorganically grow drought tolerant crops pawpaws, pumpkins, butternut, sweet potatoes, sorghum, tomatoes, onions and okra. 
The result of the project is that families have nutritious food to eat during the dry season.
"We now have enough okra on our plates. When we eat more okra and less carbohydrates, we are healthier," Veronica says.
Alexon Mwasi is World Vision Kenya's Mtito Andei Area Development Program(ADP) Manager. He saysthe water harvesting technology of zaipits, sunken beds and small earth pans, is transforming land that once couldn't grow food during the dry season.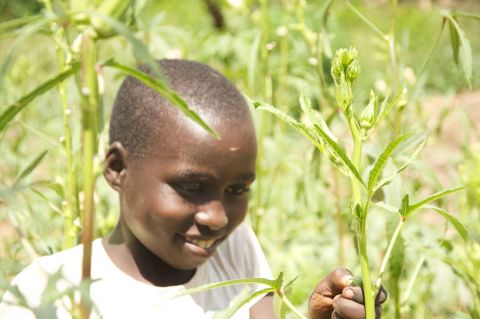 Food access 
World Vision also taught families how to harvest rain water, they also trained farmers to use modern organic agricultural practices.
The results are bumper crops that provide families with more than enough food to eat and additional produce to sell at the market.
Not only do families have enough to eat, their health has improved and more children have been enrolled in school. More than 8,000 farmers havebenefited from the water harvesting technology project in Mtito Andei alone.
"I can barely remember the last time I was admitted to a hospital. I eat healthy food that is available from our family's piece of land," Veronica says.