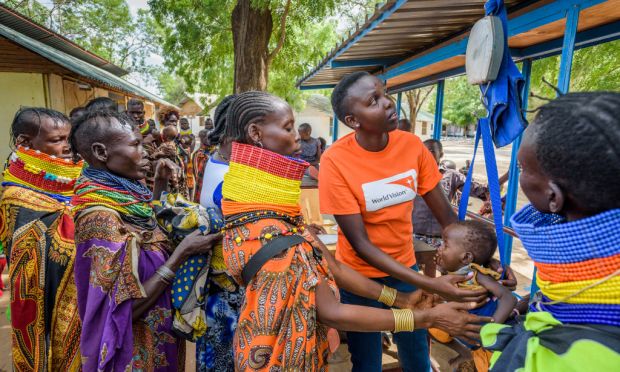 Severe Acute Malnutrition Rate in Kenya:More than 70,000 children in Kenya at risk of death.
• New survey reveals alarming malnutrition rates in Turkana, East Pokot, Mandera, Samburu
• 420,674 children aged 6 to 59 months and pregnant and breastfeeding mothers require urgent treatment for acute malnutrition
• Child malnutrition rates are already at critical levels
21st August 2017, Nairobi, Kenya – International Non Governmental Organisations working in Kenya are deeply concerned about the critical nutrition situation for children in droughtaffected hotspots in northern Kenya and the chronic lack of funding available to help them
Currently, 420,674 children aged 6 to 59 months and 39,068 pregnant and breastfeeding mothers in Kenya require urgent treatment for acute malnutrition. More than 3.4million need urgent aid, up from 2.7million in January 2017.
Nearly 73,000 children in Kenya are severely malnourished and at risk of dying from drought related hunger unless urgent aid is made immediately available.
"The drought has left tens of thousands of children and families including the most vulnerable under-five, pregnant and breastfeeding mothers in a life threatening situation," says Francis Woods, Save the Children's Interim Country Director in Kenya.
The survey shows that in Turkana alone, severe acute malnutrition rates–the most life-threatening form of hunger are up nearly four-fold in just one year, from 2.3 to 8.3 percent. In Turkana South, an unprecedented 12 percent of children under five now suffer from severe acute malnutrition.
World Vision Kenya community nutritionist June Cherutich working in Turkana says, "that children are the main casualties of this drought. Every day, I feel and see the real faces of hunger and despair."
"The international community must make more funds available to support the Kenyan government and aid agencies working on the ground to stop this already critical situation from spiralling, which would worsen an already extremely dangerous situation for Kenya's children and mothers," says World Vision Kenya National Director Mr. François Batalingaya.
Following the general election nearly two weeks ago, the aid organisations are urgently calling on the national and local governments who are leading on the drought response, in coordination with aid agencies to prioritise critical funds and support for the response. This includes food programmes to reach the most vulnerable and prevent needless deaths.
"Many children I work with in Turkana south and east arrive at health facilities unable to walk due to poor nutrition. They are in desperate need." says World Vision Kenya community nutritionist Cherutich.
''The overall nutrition situation continues to be of great concern including deteriorations recorded in some counties. The situation is likely to worsen as we enter the lean and short rains season'' says Patrick Mweki, Action Against Hunger Country Director for Kenya and Somalia.
Despite government cash transfers, many households in the country's northern region aren't meeting their daily recommended food requirements. A recent cost of diet assessment in Turkana County by The survey also reveals that nearly 40,000 pregnant and nursing women across Kenya are malnourished. A 20 percent increase from last year, leaving their and their children's lives hanging in the balance.
Save the Children and United Nations International Children's Emergency Fund shows that even households classified as better off can no longer afford three meals a day.
As ex perienced in neighbouring Somalia, the risk is that once the high rates of malnutrition combine with disease outbreaks prompted by a lack of clean water, large numbers of young children will start to die from hunger and related complications, like diarrhoea.
About World Vision Kenya
World Vision is a global Christian relief, development and advocacy organisation dedicated to working with children, families and communities to overcome poverty and injustice. World Vision began operations in Kenya in 1974 and currently has slightly over 1,000 development staff members working in 53 Area Programmes in 35 counties, countrywide. Through valued partnerships, we support communities to improve the well-being of children, especially the most vulnerable. Our aspiration is that all children will enjoy good health, be educated for life, be cared for and protected, and experience the love of God and their neighbours.
-END-
Follow us on; Web:www.wvi.org/kenya Twitter: @WorldVisionKE Facebook: WorldVision Kenya
For more information kindly call ;-
World Vision Kenya
National Nutrition Specialist
Daniel Muhinja
Cell : +254-0722-42-53-82
Email: Daniel_Muhinja@wvi.org
World Vision Kenya
Communications Manager
May Ondeng
Cell : +254- 0712-26-76-55
Email : May_Ondeng@wvi.org
Note to Editors
• The survey assessments were carried in eight counties by the following aid organisations: Action Against Hunger-Kenya Mission, Concern Worldwide, Food for the Hungry, International Medical Corps, International Rescue Committee, Kenya Red Cross, Save the Children, Terre des hommes, and World Vision Kenya.
• The study, which used the Standardized Monitoring and Assessment of Relief and Transitions method for nutrition assessment has reported very critical nutrition situation Global Acute Malnutrition of more than 30 percent in Turkana Central, Turkana South and North Horr in Marsabit. The rates of acute malnutrition recorded in Turkana are very alarming and comparable to the rates recorded in the 2011 Horn of Africa crisis, with the highest GAM of 37 percent recorded in Turkana South.
• Marsabit, Wajir, and Garissa counties also reported severe acute malnutrition levels of 2.9 percent , 2.5 percent, and 1.5 percent, respectively. Marsabit - Laisamis and Marsabit North Horr subcounties reported SAM rates of 5.3 percent and 5percent, respectively.
• Currently, 420,674 children aged 6 to 59 months and 39,068 pregnant and breastfeeding mothers in Kenya require urgent treatment for acute malnutrition. More than 3.4 million need urgent aid, up from 2.7 million in January 2017.
• The main factor behind the rise in drought-related malnutrition is a lack of household food supplies, including milk, low food stocks, and a rise in food prices.