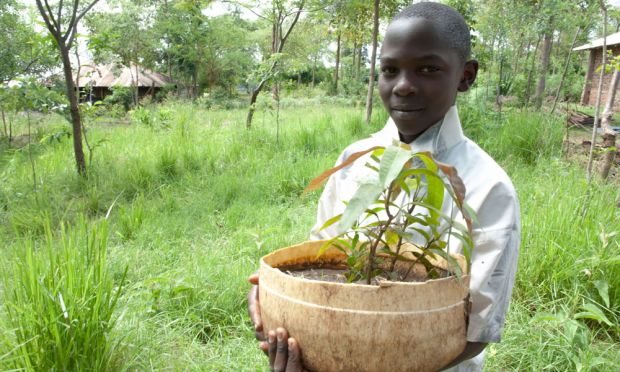 Seeds of hope
Where there used to be desperation, trees now stretch to the sky. Where there used to be no hope, tomatoes ripen. Where there used to be anger and frustration, fish tenderly swim.
In Homa Bay County, 13-year-old Boaz has led his family's transformation through a few simple tree seedlings.
"The sight of a tree plantation makes me delighted," says 13-year-old Boaz.
On breezy day, the sweet scent of indigenous and exotic trees planted in Boaz's compound smells like perfume. Mango, banana, orange, passion fruit vines, amongst other trees, dot the compound. A fish pond with yellow flouring tress completes the alluring vista. In a couple of years, Boaz thinks that his home will be a heaven.
It was not always like this though. The beautiful compound has been the result of hard work and, most importantly, embracing the inherent value of trees.
Boaz received training and certification as a young agro-forester.
The environmental club at his school selected him to partake in agro-forestry training in 2016. Three seedlings given after the training, began Boaz's journey. He learned how to value, conserve and enhance the environment in the club. He was given a paper bags with seedlings to take home to grow. In his hands, he carried his hope, ambitions, and dreams.
He asked his father where he would plant them. He guided him.
Weathering the dry climate
"We had no water.  I feared for the survival of my trees, I was not sure," reflects Boaz. Homa Bay County predominantly has a very dry climate. It does have rain cycles but when the dry season hits, it hits very hard.  As a result, the community in Homa Bay tries to find innovative solutions to the dry spell.
"During the growth process I had to protect the trees," says Boaz. He covered the trees with nets. He then applied cow manure and watered them early from the family's well in the morning to retain most of the moisture. The trees are now taller than Boaz. He animates this with a smile.
He wants to grow more trees.
Like Son, Like Father
A day after arriving from the agroforestry training, Boaz gave his father a book he received at the workshop. His father dove into it. 
"He read it and kept on asking me many questions and I answered him," notes a beaming Boaz.
"What I saw next was a total transformation in our compound," he adds. "Suddenly, plantations of tomatoes and all kinds exotic, indigenous, and fruit trees of all sorts were peppered around our home. A green colour of nature enhanced our homestead. That was the beginning of the journey. It is beautiful." Boaz extols with pride.
Boaz's father, 46-year old James, now has a grander vision of the family farm. In two short years, he has converted the homestead into a garden worthy of 10 years efforts.  He cites his son as the main inspiration for all this. 
James credits his success to his son's experience, teachings and advice.
"To see him plant trees and take care of them, made me stop and think about what I was doing. I then began to imitate him and learn from his process and experience. Planting trees is now a main focus. I knew it was something that could change my life," James says.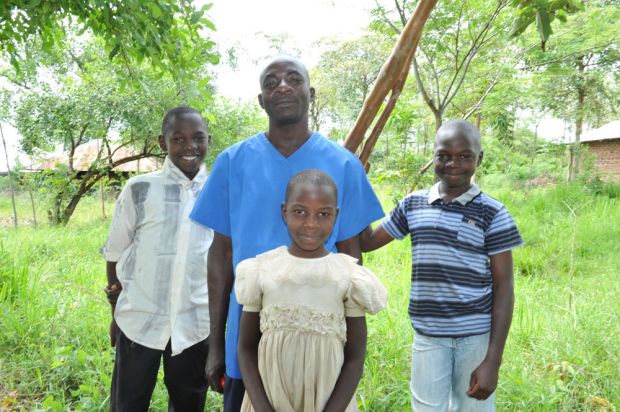 James replicated his son's learning experience in agroforestry training on the family's one-acre farm. 
"I thought of doing something like horticulture too. It was my take. I dug a borehole and it helped me plant and produce more tomatoes. It's a lucrative venture that earns, after excluding associated recurrent expenditure, a profit of Kshs 86,000 (USD 860). That was the proceeds from my first harvest. 
With it, I built the foundation of my house.
After that, I was eager to do more. The second harvest was double the first in profit. I decided to plant more fruit trees," James says.
With the increased cash flow from tree planting and farming, he has enrolled the children in a private academy.
"When they come home they help me. They do what they can do. They have planted most of the fruit trees," James adds.
A Fathers Transformation
"I was a drunkard," James admits.
"My job came to an end in the capital city and so I came back home. I was idle and fell into the trap of drinking. For three years that was my life," James sombrely reflects.
"I was just a man in his home, doing the ploughing in order to feed my family," he adds.
Because of his drinking, conflict and problems plagued his family. "Right now, we are united because I saw the potential in my son and decided to learn from it," says James.
Boaz gave James a wake-up call.
He then took a plough and started working on his land. Boaz knows that the father is reformed. He stopped drinking. His main focused on tree and crop planting.
The plants are attractive and earn money for their family.
Success and Support From Agroforestry
"We do not have enough acreage," Boaz says. "If we could get more acreage we could do more."
James has plans to purchase more land. He leases land to plant his tomatoes on. The farm is a portrait of a hard-working family.
"World Vision work in Kenya invited me for training about farming. I was interested. I came back and begun digging my fish pond. I was more enlightened," a delighted James states.
James was provided with a liner for the first fish pond after accessing and evaluating its construction by World Vision. He was given fingerlings as a start-up. That begun the journey of a now successful farmer where trees reign in his compound.
"I will begin to dig my second fish pond and I hope it will be ready by April 2018. I am so busy on my farm," James says.
Encouraged by his success, James adds, "I can do something to change my life. If you do not do something it's like seems you are stranded. I want my farm to be a model farm for residents in my community."
Support from donors and World Vision  work in Germany, through World Vision work in Kenya, has assisted 105 members across 15 groups to protect the environment through the agroforestry projects from 2015 to 2017.