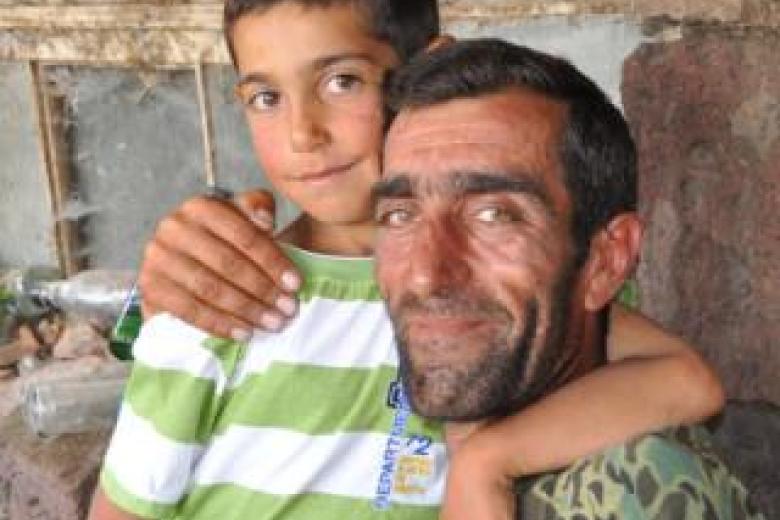 Shepherd uses loan to expand his herd & provide for his adopted son
Friday, July 22, 2011
The road linking Gyumri, Armenia's second largest city, to Lernut community is just 15 km long, but it seems the stony and narrow road stretches much further, showing no sign of life. In Lernut, some 100 families are trying to eke out a living from the land, struggling against harsh nature and an unforgiving climate, as well as difficult social and economic conditions.
The SEF loan was just in time; I added new lambs to the herd which gives me confidence for the future
Thirty-six-year-old Vardan Yengibaryan is the village shepherd- a job that he is proud of because it's widely recognised that being a shepherd requires a lot of skill and hard work. It is a seasonal job that starts in April, when the snow on the mountain melts, and ends in October, when the temperature starts to plummet again – sometimes to 20 degrees below zero.
For almost seven months the shepherd starts his work at sunrise and goes to bed at sunset, without a day off. Reaching the pastures itself is challenging and a shepherd in Lernut walks six to seven kilometres through rocky mountains in pelting rain or scorching heat.
"I have no reason to complain. I am lucky people trust me with this job. The only source of income people have in this community is from animal breeding. Hence, the job of a shepherd, though difficult, provides a stable income", says Vardan.
'Stable income' however, is a relative term. Here in Lernut, Vardan takes care of some 700 sheep and earns 1,200 AMD (US$3.3) per sheep annually – totalling US$2,310. That equates to US$192.50 a month or less than seven dollars a day.
Vardan could settle for this, but he has a much bigger reason to dream of owning his own herd of 300 sheep – his adopted son, Abraham.
Five years ago Vardan lost his then 26-year-old fiancé when a blood clot proved fatal. She left her two-year-old son an orphan.
Vardan and his mother Larisa, 62, applied for the guardianship of little Abraham without hesitation. "Abraham calls me father, even though he knows that he is adopted. Isn't it the best reason for me to work hard and ensure a more secure life for my son", says Vardan looking at Abraham.
"Now Abraham is a school student and more money is needed to buy stationary and appropriate clothing", says Vardan who has a total of 39 sheep and lambs and two cows.
"I bought the last five sheep with the loan I took from SEF, World Vision's microfinance institution", he says proudly.
Isn't it the best reason for me to work hard and ensure a more secure life for my son
Vardan usually receives the last trench of money for his services in October-November. "I spend all the cash I have by spring. The only way I can have some cash to keep the household going is to slaughter some sheep. However, if I slaughter the animal I lose the chance to enlarge my herd".
Vardan also needs cash in the spring to cultivate his family's small plot of land, despite the fact that the effort often exceeds the benefits.
"We have five hectares of land under wheat. We need some cash to start the cultivation in the beginning of spring. Sadly, we cannot borrow from other villagers because they lack cash as well", says his mother, Larisa.
"The yield is enough to receive around 30 sacks of flour annually. I keep some to bake lavash; Armenian bread, because baking bread on my own saves some money. I also bake tasty cookies for my grandchild Abraham during the holidays. We sell or barter the remaining sacks with fruits and vegetables. If you count how much we put into cultivation almost no income is being generated from selling flour. But villagers consider it a sin not to cultivate the land you own", she explains.
In previous years Vardan borrowed funds from another microfinance institution at 24 % interest in order to have some cash before the start of the pasture season. This year he was very hesitant to borrow at such a high rate, fearing that it may become a real burden on the family.
"There are very few opportunities to take agricultural loans in our region. I learned about SEF International from other villagers who are currently SEF clients. When I heard that I can borrow at 13% interest rate I decided to borrow some US$1,600", shares Vardan.
With the loan Vardan bought some fodder for his livestock and five lambs. "I will pay the loan back in October and will take another one in the coming spring. If I am successful in the future I will be able to enlarge the herd, partially due to the natural growth and partially due to buying new lambs", says Vardan hopefully.
"Sheep give milk, wool and meat. Now we do not milk the sheep because our small herd comprises more lambs than sheep, and the milk is hardly enough to feed the lambs. But in future we can milk the sheep, mix sheep milk with cow milk and produce and sell home-made cheese", explains Vardan.
Vardan relies on his mother's skills and support in enlarging the herd. Larisa was once a milker in kolxoz; a collective farming system during the Soviet period when all the cattle of the community was kept in one centralised farm, and so she can take care of milking sheep when the time comes. Moreover, she is a real expert in making cheese and processing the wool.
"My grandma makes a very tasty cheese and sour cream. I like when she mixes cow's milk with sheep milk", says Abraham.
Abraham completed the first grade in May. During the summer holidays he helps his father to take care of the animals. He also helps his grandmother in household duties.
My grandma makes a very tasty cheese and sour cream. I like when she mixes cow's milk with sheep milk
"He is a very helpful child. Whenever Abraham sees I need help, he volunteers to lend me a hand. Often for hours Abraham and I stay alone at home. We hurry up to finish the home chores together so that we will have some spare time to watch cartoons and movies for children", says Larisa.
Larisa feels very sorry that she cannot give Abraham what he dreams of: "I know my grandson wants to attend karate classes. Sadly, there is no such club for boys of his age in our community. I have to take him to Gyumri for that. I pray my son is able to enlarge the herd, and we are able to fulfil Abraham's small wishes."
"I have a small Bible and a photo of Jesus next to the bed where Abraham sleeps. I pray every day so that I have enough strength to support Abraham to have a more secure life", says Vardan.
"The SEF loan was just in time; I added new lambs to the herd which gives me confidence for the future", he continues.
The Micro Enterprise Development (MED) programme started in 1996 as a part of World Vision's sustainable development approach to create job opportunities for the poor in Armenia. By providing loans and financial consultations to sole proprietors, farmers and entrepreneurs, SEF aims to boost income generation and employment opportunities to ensure children like Abraham are cared for, are educated for life and enjoy good health. SEF currently operates in Yerevan, Gyumri, Talin, Stepanavan, Sisian, Kapan, Goris, Vayots Dzor, and Meghri regions.
-Ends-