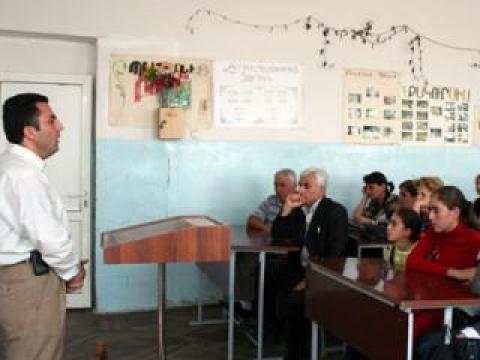 Students Initiate Newspaper to Raise Child Rights Awareness in Talin
Tuesday, October 14, 2008
World Vision Armenia supported the establishment of a student newspaper in Talin Town to increase student participation in community life and to raise urgent child protection issues in Talin and surrounding villages."The Bell" was initiated by the students of Talin School # 1, in north-west Armenia after participating in World Vision facilitated Armenia has conducted training on Child Rights and School Management for some 150 students. The importance of having student councils in every school was discussed in the training.

This was the first time the training on Child Rights and School Management was conducted in Talin, but World Vision Armenia has also facilitated this training for the students of Kapan and Sisian towns, south of Armenia.

"We wanted to have a newspaper to raise the voice of all the students of Talin Town and to teach them their responsibilities in their schools and in their communities," said Roza Antonyan, 13, one of the initiators of the newspaper.

The idea of publishing a newspaper rose when students understood that their voice is hardly ever heard.

"When we want to raise an issue, to talk about our challenges or to suggest new ideas, we pretty often face indifference and neglect. We are seldom treated seriously," said Satenik Galstyan, 15, head of the Student Council of Talin School #1. "Now we have a very powerful tool to raise issues and to give the floor to all the students of our region."

"If a student is mistreated at school, we will write about that and as the newspaper is distributed in all the schools of Talin and surrounding villages, no other teacher will even think of mistreating a student," said Satenik.

World Vision Armenia contributed computer supplies and other necessary equipment to the students to start newspaper publishing.

"We will support the students for the first three-four months of the publishing process. The students should feel responsible for their peers, and they also need to be protected from the interference of the teachers and school administration," said Romanos Harutyunyan, World Vision Armenia Technical Support Team Child Protection Assistant.