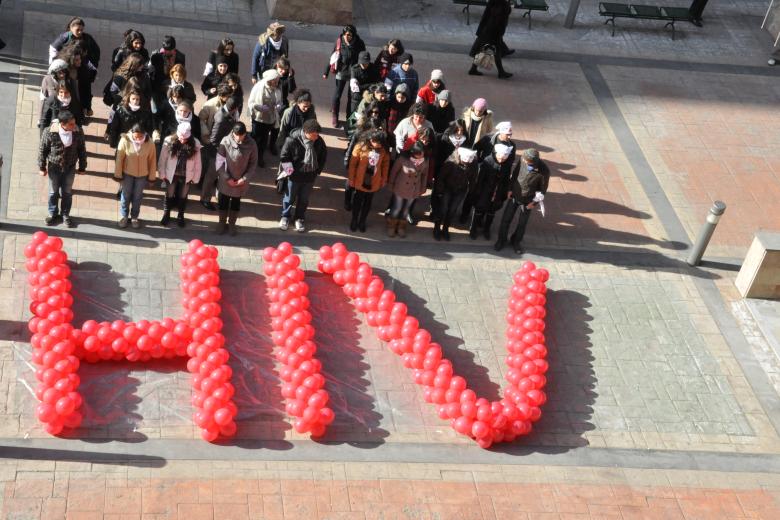 World AIDS Day: Youth say 'we can bring HIV infections down'
Thursday, December 1, 2011
ARMENIA - World Vision Armenia marked World AIDS Day by engaging youth and mass media to create awareness and understanding among the public about the realities of HIV and AIDS. Flashmob activities in the capital city, Yerevan, aimed to show there is hope to end HIV infections. "Many people think that HIV cannot happen to them...so, we came out today to tell people more about HIV and AIDS," said Flashmob participant Eve Gharibyan, 13.
"It is the first time that I have participated in a Flashmob and I am very impressed with the concept. There were a lot of passers-by asking what the event was about and we had a chance to explain the idea and the message of the day to them," said Ani Vagharshyan, 16.
"This was another opportunity to speak out about HIV and AIDS. Interestingly enough, I realised that some of the people in the streets have never heard about World AIDS Day and the event was a good opportunity to inform them about it," said Elen Ter-Arakelyan, 16.
"My hope is that the event will make people more responsive to HIV infection and they will take mature and informed ways to prevent it," said Elena Muradyan, 15.
According to healthcare officials, since January this year, 165 people living in Armenia have been diagnosed HIV positive. This rounded out the 1136 cases of HIV observed in the country since 1988. Some 332 people living with HIV in Armenia are women and 22 are children. Reportedly 127 women and 11 children are living with AIDS.
The most at-risk among the population are migrants who seek work outside of Armenia and then return to live in their communities without knowledge of the infection, which they can readily pass on. To combat the situation, World Vision launched the cross-border HIV Mobility project with the purpose to prevent HIV among job migrants in Armenia. Since 2008, the project has been implemented in ten communities of Lori region, in northern Armenia. The region has the highest numbers of migrant workers and is home to 106 people registered with HIV, including five children.
Within World AIDS Day the press conference, held in the third largest city of Armenia, highlighted some of the achievements of the HIV Mobility project and the work still to be done. "The project is implemented in Armenia, Georgia and Azerbaijan and seeks to prevent HIV by raising the awareness and understanding of HIV. Also, by our work we intend to combat stigma and trigger behaviour change in communities. Within the project intensive training is provided in all target communities and a vast number of learning resources are developed," explained Armen Bezhanyan, World Vision Armenia Lori and Tavush Marzes Development Manager.
"We focus on interventions that help to provide value-based life skills- it is all about behaviour change. Upon that we can be sure that the spread of HIV will stop," said Father Ter Vahan Azaryan from Vanadzor St Grigor Narekatsi Church.
"Before the training I knew nothing about HIV but the name, yet that was enough to have this terrible stance towards any person with HIV or AIDS. But now having the basic understanding of the infections I have a different attitude," says Hasmik Targmanyan, 16.
"Initially, I had some mistrust about the subject, but after going through the manuals and training, I realised how important understanding HIV is for our community. Here is why I became a peer educator and decided to enrich the school library with HIV and AIDS learning resources developed by World Vision," said Olga Soukiasyan, deputy principle at Sarchapet community school in Lori region. 
The environment and stigma prevent people living in small communities from being tested for HIV, despite the fact that HIV testing, treatment and support services are accessible across Armenia. Within the HIV Mobility project World Vision partners with the Church, the government, non-governmental organisations and other companies to combat stigma and share best practices in fighting HIV. Information about counseling, anonymous testing, and treatment – a lifesaving antiretroviral therapy are all widely communicated to the public. World Vision's HIV prevention work is part of its broad health programming to ensure all children are not only protected, but also enjoy good health towards fullness of life.