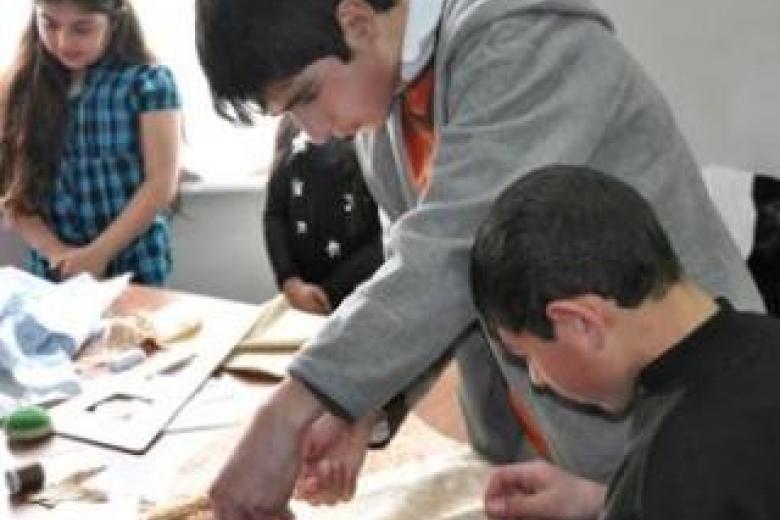 Youth in institutions learn new skills ready for 'outside' world
Friday, April 15, 2011
The vocational classrooms were established at Child Care Residential Institution #2 in Noubarashen Community– one of the underprivileged communities in the capital city, in January. World Vision provided all the necessary materials to equip the students in classes as part of its "Reducing Violence against Children in Armenia" project funded by the European Commission.
Training was also opened up to children from impoverished families within Noubarashen community. During three months of training youth aged 14 to 18 grasped the chance to learn new skills.
I am so excited that I don't even feel how tired I am at the end of the day. I have already learned the basics of sewing
"Once I decided for myself that I would like to become a professional tailor", shares Hrant, 14. "My grandmother used to sew at home and I often watched her. When I learned about sewing classes being conducted in our institution I was happy to join them", he says.
Hrant lives in the Child Care Residential Institution #2 which accommodates nearly 75 children who come from socially vulnerable families. These families, for a variety of reasons that are mostly attributed to economical hardships, are often unable to provide appropriate care for their children. As a consequence, they often see no alternative but to place their children in child care institutions regarding them as a social safety-net.
Here children receive basic care and also attend mainstream schools while on weekends they return to their families. "After school together with other children we attend sewing classes. I am so excited that I don't even feel how tired I am at the end of the day. I have already learned the basics of sewing. And I even tried to sew a shirt," says Hrant.
Although children here have more opportunities than some in other institutions, World Vision's Anahit Grigoryan, who oversees the project says, "such institutions cannot be a substitute for a family environment, where children receive emotional support and educational guidance, acquire the necessary life skills that they could use in their adulthood".
Hrant has the same aspirations as his peers: he wants to continue his studies, to learn some trade and have a family. Yet, he will probably encounter more difficulties than most children to realise these hopes in the future. Children in institutions do not only lack family support, they also face prejudice in society. They lack confidence in their own abilities, sufficient life skills and guidance to help them manage the challenges of adulthood.
Once they finish school and have to leave the institution, their future becomes even more uncertain. They are more vulnerable to falling prey to traffickers, being exploited and abused and entering into prostitution or coming into conflict with the law. Various surveys among these children reveal their awareness and knowledge about trafficking, various forms of exploitation and abuse are very limited, making them particularly vulnerable.
Vocational classrooms strive to fill these gaps and equip Hrant and other children with the knowledge and skills to be integrated into society and Protect themselves from various forms of exploitation.
Hrant is one of few young boys who attend sewing classes but he strongly believes that this craft can create a good income if he works hard enough.
When I become skilful enough I will be able to earn money and help my family to recover
"I still have a lot to learn but it's not an obstacle for me. When I become skilful enough I will be able to earn money and help my family to recover," shares Hrant.
"The classes will continue and the children will also have a chance to get on-the-job training and share their skills with peers by visiting other institutions and orphanages. To ensure the uninterrupted flow of the training the staff of the Institution is also being trained, so that later they will be able to conduct the training themselves", says Anahit Grigoryan.
"With the support of the Ministry of Labour and Social Affairs we would like to arrange meetings with potential employers and help young people find jobs where they could apply their skills", says Narine Sargsyan, the Future is Yours NGO, which conducts the vocational training for children.
"My mother hasn't seen my work yet. I would like to surprise her and show her what I learned during these months. I am sure she will be happy", says Hrant with pride.
-Ends-