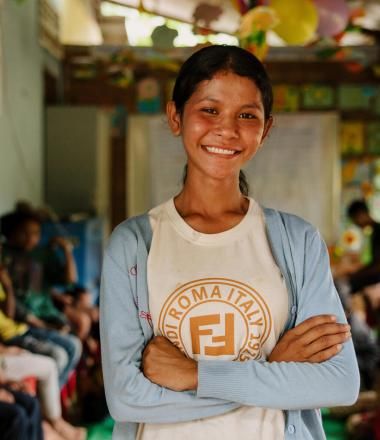 Children and youth across East Asia are catalysing positive community changes to build a safer environment for themselves and their peers.
The courage, dedication and impact of these young changemakers in their communities are remarkable. Their passionate voices and zealous advocacy efforts to end all forms of violence against children are inspiring.
Not only advocating for changes through dialogues with leaders and decision-makers at all levels, but these young changemakers are also an inspiration to their peers, empowering other children and young people to embrace their voices and play a constructive part in solving the issues facing themselves.
Get to know these inspiring individuals and join them in their mission. Together, we can all become global changemakers.
Meet our changemakers in East Asia
Yaru, a changemaker from Cambodia
Yaru always hoped she could represent children's voices in tackling violence against children. Her youth club has been working as partners with local authorities and communities to improve child protection mechanisms and promote positive parenting among parents. 
There are so many people out there who cannot speak up their mind, whose voice cannot be heard. As changemakers, we are here to represent everybody's voice.
Lahoo, a changemaker from Thailand
For over 5 years, Lahoo has been advocating to end violence against children in Thailand. Having experienced neglect as a child, he strives to ensure vulnerable children can enjoy full lives where their rights are upheld.
And many other young people
who have been creating changes, be it in their own households or in their communities. 
Discover what makes them so passionate to speak up and take action in achieving well-being for themselves and their peers, and what they're doing to mobilise support around the world.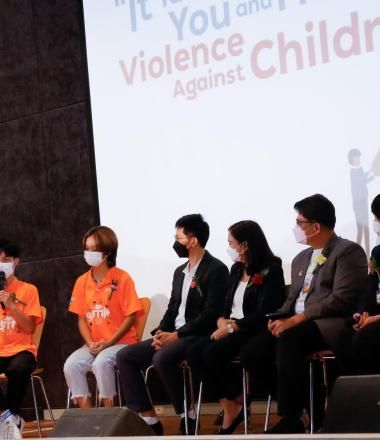 End violence against children
In every ten children in Asia Pacific countries where World Vision has programmes, four suffer from physical abuse and three suffer from sexual abuse and violence.

We're relentlessly taking action to end violence against children - highlighting when it occurs, empowering young people to speak out and holding those responsible to account.
Together we can make a safer world for children.