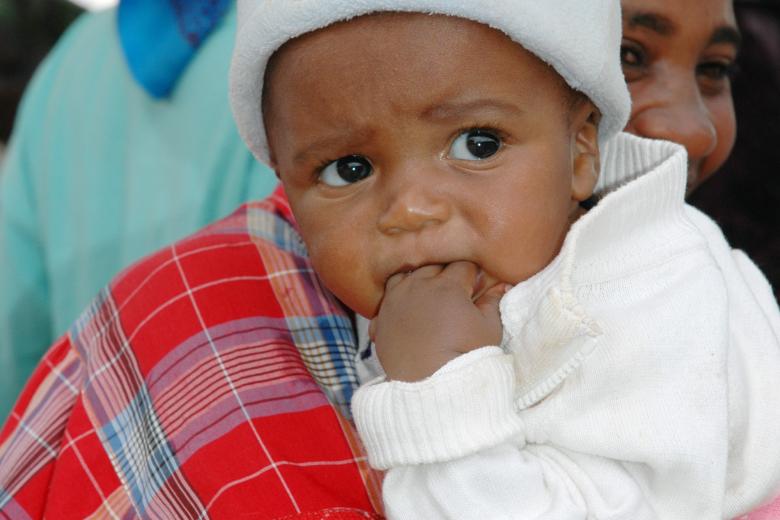 Kenya: breastfeeding helps mothers too
Friday, January 24, 2014
By: Peter Opiyo; World Vision Kenya Communications
Mothers, with their babies strapped on their backs, others held across their breasts while some uncoordinatedly walking along with some assistance, file into a homestead in early afternoon.

We have just ventured deep inside Owich village, navigating rugged footpaths alongside these determined mothers. They flash infectious smiles at us as they assemble for a meeting on exclusive breastfeeding.

I count up to 14 mothers holding their babies, with an age range of between four days to 11 months, when they finally settle for the meeting. They are here for a session on the benefits of exclusive breastfeeding and with us is a Ministry of Health Official, Mr Kennedy Owino, who coordinates the group.
In the session, fellow mothers educate others on the benefits of exclusive breastfeeding.

The officer in charge of Maternal and Child Health for World Vision's Nyatike Area Development Programme (ADP) Mr. Isaac Oriro, says about 3,200 mothers have benefited from the breastfeeding programme since its inception in 2011. There are about four such groups in Nyatike.

The mother-to-mother breastfeeding support groups ensure that every mother, pregnant or lactating, is sensitised on the benefits of breastfeeding and is encouraged to put her baby on breast milk.

World Vision Kenya and Ministry of Health select mothers within such groups to train them on breastfeeding education. It is these mothers, most of them who have exclusively breastfed their children, who then visit villages to ensure that babies are not weaned at an early age.

Millicent Akinyi, 28, is one of these mothers. She is happy to talk to us about her experience with exclusive breastfeeding. Blessed with six children, she did not exclusively breastfeed her first five babies, but exclusively breastfeeds her 11-month-old Volenta Anyango. The difference, she says, is remarkable.

"Compared to my first five children, Anyango is healthy and bubbly - there is a big difference. The others started walking when they were over 18 months, but for this baby, she started walking at the age of 10 months. I believe it was because of breastfeeding," she says, her baby happily playing next to her.

Exclusive breastfeeding for the first six months is recommended as it protects the baby from childhood diseases, says Nyatike Sub-County Maternal and Child Health Coordinator, Ms Catherine Amayo.

"Breast milk is affordable, it is at the right temperature and it has antibodies to protect the child from diseases. It is like an immunisation of the newborn," says Ms Amayo.

World Vision Kenya's Child Health Now Campaign Manager Mr Brezhnev Otieno says the breastfeeding project is aimed at contributing to lower child mortality as advocated by Millennium Development Goal (MDG) number four, as it protects the baby from diseases.

"When a baby is fed on nothing else apart from the mother's milk during the first six months after birth, the baby's immunity is boosted and the baby is able to fight common childhood diseases," he says.

Studies have demonstrated that breast-fed children are more resistant to disease and infection early in life than formula-fed children, they are less likely to contract a number of diseases later in life, including juvenile diabetes, multiple sclerosis, heart disease, and cancer before the age of 15. 
Mothers who breastfeed also see advantages; they are less likely to develop osteoporosis later in life and have a lower risk of breast, uterine and ovarian cancer.

According to Kenya Demographic and Health Survey (KDHS 2009) under five mortality stands at 74 per 1000 live births, but the MDG target is 33 deaths per 1000 live births. Such initiatives of mother-to-mother breastfeeding support groups are aimed at contributing to lowering child mortality in line with the MDGs. According to the Kenya National Nutrition Action Plan, exclusive breast-feeding can contribute to 13 per cent reduction in child deaths.
 
Visit the Child Helath Now Kenya Facebook page HERE.
Learn more about World Vision in Kenya HERE.