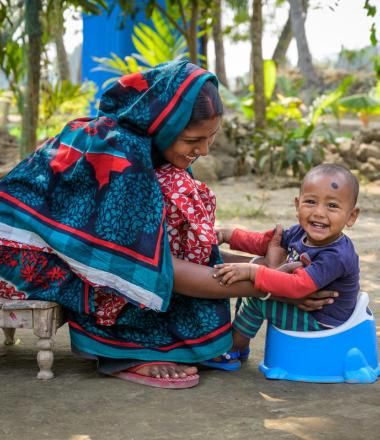 Improved sanitation strengthens the impact of safe water
Sanitation
Why sanitation?
A number of rigorous studies over the past two decades have confirmed that a large proportion of child deaths are preventable through basic WASH  interventions. However, these studies also make it clear that such interventions must be implemented in an integrated way, not as stand-alone projects, or the impact will be muted. For example, the net impact on diarrheal deaths among children younger than 5 of providing access to safe water is only 3% to 5% if unaccompanied by other interventions, whereas providing access to effective sanitation reduces such deaths by 5 percent to 10 percent (latrines) up to 20 percent (flush toilets). However, the impact of safe water is multiplied many times over by combining it with improved sanitation in the same location—the median reduction in all-cause child deaths when the two are joined is 55%. This is because access to clean water is a prerequisite to maximise the health impacts of sanitation, and effective sanitation is a prerequisite to maximise the health impacts of safe water.
As World Vision engages in WASH in a community, a variety of approaches are utilised to address sanitation needs in the community. This includes construction of latrines that defend water sources against contamination, training communities on the importance of solid waste management, and the installation of hand-washing stations and formation of hygiene clubs in schools to prevent the spread of sickness and disease. One example is community-led total sanitation – an approach that engages the community in recognising areas where open defecation occurs and taking their own actions to become totally free of open defecation – including the faeces of children under 2. World Vision also focuses on areas of environmental sanitation, including household waste management.

Facts:
2.4 billion people (about one-third of the global population) lack access to basic sanitation services, such as toilets or latrines. Of these, 946 million defecate in the open.

Currently, 68% of the global population now uses an improved sanitation facility. 

More than 80 per cent of wastewater resulting from human activities is discharged into rivers or sea without any pollution removal
Each day, nearly 1,000 children die due to preventable water and sanitation-related  diarrhoeal diseases
Inadequate sanitation is estimated to cause 280 000 diarrhoeal deaths annually and is a major factor in several neglected tropical diseases, including intestinal worms, schistosomiasis, and trachoma. Poor sanitation also contributes to malnutrition.
Sustainable Development Goal 6 includes an ambitious but achievable target for sanitation: "By 2030, achieve access to adequate and equitable sanitation and hygiene for all and end open defecation, paying special attention to the needs of women and girls and those in vulnerable situations."