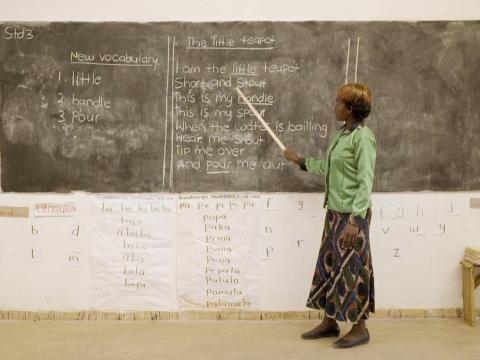 Unlock Literacy Teacher Training Video Modules
World Vision (WV) has created nine award-winning teacher training videos designed to support our Unlock Literacy [1] teacher training programming.
The videos aim to "bring to life" elements of teacher instruction to support master trainers and the teachers they train to better see and understand the skill or strategy in a classroom setting. The videos have been developed to support literacy - specific classroom management techniques and direct instruction.
The content of the videos was developed by a WV education specialist, with filming and creative enhancement by Matter Studio on location in Malawi.
You can view or download any or all nine video modules that include the following training sessions:
Module 1 - Think-Pair-Share: How can I use the 'Think-Pair-Share' strategy to increase student participation?
This video demonstrates the "Think Pair Share" technique, a collaborative learning strategy in which students work together to solve a problem or answer a question about an assigned reading. Using this strategy:
Helps students to think individually about a topic, or the answer to a question.
Teaches students to share ideas with classmates and builds oral communication skills.
Helps focus attention and engage students in comprehending the reading material.
Increases engagement and participation, not just in literacy, but across all subject areas.
Module 2 - Strategies for Teacher Read-Aloud
This video demonstrates the Teacher Read-Aloud strategy, in which a teacher sets aside time daily to read orally to students from texts above their independent reading level but at their listening level.  By using teacher read-aloud strategy a teacher can:
Model Fluent and Expressive Reading, while facilitating comprehension questions
Activate prior knowledge, Model Think-Alouds and the reading process
Provide interactions with a variety of text and make connections to students' own lives
Module 3 - Formative Assessment: How do I use formative assessment effectively in the classroom?
This video demonstrates the use of formative assessment in the classroom. The goal is to monitor ongoing student learning to provide continuous feedback that can be used by instructors to improve their teaching,  as well as by students to improve their learning. This is unlike "Summative Assessments" which are used at the end of a unit to measure competency. Formative Assessments:
Help students identify their strengths and weaknesses and target areas that need work
Help the teacher to recognize where students are struggling and address problems immediately
Are generally low stakes, which means that they correlate to a low or zero point value;  instead, their emphasis is on improved teaching and learning 
Module 4 - Phonemic Awareness: What classroom activities can promote phonemic awareness?
This video demonstrates phonemic awareness activities in a classroom setting through direct instruction and student participation. It illustrates a teacher:
Helping children identify individual letters and their corresponding sounds
Blending, rhyming, and segmenting of words and phonemes
Module 5 - Shared/Guided Reading: How do I use Shared/Guided Reading to help students become better readers?
This video demonstrate the Shared/Guided Reading method. Guiding reading can be an important strategy to use for emergent readers because:
Shared reading allows students to observe the reading process,  practice reading strategies or concepts, and build decoding, vocabulary, and word recognition skills in a safe, guided setting
Teachers model reading with intonation and expression while students follow and join in the process
It can strengthen students'  comprehension skills while modeling questions and think-alouds
Guided Reading is flexible and can be used in whole class settings, or in small groups
Module 6 - Pair/Partner Reading: How do I use Pair/Partner reading to increase student fluency?
This video demonstrates partner reading in the classroom where students are cooperatively taking turns practicing reading a text in pairs to support fluency. It discusses the steps involved in setting up successful partner reading time. Partner Reading:
Allows students to take turns reading to one another; it allows them to stay engaged, and provide each other with feedback as a way of monitoring comprehension.
Provides a model of fluent reading and helps students learn decoding skills by offering positive feedback and support to one another.
Provides direct opportunities for a teacher to circulate in the class, observe students reading, and offer individual remediation.
Module 7 - Reading Fluency Assessment: How do I administer a reading fluency assessment?
This video illustrates the teacher moving step- by- step through an oral fluency assessment (OFA) with a student. An oral fluency assessment is important because:
An OFA is an accurate and easy way to determine reading fluency, predict comprehension ability, and establish whether a student needs further assessment for decoding, or requires an intervention.
It identifies fluent readers who are able to decode text and recognize sight words automatically. This ability is critical to comprehension because it allows the reader to focus on meaning, rather than on decoding each word.
Module 8 - Independent Reading: How do I utilise independent reading for students in my classroom?
This video demonstrates students using daily Independent Reading time in productive ways. Daily independent reading time:
Gives students the opportunity to "practice" their new reading skills independently learned from guided reading, teacher read-alouds, and reading instruction. 
Allows students to choose books they are able to read easily, without assistance.  Ideally, there is an opportunity for this activity every day for 5-15 minutes.
Module 9 - Reading Comprehension: How do I use strategies to support reading comprehension?
This video demonstrate activities and teaching strategies that support students in reading comprehension before, during, and after the reading. Reading Comprehension is important because:
It is the process where the reader thinks through and interacts with text to arrive at meaning.
We want students to move from 'learning to read' to 'reading to learn' in various content areas which comes from strengthened comprehension.
Reading Comprehension is the MAIN OBJECTIVE of reading. It is the ability to understand, interpret, and use information derived from the text.
Ideas on how to use the videos:
1) Unlock Literacy Training of Trainers (ToT1 and ToT2):
To be used and incorporated into theliteracy TOTs by Training Facilitators; each video should be used where best applied in the trainings.
2) Teacher Cascade Training:
To be used by Master Trainers during the Teacher Cascade trainings for teachers over the approximately nine month period of cascade trainings.
Online Access to videos:  The videos are available to stream or download for Trainers/Teacher Participants through the Internet using the above links. The videos are also posted on the Unlock Literacy Blended Learning Program Site.   
Guidance notes on using the videos for both ToTs and Teacher Cascade Trainings are currently being developed and will be made available soon on this page.
3) Blended Learning Programme:
Videos can also be found on the Unlock Literacy Blended Learning Programme site. This is an exciting new supplement, and a way to bring the literacy "classroom instruction" strategies to participants of the Blended Learning Program.
4) Coaching Package:
Another option is to incorporate the Teacher Training videos within the Coaching Package training. This would be especially valuable if the Coaching Training is used as a stand-alone training, to expose coaches to best practice for classroom instruction around literacy strategies.   
[1] Unlock Literacy (UL) is World Vision International's literacy programme. It includes literacy improvement tools from the project model known as Literacy Boost (LB) developed by Save the Children, with whom WVI partnered in a pilot of LB across 17 World Vision national offices. Literacy Boost is a copyrighted tool designed, developed, and owned by Save the Children.