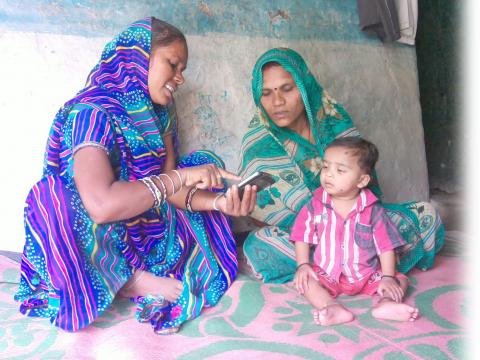 Global mHealth Report
Report updated as of November 2015
For over eight years, World Vision has advanced mHealth as a health and community systems strengthening tool with the intent to boost health and nutrition outcomes for pregnant women, mothers, and children under 5. Currently, the World Vision mHealth portfolio has active deploy­ments supporting community health workers (CHWs) and health facility staff in 16 different countries in Africa, South and Southeast Asia.
The technology supports 21 evidence-based health and nutrition projects.
Map of mHealth projects
To support the implemented projects, World Vision has invested in the development of a common set of applications built within the mHealth solution, MoTECH Suite, which has been made possible through a partner­ship with solution providers Dimagi and Grameen Foundation supported by the Bill & Melinda Gates Foundation. The common platform offers an open-source software solution tailored to meet the needs of five dif­ferent World Vision health and nutrition project models or approaches.
Using these five global applications as the starting point, the solution application is contextualised in close consultation with Ministry of Health (MOH) counterparts and users at the national and field levels.
Five Programmatic Approaches Supported By mHealth:
mHealth Deployments:
Currently, the majority of World Vision's mHealth deployments are mod­erately scaled and represent proof-of-concept experiences.  However, negotiations are under way in several countries to scale up to achieve wider population coverage based on positive results. Further­more, several deployments – including those in Uganda, Niger, Mozam­bique, India, Rwanda and Tanzania – have reported already having reached in excess of 9,000 beneficiaries, who typically are mothers or caregivers of children under 5. Existing national mHealth projects are also being supported by World Vision in Rwanda and Kenya.
Push For Scale-Up
The magnitude and scope of investment in this technology holds great promise to expand CHW capabilities and reach in the communities they serve, leading to an integrated community-based primary health-care system and enhanced impact on maternal and child health and nutrition. World Vision mHealth projects are all working towards transitioning into a scale-up phase once consensus and shared commitment to a solution or a package of solutions is reached among key national stakeholders – governments, local mobile network operators (MNOs), and MOHs chief among them. 
According to recent estimates, World Vision has mobilised upwards of US$22.3 million into health and nutrition projects that have mHealth components. Lessons learned from World Vision's twenty-one mHealth projects have provided a roadmap forward by providing elements for scale:
Partnering for fundamental sustainability,
having a multifunctional solution that works over 5 programmatic models,
and maintaining IT support standards.
World Vision is well positioned in various countries to create vital partnerships, has a tech solution through Dimagi and Grameen Foundation through the Bill and Melinda Gates Foundation, and strives to provide competent and compatible IT support throughout its projects. World Vision looks to use these advances to achieve the goal of reaching the lives of over 700,000 community members by the end of 2017.
Global mHealth Report 
Click here to read the whole report.
Find out more about our mHealth initiative here. 
FOR MORE INFORMATION, CONTACT OUR MHEALTH REPRESENTATIVES:
 Sherrie Simms, Director - Information & Communication Technologies for Development (ICT4D); sherrie_simms@wvi.org
Dr. Annette Ghee, Senior Adviser for Research M&E, Global Health, annette_ghee@wvi.org