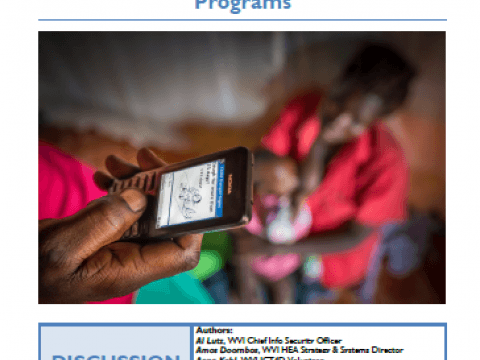 Data Protection, Privacy and Security for Humanitarian & Development Programs
Tuesday, May 16, 2017
As the relief and development sector has matured over many decades, Information & Communication Technology for Development (ICT4D) has shifted more recently from innovation to a catalytic tool for attaining target socioeconomic development goals. Practitioners of ICT4D are increasingly aware of the inherent opportunities and risks involved with capturing, analysing and leveraging data about beneficiaries and sub-populations.
Crowd-sourced efforts to define and address these opportunities and risks have led to some progress across the ICT4D space have produced results and useful research and recommendations on responsible data have also recently been published. Yet there still remains a gap in terms of commonly agreed and utilised principles and standards to ensure a high level of adherence to data protection, privacy and security principles and standards for ICT4D. Given the potentially harmful risks of failing to put in place appropriate safeguards, a collaborative effort in the humanitarian, development and ICT4D sector to further delineate Digital Development Principle 8: Address Privacy & Security is timely and much needed.
Based on Information Technology (IT) industry standards, World Vision International has been implementing a Data Protection, Privacy & Security (DPP&S) framework which is applicable to World Vision globally as well as specific ICT4D projects with respect to relevant approaches and safeguards. In order to understand the current landscape of other existing frameworks, regulation, research and compliance, we have undertaken a desk research process of these broader global trends and has also documented its implementation of its own framework along with case studies of its approach in humanitarian assistance and health and nutrition.