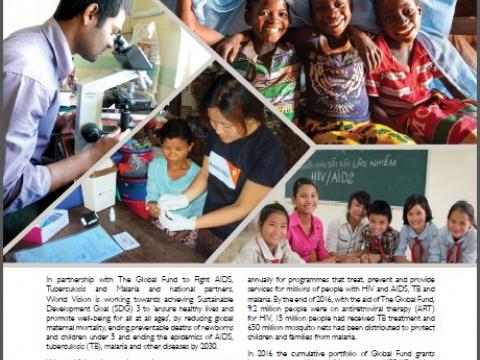 World Vision and The Global Fund
Thursday, July 13, 2017
In partnership with The Global Fund to Fight AIDS, Tuberculosis and Malaria and national partners, World Vision is working towards achieving Sustainable Development Goal (SDG) 3 to 'ensure healthy lives and
promote well-being for all at all ages', by reducing global maternal mortality, ending preventable deaths of newborns and children under 5 and ending the epidemics of AIDS, tuberculosis (TB), malaria and other diseases by 2030.
World Vision is an international non-governmental organisation committed to the well-being of children, their families and communities. In 2016 World Vision raised US$510 million to invest in health programming in 65 developing countries in support of the United Nations Secretary-General's global strategy for women's and children's health, assisting more than 2.5 million people to access improved services for health, HIV and AIDS, infectious diseases, nutrition, sanitation and hygiene.
Established in 2002, The Global Fund is a unique financing institution that has raised and invested around US$4 billion annually for programmes that treat, prevent and provide services for millions of people with HIV and AIDS, TB and malaria. By the end of 2016, with the aid of The Global Fund, 9.2 million people were on antiretroviral therapy (ART) for HIV, 15 million people had received TB treatment and 650 million mosquito nets had been distributed to protect children and families from malaria.
In 2016 the cumulative portfolio of Global Fund grants implemented by World Vision grew to US$443 million. During its 14-year partnership with The Global Fund, World Vision has been the principal recipient (PR) of 22 grants funding solutions for HIV and AIDS, TB and malaria in nine countries and a sub-recipient (SR) on 90 grants supporting programming for all three diseases in every region of the world. The Global Fund's investments often leverage additional funds from World Vision's private donors to fight these diseases. Whether as the PR or SR, World Vision works closely with local communities and national partners within the guidance of national health strategies to achieve outstanding results with Global Fund investments.
These pages contain examples of this work.
Read more about World Vision and The Global Fund: http://www.wvi.org/hiv-and-infectious-diseases/world-vision-and-global-fund