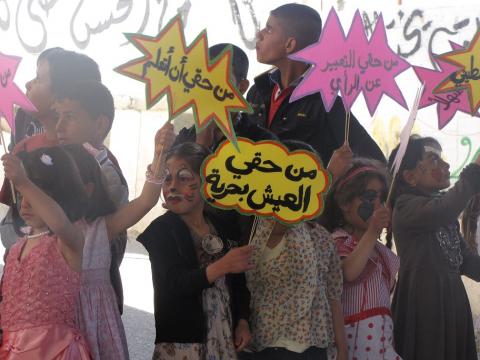 East Hebron ADP
Villages ADP Located In: Bani Naim Town, Zedat, Khalet Arabia, El Jalajel, Khalet El Wardah, Khalet Rahib, Al-Udaisseh, the Beduins of Masafer Bani Naim, El Masa'arah, and Soar Maeen
No. of Registered Children: 2826
No. of Direct Beneficiaries: 9656
No. of Indirect Beneficiaries: 15344
Communities Served: 10
No. of community-based organisations and/or schools served: 38
Total No. of Staff: 10 fulltime staff members and two interns serving both East and South Hebron ADPs
Support Office: World Vision Canada
WHERE WE WORK
Hebron is a Palestinian city located in the southern West Bank, south of Jerusalem. It is the largest city in the West Bank: home to about 650,000 people. Hebron is a busy trade hub and is well-known for its grapes, figs, pottery, and glassblowing factories. World Vision has been working in East Hebron since 2001. Through its programmes, World Vision works in 10 communities, helping to indirectly support over 25,300 people. In East Hebron, World Vision seeks to bring about sustainable transformational development to the poor and marginalized. World Vision continues to partner with its communities in East Hebron to meet their needs by building on its communities' strengths and empowering them to change their own futures.
OUR COMMUNITIES' CHALLENGES
The district of Hebron is one of the most vulnerable districts of the West Bank in terms of nutrition, poverty, etc. Hebron suffers from high unemployment rate—up to 30 per cent. The imposed restrictions and deterioration of the political situation has also affected the rise in unemployment, leading to higher food insecurity, especially among children. Among the West Bank Governorates, food insecurity is the highest in the Hebron and is concentrated mainly in rural areas. This situation is exacerbated by the illegal Israeli occupation which prevents Palestinians in the area from effectively utilizing their natural resources as many of their agricultural lands areas.  In addition, there are several concerns around the issue of health, especially around malnutrition and the improper disposal of waste. The major underlying causes for these health problems are unhealthy environments, food insecurity and insufficient maternal and child health and care services. Other concerns for families in eastern Hebron include: water scarcity, land degradation, loss of biodiversity, poverty and of the need for more infrastructural facilities.
 PARTNERING TOWARDS ACHIEVEMENT
EDUCATED FOR LIFE
World Vision contributes towards achieving child well-being, especially in the area of improving the quality of education for children in eastern Hebron. Working closely with the Palestinian Ministry of Education, World Vision strives to improve schools below ministry standards. Involving its partners and communities, World Vision works with teachers to build their capacity; with parents to increase their involvement in their children's schools, and with students to invest in their own potential. World Vision encourages children to be active participation through student councils and remedial education.  World Vision continues to support informal education in partnership with its communities as well through extracurricular programmes with a special focus on early-childhood education.
The ADP also conducted activities to improve the physical environment of schools, including: rehabilitating schools and kindergartens and building canteens and sanitation units. The ADP has further worked to improve the educational environment of schools by supporting student and parent council initiatives and providing the schools and kindergartens with educational tools.   
LET'S GET HEALTHY
One of World Vision's main goals is to ensure that all children enjoy good health. To promote better child health practices, World Vision's East Hebron-ADP partners with the Palestinian Ministry of Health in its efforts towards ensuring infants and children are well-nourished and cared for. Reaching out to women with infants in various communities in eastern Hebron, especially the most vulnerable, World Vision works towards improving child health conditions through promoting positive health practices. Income generating projects have also provided families with an additional source of income, therefore increaseing food security which has in return improved their children's health conditions. These programmes will continue to educate families about good health while positively impacting their children's health in practical ways.
PROTECTED AND CARED FOR
Through the East Hebron ADP, World Vision has created a caring social structure for children through the establishment and support of various committees and community-based organizations (CBOs). Female CBOs in particular were empowered through the trainings and support of creative joint initiatives. World Vision continues to seek to transform relationships among women and enhance their roles as change agents within their communities. In East Hebron, World Vision enjoys a successful cooperation with its partners, including its local steering committees, parent's councils, neighbourhood committees, environment committees, and student's councils. World Vision continues to advocate for children's rights in a loving, safe, family-oriented and community-centred environment.
CHILDREN
The East Hebron ADP partnered with the community to form a child well-being committee that will monitor the outcomes of the child- well-being aspirations after World Vision transitions out of the community. This committee initially started by creating a unified parent's council responsible for monitoring the educational status of the children and advocating for better educational environments.
EMPOWERING COMMUNITIES
A special focus was given to build the capacity of local Community-Based Organization (CBOs), through capacity building trainings and helping expand their networks. Women CBOs, in particular, were supported through income generating projects and the construction of a headquarters building for the Bani Naim Women Charitable Society. Through its partnership with the Bani Naim Cooperative Society, the East Hebron ADP conducted capacity building trainings, supported food processing and income generation projects, and networking with other organization. 
A SHARED FUTURE
World Vision Jerusalem-West Bank-Gaza seeks to impact the lives of over 200,000 children through its programmes and directly benefits the lives of over 168,000 people in 116 communities throughout the occupied Palestinian territory. Through its Area Development Programmes, World Vision works with 500 community-based organizations and schools to empower families and children to become agents of change for a better future. World Vision seeks to ensure that all families and children are cared for, protected and participating.
Sources:
1) United Nations Office for the Coordination of Humanitarian Affairs occupied Palestinian territory (OCHA),  Consolidated Appeal-Palestine (CAP),  2008, www.ochaopt.org
2) Palestinian Central Bureau of Statistics, www.pcbs.gov.ps